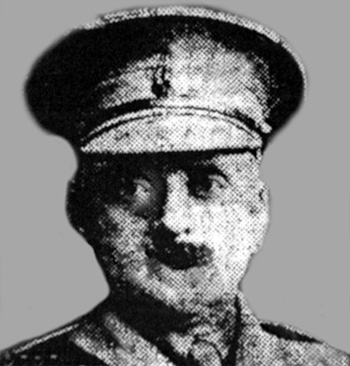 Edward Owen Roberts
Lt Royal Defence Force
Died: 29-01-1917 age 48
Edward Owen Roberts was born c. 1869 in Llanfachreth, Merionethshire, Wales, the elder son of Owen Roberts and his wife Jane. Owen was a non-conformist minister and a yeoman farmer of substantial means. Nevertheless it must have been difficult for the family when Owen Roberts died, some time before 1881. Jane then ran the farm herself, using hired labour.
Edward went to school in Aberystwyth and in 1891 Edward, age 21, was a bar student in London and boarded with an assistant schoolmaster and his wife, in Camberwell. At the same time his brother John was a medical student. Edward was admitted to the Bar on 14 June 1893 and became a barrister on the Chester and North Wales circuit, attending Assizes and Quarter Sessions.
By 1901 the whole Roberts family had moved to Chester and lived at 140 Boughton. Jane was head of the family, with her sons Edward and John a barrister and a surgeon respectively. Three female servants made up the household.
At the same time Annie Grandidge was living with her sister, brother-in-law and their four children in Queen's Park, Chester.  In 1903 Annie and Edward were married in Paddington, London. Afterwards the couple lived at The Grange, Hoole Road, Chester. The couple were not Catholic and had no children of their own but they were destined to play an important role in the lives of the children of St Werburgh's Parish.
In 1905 Edward Owen Roberts represented Boughton as a Liberal Councillor on Chester City Council. He served on the Council until his death. From beginning to end of his civic career, he paid a great deal of attention to St Werburgh's. In February 1906 Cllr Owen Roberts visited the parish club and addressed the members and later in 1908 he again visited and gave a lecture. In July of 1908 the club was re-opened, after a temporary closure for the fitting of electric light and consequent redecoration. Mrs Owen Roberts officially turned on the new electric light and a vote of thanks was given by the club President Mr Woods. Cllr Owen Roberts responded.
By January 1907 Cllr Owen Roberts had been appointed by the Council as a manager of St Werburgh's Schools. There were six managers, including Canon Chambers, who was chairman. In July 1907 Cllr Owen Roberts visited the Infants' School to distribute prizes, promising to return shortly to give prizes for drawing. Unfortunately his next recorded visit to the Infants' School was in November 1907 when he had to recommend that it should close until after the Christmas holidays due to an outbreak of measles in Chester. As promised, in July 1908 Cllr and Mrs Owen Roberts returned to give out six prizes for drawing, to six lucky children. The following day Mrs Roberts returned alone to distribute cakes and sweets to all the children. At the same time Cllr and Mrs Owen Roberts were visiting the Girls' and Boys' Schools and awarding prizes for more advanced work such as essay writing.
Cllr Owen Roberts remained a school manager until at least December 1916. During this time he displayed an identification with the aims and ideals of the schools which was amazing for someone of his background. He worked ceaselessly and tirelessly representing the views of the school managers to the City Council and promoting in every way he could the betterment of the schools, their staff and their children. His identification with the schools was very much above and beyond the call of duty. Cllr and Mrs Owen Roberts seemed to understand the difficulties which many of the children experienced and promoted their welfare in their civic roles.
At this time the parish was labouring under a tremendous debt, for both the upgrading of the schools and the completion of the church. Both projects involved huge sums of money which must have seemed inconceivable to the parishioners themselves. Owen Roberts provided a support in both these ventures and took an active part in fundraising and social activities within the parish e.g. in 1913 he contributed towards the stained glass memorial window to the deceased Infants' School Headmistress, Mother Elizabeth. By June 1914 both major building projects had been completed, though there was still a large outstanding debt.
The outbreak of war seemed to stimulate Edward Owen Roberts to even greater activity. He was somewhat old for initial volunteering or for conscription when it was introduced later. Instead he became one of the founders of the Chester Civilian Association. This body was involved in the drilling and training in rifle shooting of civilian Cestrians. Later it merged with the Cheshire Volunteer Regiment. Owen Roberts became the Hon. Sec. of the Chester and Eddisbury Battalion, with rank of sub-adjutant. He worked ceaselessly to further its aims, speaking at recruitment meetings in every part of the division. In 1915 he visited the trenches in France and from then on seemed to work even harder. In March 1916 he gained a commission in the Royal Defence Force. However he contracted an illness early in his military career which necessitated his treatment in a military hospital for some months. He then convalesced in Llandudno before gaining a promotion to a northern unit. However his illness recurred and he was brought home to Chester. Two weeks later, on 29 January 1917 Edward Owen Roberts died. Many thought that he had resumed military duties too soon after his first illness.
His funeral service was held at St Paul's Anglican Church, Boughton. The coffin was then taken to Overleigh Cemetery for burial, with full military honours. Father Hayes from St Werburgh's was one of those who walked behind the cortege to the cemetery. A full description of the funeral can be read in the Chester newspapers of the time. Wreaths sent by Fr Hayes, St Werburgh's CYMS, St Werburgh's Schools and the Managers of St Werburgh's Schools were specifically mentioned.
In the February 1917 edition of St Werburgh's Parish Magazine Canon Chambers wrote a fulsome obituary in which he stressed Mr Owen Roberts' contribution to civic and parish life.
No mention was made of the fact that on 26 January, three days before his death, Edward Owen Roberts had been received into the Catholic Church by Fr Maurice Hayes.