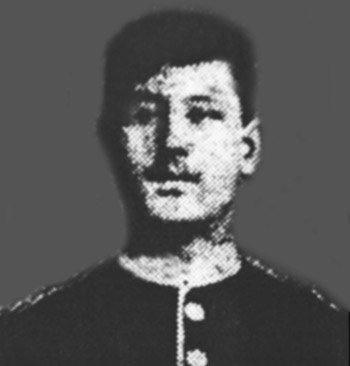 Michael Rogers
Pte 1st Btn Cheshire Regiment 8538
Died: 28-06-1917 age 27
Michael was the son of Michael and Ann Rogers nee Stanton. He was born on 20 February 1890 and baptised 6 April 1890 at St Werburgh's. He was a middle child of a large family of children who grew up in the Boughton area of Chester. He attended St Werburgh's schools.
Michael first enlisted with the Cheshire Regiment for a 7 and 5 year stint, on 1 July 1907, age 18 (slight exaggeration). In the early years of his service, Michael was posted several times to places within the UK, including to Belfast. He transferred to the Reserves on 10 August 1912 and also married Martha Gault in Belfast the same year. Their first child, George, was born in Belfast. By summer 1913 Michael had returned to Chester, where later their daughters, Ann and Winifred, were born. All Michael and Martha Rogers' children were baptised at St Werburgh's.
Since November 1913 Michael had been working as a postman in Chester (No. 72467) but when war broke out he was immediately recalled to the Cheshire Regiment and landed at Le Havre on 16 August 1914 as part of the British Expeditionary Force in France. He was in C Company and was therefore at the first Battle of Mons. This ranked him with other 'old contemptibles'. One month later he was repatriated for hospital treatment. In total he carried out three periods of duty in France. Each of these periods ended with his being treated for gunshot wounds in field or other hospitals in France, followed by repatrtiation.
On 15 September 1914 he received gunshot wounds to the left foot, during the Battle of the Aisne. These were treated in a field hospital at Soissons and then in England at Carisbrooke Castle.
A further gunshot wound to the shoulder on 9 November 1915, received during the first Battle of Ypres, caused michael to be sent to England via HMS St David.
In July 1916, gunshot wounds to feet and legs, received during the Battle of the Somme, resulted in his being sent to England per NS Stad Antwerpen.
During their father's periods of duty in France, Michael's two daughters, Ann and Winifred, had died. Their deaths were the heartbreaking topic of letters between Martha Rogers and Michael's superior officer, as Martha did not wish her husband to suffer any further trauma by learning of these tragedies. Of course he did learn of them, eventually.
Michael returned to France after his last period of hospital treatment, with the rank of acting corporal. He joined the 1st Cheshires on 20 June 1917 at Ecurie Camp in the Reserve Area. In the afternoon of 27 June in a difficult and dangerous manoeuvre, the 1st Battalion Cheshires relieved 2nd Kings Own Scottish Borderers in front line trenches opposite Oppi Wood, during daylight. On 28 June they carried out an assault on Oppi Wood and Michael was one of the ten soldiers of other ranks who were killed in the action. Pte Michael Rogers was recorded as dead in the August 1917 issue of St Werburgh's Parish Magazine.
Michael is buried in Orchard Dump Cemetery, Arleux-en-Gohelle, Pas de Calais, France - Grave VIII.A.16. His name is also listed on the memorials in the Town Hall, Post Office, and St Werburgh's Church, Chester. He was entitled to the 1914 Star with clasp, the British War Medal and the Allied Victory Medal.
Michael and Martha Rogers' second son, named Michael, was born posthumously, in 1918 and baptised at St Werburgh's.
According to Chester newspaper reports, ten close members of Michael's family had enlisted at the time of his death. His father who was also serving, had been wounded twice. Three brothers and three brothers-in-law were on active service, whilst one brother and one brother-in-law were prisoners of war in Germany.