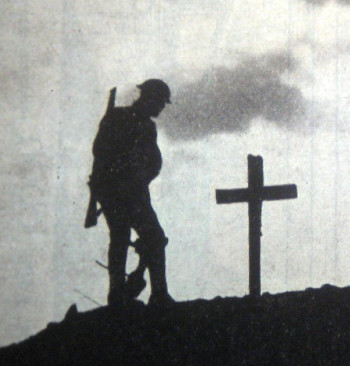 Vincent Stacey
Pte 2nd Btn Duke of Wellington's (West Riding) Regiment 9706
Died: 03-04-1915 age 24
Vincent Samuel Stacey was born in Chester in 1891, the third son of Samuel and Mary Stacey nee Rafferty. He was born on 17 April and baptised on 26 April at St Francis. He had elder brothers Thomas and William and younger siblings Veronica Ann, John Leo and Mary Olive. All the siblings were baptised at St Francis.
His father Samuel was an army pensioner and had been born in Yorkshire. His mother Mary had been born in Chester. Samuel and Mary had married in St Werburgh's Chester on 28 October in 1884.
Samuel died in Chester in 1897 and Mary married Charles Waring in 1903. The family lived in Ashton-under-Lyne thereafter. It is here that Vincent married Florence Hanson at St Anne's Church on 21 November 1912.
By the outbreak of war Vincent was living in Leeds and he enlisted in Halifax. His enlistment papers have not survived, so little is known of his short army life. However his roll medals reveal that he was sent to France on 20 January 1915. He was wounded and taken to No. 13 Station Hospital, Boulogne, where he died on 3 April 1915. His effects were transferred to his sole legatee, his wife Florence.
Vincent Stacey was recorded killed in action in the June 1915 edition of St Werburgh's Parish Magazine. Vincent is buried in Grave III.D.76. Boulogne Eastern Cemetery, France. He was entitled to the 1914-15 Star, the British War Medal and the Allied Victory Medal. His name is recorded on the WW1 memorials in the Town Hall and in St Werburgh's and St Francis' Churches, in Chester.