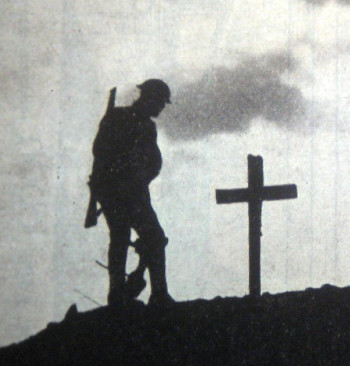 Arthur Dennis Sullivan
Lance Cpl 1st Btn Cheshire Regiment 9519
Died: 22-10-1914 age 22
Arthur Dennis Sullivan was the eldest of five children born to Dennis and Mary Sullivan nee Lythgoe of Chester. Dennis was born in 1892 and had four younger brothers, William Henry, Frederick James, Albert Edward and Thomas Bernard. The family lived in Cuppin Street and all the children were baptised at St Francis' Church. However, Dennis was confirmed at St Werburgh's in 1905.
Dennis' number and rank indicates that he was probably already a member of the Cheshire Regiment when war broke out. His Commonwealth War Graves Commission data states that he had a wife, Bridget. It is possible that he and Bridget married in Belfast, just prior to Dennis being sent back from that posting to England, when war broke out. Dennis' enlistment papers have not survived but his medal roll card indicates that he entered France on 27 August 1914. Sadly he was killed there on 22 October 1914, probably during the Battle of La Bassee which started on 10 October 1914 in the area around the Pas de Calais.
Dennis was entitled to receive the 1914 Star with clasp, the British War Medal and the Allied Victory Medal.
Dennis' name is listed on the Le Touret Memorial, France, and the Memorial Board in the Town Hall Chester.