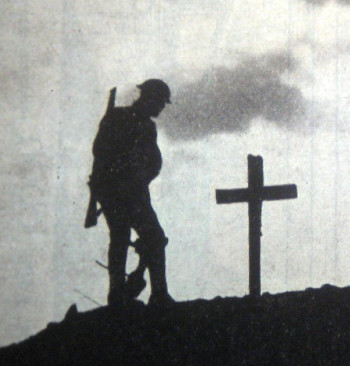 Andrew Sumpter
Pte 10th Btn Cheshire Regiment 35147
Died: 01-08-1917 age 26
Andrew was the son of Henry and Sarah Ann Sumpter nee Newton. The family was rooted in the Hoole area of the city, living successively in Faulkner Street, Panton Road, Brook Lane and Shavington Avenue. Andrew had two elder sisters, Elizabeth and Sarah, and an elder brother, Henry. Andrew was educated at Arnold House School, situated on the corner of Parkgate Road and Walpole Street. This private school educated boys up to the age of 16, preparing them for public schools, Royal Navy, Sandhurst or the professions. The school closed in 1909.
Most of the Sumpter siblings worked in the family building business, which also employed several non-family workers. Andrew specialised in plumbing and his brother Henry in bricklaying. Their sister Elizabeth kept the accounts of the firm but Sarah started work as a pupil teacher in Chester at the age of 16.
On 11 December 1911 Andrew was received into the Catholic Church at St Werburgh's and in 1912 he was confirmed here. Sometime between 1912 and 1914 he decided to try life in Australia as a dairy farmer. His parents also moved to Malcolm House, 1 Shavington Avenue, Newton-by-Chester.
When WW1 broke out Andrew returned from Australia in order to enlist, travelling on the SS Omrah of the Orient Steam Navigation Company Ltd. The ship left Brisbane and reached London on 21 June 1915. Andrew's father died in Chester on 5 November 1915 and Andrew then enlisted in 14th Cheshire Regiment at West Hartlepool on 10 December 1915. He was posted to Chester and then with the 10th Battalion of the Cheshires on the British Expeditionary Force to France, on 15 June 1916.
During his time in France, Andrew was plagued by minor medical ailments - perhaps as a result of the unhygienic state of life in the battalion. He was admitted at Field Ambulance 75 on 14 October 1916 for six days, to be treated for scabies. On 11 November 1916 he was admitted to Field Ambulance 77 for treatment for impetigo. He rejoined his battalion on 1 December 1916. Between then and 14 April 1917 he was admitted twice for infections which had caused defective vision and once for sickness. During July of 1917 Andrew was treated for ICT in both thighs.
He returned to duty on 27 July 1917 and then, between 31 July and 4 August, the 10th Battalion was involved in the 'minor' Battle of Pilckem Ridge, part of the greater Passchaendale confrontation. This was a particularly gruelling ordeal, with little trench warfare but fighting from mud-filled shell holes, during incessant rain, across open ground, under constant enemy shell fire, to prevent a German counter attack on the newly captured Bellewarde Ridge. When the 10th Battalion was relieved on the morning of 4 August one officer and 53 men were dead or missing. In addition ten officers (of whom six remained on duty) and 140 men were wounded. Andrew was probably killed in action here on 1 August 1917, the first day of engagement with the enemy. His death was reported in an article in the October 1917 issue of St Werburgh's Parish Magazine. In the article, it states that Canon Chambers had written a letter of condolence to Andrew's mother and relations, which had been gratefully acknowledged.
Andrew's mother died on 29 June 1918, so his effects together with his British War and Victory Medals were sent to his elder sister, Mrs Elizabeth Ann Woolley of Wheatley Hill, County Durham.
Andrew's name is listed on the Ypres (Menin Gate) Memorial, West Vlaanderen, Belgium, Panel 19-22. In Chester it can be found on the Town Hall Memorial Board and the Arnold House Memorial Window in Chester Cathedral. It is also listed on the WW1 Memorial Boards in St Werburgh's and in St Francis' Catholic churches. In Hoole it is listed on the Memorial Board of All Saints Anglican Church and is engraved on the stone civic War Memorial at the corner of Kilmorey Park Road.