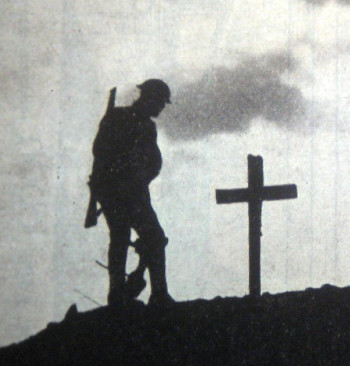 Alexander Thompson
Pte 2nd Btn Cheshire Regiment 10428
Died: 03-10-1915
Although we cannot be certain, the Alexander Thompson described below would seem to be the one mentioned in St Werburgh's Parish Magazine of October 1915 as having been killed in action.
Alexander's enlistment papers have not survived, so details of his army life are minimal. His medal roll card indicates that he entered France on 3 January 1915 and he died there on 3 October 1915. At this time the 2nd Btn Cheshires were involved in heavy fighting in the West Face trench of the Hohenzollern Redoubt, during the Battle of Loos. The Hohenzollern Redoubt was a projecting earth work, strongly mined, to surround and protect a small hill known as the Dump, from which the enemy could observe the whole Rutoire plain. This redoubt had been captured and occupied by British troops but the enemy immediately started a counter attack. Movement in these shallow trenches was hampered by the presence of dead bodies and the enemy was much better equipped than the British troops. British losses had already reached high numbers and lack of efficient communication made receiving and carrying out orders almost impossible.
In the midst of this chaos the 2nd Cheshire Battalion was ordered to relieve the Royal Fusiliers on the West Face of the Hohenzollern Redoubt, on the night of 30 September 1915. Despite many problems, their occupation of the West Face trench was completed by 5.30am on 1 October 1915. Unfortunately enemy troops occupied three nearby connecting trenches. On the night of 1 October the Cheshires were ordered to mount an attack on one of these, the Chord. Their first attack was thought to have been successful, but such was the maze of trenches that this proved to be a false conclusion. Waves and waves of further attacks were ordered in the face of constant enemy bombing but the enemy were not moved. On 3 October the enemy attacked all along the West Face and gained a footing on the left of the Cheshires. All their bombers were killed. A bayonet counter attack was led by Major Roddy but met by bombs and the Cheshire soldiers were driven back to the British front line. Alexander could have been killed during any of the action on this day. On the night of 5 October the Cheshires were relieved by the 2nd Guards Brigade. During the whole action the 2nd Cheshire Battalion had lost five officers and 43 men and seven officers and 153 men were wounded. Two officers and 166 men were missing and were never recovered.
Alexander was entitled to the 1914-15 Star, the British War Medal and the Allied Victory Medal.