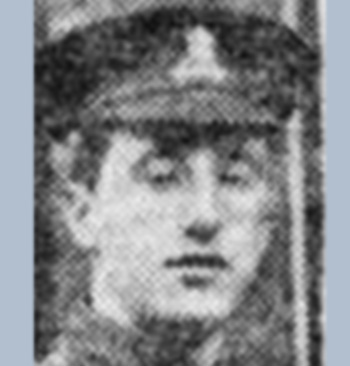 John Louis Vickers
Pte 2/5 Btn Royal Warwickshire Regiment 7321
Died: 01-07-1916 age 20
The Vickers were an old Cheshire family based in Saughall, about five miles north of Chester. Joseph Vickers married Mary McLoughlin of Chester, in Chester, in 1889. Their family was to consist of four sons. Their first child, John Shepherd Vickers, was born in 1891 and baptised at St Werburgh's in Chester. Sadly he died in 1895 age four, when the family were living at 64 Cornwall Street.
John Louis was born on 13 August 1896 and baptised on 26 September 1896, at St Werburgh's. He was the youngest of the three remaining brothers. By 1911 the family had moved to Seedley, Manchester and were working in engineering. The family attended St James' Catholic Church in Pendleton.
Although Louis enlisted first with the Lancashire Fusiliers he was later transferred at some stage to the Royal Warwickshire Regiment. Louis' enlistment papers have not survived, so little is known of this move, or indeed of most of his army career.
Pte L. Vickers was reported killed in action in the August 1916 edition of St Werburgh's Parish Magazine. Tragically, Louis was one of three brothers who all died in this conflict, Louis and Harry Vickers dying on the same day. He was entitled to receive the British War Medal and the Allied Victory Medal.
Louis Vickers is buried in Grave 1. J.13 Rue-du-Bacquerot No. 1 Military Cemetery, Laventie, Pas de Calais, France.