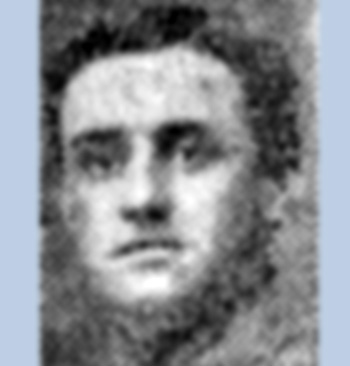 Percy Joseph Vickers
Pte 1/7 Btn Lancashire Fusiliers 2003
Died: 20-12-1915 age 22
The Vickers were an old Cheshire family based in Saughall, about five miles north of Chester. Joseph Vickers married Mary McLoughlin of Chester, in Chester, in 1889. Their family was to consist of four sons. Their first child, John Shepherd Vickers, was born in 1891 and baptised at St Werburgh's in Chester. Sadly he died in 1895 age four, when the family were living at 64 Cornwall Street.
Percy Joseph was born on 28 June 1893 and baptised on 22 August 1893, at St Werburgh's. He was the middle in age of the three remaining brothers. By 1911 the family had moved to Seedley, Manchester where Percy was employed in the engineering firm of Messrs Smith and Coventry. The family attended St James' Catholic Church in Pendleton.
Percy's enlistment papers have not survived so little is known of his army career. Tragically, Percy Joseph was one of three brothers who died in this conflict. His two brothers, Louis and Henry, died less than a year later on the same day. Percy was entitled to receive the 1914-15 Star, the British War Medal and the Allied Victory Medal.
Percy's name is listed on the Helles Memorial, Turkey (Gallipoli) Panel 58-72 or 218-219.