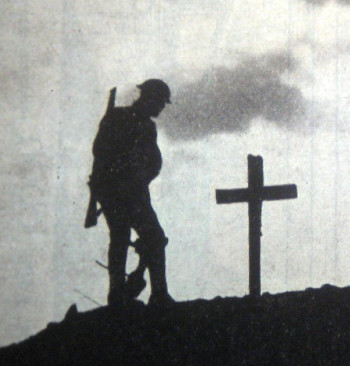 Thomas Waldron
Pte King's Own Royal Lancaster Regiment and Royal Engineers 7494-24644
Died: 12-12-1916 age 31
Thomas was the eldest of eleven children (six of whom died young) born to Patrick and Mary Waldron nee Moran, of Chester. Thomas was born on 15 May 1885 and was baptised at St Werburgh's on 14 June that year. He was later confirmed at St Werburgh's in July 1899.
In the 1901 census the family lived at 20 Steam Mill Street. Later the family moved to 23 Seaville Street and later to 31 Victor Street.
Thomas enlisted at Frodsham in the King's Own Royal Lancaster Regiment on 16 September 1902, when he was 18 years and six months. He had already been in the 3rd Cheshire Regiment. He served at home until 9 February 1904, when he sailed for India. Thomas was in India for over seven years, until 31 October 1911. During this time he received a 1st and then a 2nd class education certificate and passed a gun drill course. Whilst in Calcutta, in 1909, he passed a telegraphy course and became an Office Telegraphist.
During this time Thomas had gained two good conduct medals and there were no complaints or charges laid against him. However, the next section of Thomas' army records outlines a different story. He was twice reported for basically using the telegraphic equipment for holding 'private communications'. The temptation to 'chat' was obviously too great for him to withstand.
On 24 May 1913 Thomas was transferred to the Royal Engineers and on 8 September 1914 his unit went with the British Expeditionary Force to France. He was predominantly engaged in telegraphic work but nevertheless was admitted to 18th Field Ambulance on 22 August 1915, with abrasions to the right ankle. He was discharged to duty after seven days. A year later, on 8 July 1916, Thomas was to be admitted to hospital again, this time for more serious reasons. On 28 July 1916 he was transferred to the 8th Stationary Hospital and returned to England.
Thomas was discharged on 7 September 1916 as being medically unfit. His army medical report states that he was suffering from Pulmonary Tuberculosis. This had started in France on 7 July 1916 and he had lost 2 stone in weight since that date. The bacillus was present in urine and sputum and caused coughing and night sweats. The onset was said to be the result of active service exposure and left Thomas with total permanent incapacity.
Three months later Thomas died at home in Chester and was buried in Overleigh Cemetery, Grave 11155. His fulsome obituary was printed in St Werburgh's Parish Magazine of January 1917. Thomas was entitled to the 1914 Star, the British War Medal and the Allied Victory Medal. His name is listed on the memorial in Chester Town Hall.