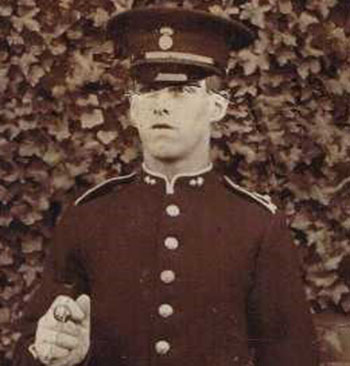 Thomas Ward
Cpl 1st Btn Royal Welsh Fusiliers 4375
Died: 21-05-1915 age 22
Thomas was the son of Michael Ward who had been born in Galway but later moved to Chester. Here Michael married Ellen Coriam at St Werburgh's in 1888. The couple lived at 5 Steven Street, though later they moved to number 22. Thomas was the second of their six children and was born on 16 September 1892. He was baptised at St Werburgh's on 2 October 1892 and later confirmed there in 1905. Thomas attended St Werburgh's Schools and was by reputation an apt pupil. After leaving school at the age of 14, he worked at the leadworks in Boughton. He apparently wished to emigrate to America, the goal of many youngsters at that time, but history intervened.
When war broke out Thomas enlisted at Wrexham in September 1914. Anecdotal evidence states that all available men from Steven Street got on a bus going from Chester to Wrexham, in order to enlist together. Most of them would have been members of this parish, as the population of Steven Street was allegedly 99% Catholic at this time.
After initial training Thomas was sent to France and Flanders. His army papers have not survived, so there are few details of his service available. He embarked with the regiment and entered France on 2 November 1914. It was there that he was promoted to Corporal, prior to being killed in action at Frezenberg Ridge. He died on 21 May 1915 and his name is listed on Le Touret Memorial, Pas de Calais, France, Panel 13 and 14. It is also on the WW1 memorial in the Town Hall and in St Werburgh's Church, Chester. Thomas was entitled to the 1914 Star, the British War Medal and the Allied Victory Medal.