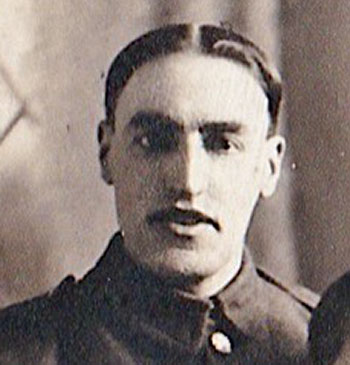 Wilfred Joseph Warren
Sgt 80th Field Company, Royal Engineers 42990
Died: 30-10-1917 age 29
Wilfred was the son of Richard and Mary Warren and was born in Wavertree, Liverpool in 1887. He was the youngest of five children. By 1891 the family had moved to Chester, where Richard worked as a Railway Fireman. The family first lived in West Street and later in Ivy Terrace. Wilfred became an engineering apprentice at the Hydraulic Engineering Works and was well known as a local amateur footballer.
Wilfred married Catherine Malone at St Francis, Chester in 1908 and they lived at 7 New Crane Street. Their first two sons, Thomas Richard and Wilfred Joseph, were baptised at St Francis. The family later moved to 39 St Mark's Terrace, Saltney and were living there when their third son, Thomas James, was born.
By 1911, the family had moved to Manchester, where Wilfred worked as a machinery engineer at Hall Bridge Engineering Works, Castleton and the family lived in Castle Fields. Sadly Catherine died in 1911 and was buried in grave R610 of Overleigh Cemetery, Chester on 9 August. It seems likely that the three boys were brought up by their Malone relatives in Chester. Richard and Joseph attended St Anthony's Infant School, Saltney and then St Werburgh's Boys' Junior School, until they left age 14. Thomas James also attended St Werburgh's Schools. During this time they lived with their guardian, Agnes Malone, at Glen Aber Cottage, Saltney.
Wilfred's enlistment papers have not survived and so no details of his service are recorded. However, the Chester Chronicle of 24 November 1917 stated that he joined up in August 1914. Family information tells us that Wilfred sent letters and postcards home to his three sons, all the time he was in France. He was particularly anxious to keep in contact with his youngest son. He also kept detailed notebooks about the machinery he used and the best way to maintain it. This was so that all members of his unit could benefit from his expertise.
It had been recorded in the June 1915 issue of St Werburgh's Parish Magazine that Wilfred Warren had enlisted in an army transport unit and the Chester Chronicle stated that he was in France for two years and three months prior to his death. During this time he had twice received certificates from Sergeant-Major commending his division for gallantry and devotion to duty. St Werburgh's Parish magazine reported in the December 1917 issue that Sgt Wilfred Warren had been killed in action. He was with the 80th Transport Company of the Royal Engineers. A letter sent to Mrs Miller, his sister and next of kin, from his Commanding Officer stated that he had never lost a better or more valuable N.C.O.
Wilfred was entitled to the 1914-15 Star, the British War Medal and the Allied Victory Medal. He is buried in grave V.B.31 Bard Cottage Cemetery, West-Vlaanderen, Belgium. The grave is under the care of the Commonwealth War Graves Commission. Wilfred's name is listed on the WW1 memorials in St Werburgh's and St Francis' Church in Chester.