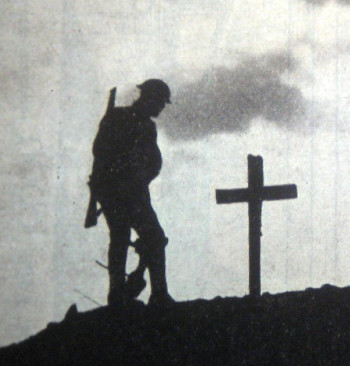 Charles Henry White
Lance Cpl 1st Btn Border Regiment 34931
Died: 22-08-1918 age 31
Charles Henry White was born in Churton, Cheshire, the son of William White, who was a farm labourer, and his wife Jane. He had nine siblings, two of whom died before 1911. His elder siblings were George and John and younger siblings were Frederick, Annie, Elizabeth, Arthur, Frank and May. Charles' elder brothers became farm workers and in 1901 Charles worked for Joseph Johnson, a building contractor in Rossett, and lived with this family.
On 15 April 1905 Charles enlisted with the Army Service Corps at Chester, as a driver. His enlistment papers state that he is Anglican. He served for two years, being stationed in Manchester, at Longford and at the Curragh, and left with good reports as to his conduct and proficiency as a driver and groom. He was then transferred to the reserves, with his intended address given as Churton, Cheshire. In the 1911 census he was still living with his family in Churton and working there as a farm labourer.
As a reservist, Charles was mobilized on 6 August 1914, was sent to France on 7 September and joined 21st Field Ambulance Company on 17 September. At first his army career went smoothly, with promotions to Lance Corporal and Corporal, but on 15 August 1915 he was demoted to driver as punishment for some minor misconduct and his career then followed a bumpy track for the next couple of years. There were disciplinary incidents in November and December 1915. Eventually Charles was granted leave from 28 December 1915 until 4 January 1916. He returned to Chester and married Mary Ellen Nicholson at Chester Register Office on 4 January 1916, before returning immediately to France. The couple already had a baby son, Francis White Nicholson, who had been born on 22 March 1915.
Charles' next few months of army service were also of a variable nature. In May he absented himself without leave for nine days, before giving himself up.  He was tried on 17 May and received a sentence of six months imprisonment which was suspended. Charles was admitted to Hospital on 23 May with appendicitis and discharged on 2 June 1916. He returned to duty with the 21st Field Ambulance unit.
The rest of the year was uneventful but by 17 February he was again awaiting trial for being absent without leave for eight days. This time he was sentenced to a year's imprisonment. Six months were immediately remitted and the remaining six months suspended, under a special wartime protocol. However, he was transferred to the Border Regiment and reduced to pay as a private soldier.
Life in the infantry seemed to suit Charles better and he progressed without incident, being promoted to Lance Corporal in October 1917. On 21 November 1917 he was treated for a gunshot wound in the leg at Rouen and on 13 December he returned to duty. On 16 December 1917 his suspended sentences were remitted.
We must now assume that Charles received some leave, because on 3 January 1918 he and Mary Ellen nee Nicholson had a religious marriage ceremony at St Werburgh's. This was the same church in which Mary Ellen had been baptised. Their address was 11 Tomkinson Street, Hoole. Soon after the ceremony Charles returned to France.
On 11 January 1918 Charles was awarded the D.C.M. for conspicuous gallantry and devotion to duty. In the citation printed in the London Gazette of 1 May 1918 it stated that 'When the enemy made a determined effort to outflank our troops, he led his Lewis gun team to the exposed flank and brought heavy fire to bear on the enemy, checking their advance. Though badly wounded he remained in action until ordered to leave the firing line. He showed great courage and determination.'
On 19 August 1918 Charles was wounded in action and died of those wounds on 22 August. His widow, Mary Ellen White, received his effects, which consisted of his wallet and cash, letters, photographs, cards, a religious book, medal ribbons, a cap badge, a Sacred Heart Badge, stamps, false teeth, a cigarette case and a rosary. She was living at this time at her grandparents' home, the London Bridge Hotel, Chester. By 1920 when Charles' medals were sent, she had moved to 2 Stanley Street, Chester.
Charles was buried in Grave V.D.82 Longuenesse (St Omer) Souvenir Cemetery. He was awarded the 1914 Star, the British War Medal, the Allied Victory Medal and the Distinguished Conduct Medal.
His name is on the Great War Memorial Board in Chester Town Hall.