Concert Series 2019
Additional Concert: Friday 26th July 7.30 pm: Michael Reynolds "The Sounds of Stage and Screen"
A light-hearted evening of well-known music. Tickets £10, including refreshments, from the Parish Office.
---
Additional Recital: Friday 17th May 7.30 pm: The Vale Royal Singers "The Glory of Spring":
Excerpts from Vivaldi's Gloria, and music by John Rutter, Barber, Finzi and Sting. Free entry, with a retiring collection.
---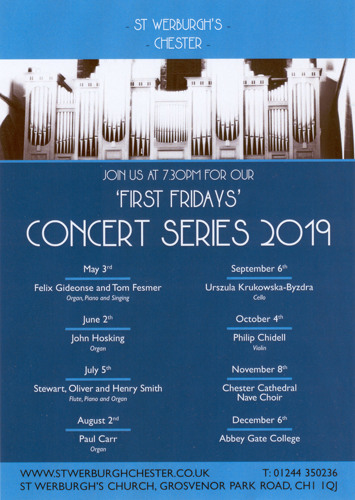 Our First Fridays are lovely, accessible introductions to Classical Music, from the whole repertoire of vocal, choral, instrumental and orchestral music.
And not just Classical but Popular music as well, Jazz, the American Song Book, the lot!
Ideal for those starting to get into Classical Music as well as seasoned enthusiasts.
Each concert about 60-80 minutes long.
Refreshments included - tea, coffee, wine!
Free admission, but we sometimes take a Retiring Collection, especially to support a young student or early years professional.
Now a few details about this season of 'First Fridays' ... But do please see the Weekly Newsletter for more details of each concert in the weeks beforehand.
May - Felix Gideonse and Tom Fesmer. Organ, piano and singing.
June - John Hosking. Organ
July - Stewart, Oliver and Henry Smith. Flute, piano and organ
August - Paul Carr. Organ
September - Urszula Krukowska-Byzdra. Cello
October - Philip Chidell. Violin
November - Chester Cathedral Nave Choir. Chester Cathedral Nave Choir is the oldest continuously serving cathedral voluntary choir in England. Welcome back, Andrew and friends!
December -Abbey Gate College.