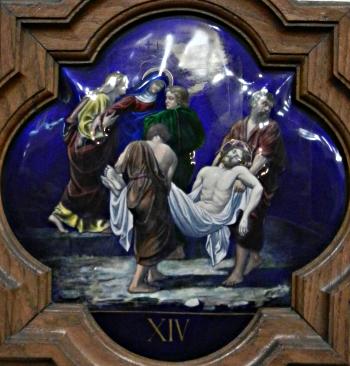 Stations of the Cross. XIV: Jesus is laid in the tomb
The Way of the Cross concludes with Jesus laid to rest in the tomb. The burial arrangements are hasty because of the onset of the Sabbath, and all proper observances will need to be completed later. It seems the ultimate indignity for Jesus, the good shepherd, the son of Man, the gentle prophet of love, tolerance, forgiveness, equality in the sight of God. Unjustly condemned, cruelly treated, forced to carry his own Cross along that sorrowful road to Calvary.
But when his mother and grieving relations return, after the Sabbath, to anoint the body properly, they will find the tomb empty.
John 30: 40-42 They took the body of Jesus and bound it in linen cloths with the spices, following the Jewish burial custom. At the place where he had been crucified there was a garden, and in this garden a new tomb in which no one had yet been buried. Since it was the Jewish Day of Preparation and the tomb was nearby, they laid Jesus there.
The crisis has passed, and the artist captures the pain, the weariness and the sense of loss of Mary and her companions. As the body of Jesus is carried to the tomb, the outline of the crosses on Golgotha are still visible in the distance.
---
Lord, by your resurrection you conquered death. I pray that one day I, like the repentant thief who died alongside you, may join you in Heaven. But I pray also that whatever goodness there is in me will remain in some way in this world, once I have left it.
---