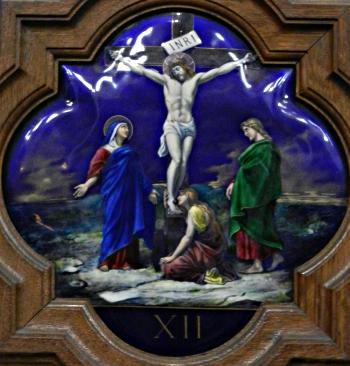 Stations of the Cross. XII: Jesus dies on the Cross
John 19: 25-30 Near the cross of Jesus stood his mother and his mother's sister, Mary the wife of Clopas, and Mary of Magdala. Seeing his mother and the disciple whom he loved standing near her, Jesus said to his mother, 'Woman, this is your son.' Then to the disciple he said, 'This is your mother.' And from that hour the disciple took her into his home. After this, Jesus knew that everything had now been completed and, so that the scripture should be completely fulfilled, he said: I am thirsty. A jar full of sour wine stood there; so, putting a sponge soaked in the wine on a hyssop stick, they held it up to his mouth. After Jesus had taken the wine he said, 'It is fulfilled'; and bowing his head he gave up his spirit.
In this formal composition, the crucified Lord is flanked by his mother Mary, and by her sister. In front of the Cross kneels Mary Magdalene, her head resting against the Lord's legs in a reference to their earlier encounter, when she wiped the feet of Jesus with her long hair.
---
Dear Lord, even in your time of greatest physical distress, you are thinking of, and caring for, others around you. Grant that I too can see beyond my pain and suffering, and acknowledge that there are other people out there, and that anything I can do for them is important.

Jesus, may I never have to endure the sufferings you went through. But may I also have the courage and fortitude to say, as you said to your Heavenly Father, 'not my will but thine be done'.

O Lord, even you were moved to despair, as you hung dying on the Cross, and asked 'My God, my God, why have you forsaken me?' I can take some consolation from that during the many times that I doubt that God is with me.
---