Parish Newsletter
SUNDAY 10th DECEMBER 2017: SECOND SUNDAY OF ADVENT (YEAR B)
Liturgical
Isaiah 40, 1-11; Psalm 84; II Peter 3, 8-14; Mark 1, 1-8
Saturday 6.00 pm: Rowton Methodists:
Sunday 9.00 am: St Werburgh's: Intentions of M&E
Sunday 10.45 am: St Werburgh's: Christina Preece and Mary O'Brien
Sunday 12.30 pm: St Werburgh's: Baptism of Margot Alexandra Hayes
Sunday 6.00 pm: St Werburgh's: Donald Aloysius DePoneo (L.D., Canada)

Monday 11th December: Ferial: Isaiah 35, 1-10; Psalm 84; Luke 5, 17-26
12.15 pm: St Werburgh's: John and Vera Clyne
1.05 pm: University Chapel: University Mass – All Welcome!

Tuesday 12th December: Ferial: Isaiah 40, 1-11; Psalm 95; Matthew 18, 12-14
8.00 am: Poor Clares Hawarden: Special Intention
12.15 pm: St Werburgh's: William Dervan (L.D., Galway)
2.30 pm: Birch Heath NH, Christleton: Carol Service – All Welcome!

Wednesday 13th December: St Lucy: Isaiah 40, 25-31; Psalm 102; Matthew 11, 28-30
12.15 pm: St Werburgh's: Kate and Harry Martin (Ireland)

Thursday 14th December: St John of the Cross: Isaiah 41, 13-20; Psalm 144; Matthew 11, 11-15
12.15 pm: St Werburgh's: Frances Bradley (L.D.)

Friday 15th December: Ferial: Isaiah 48, 17-19; Psalm 1; Matthew 11, 16-19
8.45 am: Ampleforth Abbey Conventual Mass: Intentions of Edward
12.15 pm: St Werburgh's: Eucharistic Service

Saturday 16th December: Ferial: Ecclesiasticus 48, 1-11; Psalm 79; Matthew 17, 10-13
10.30-12.00 noon: St Werburgh's: Confessions
6.00 pm: Rowton Methodists: Eileen Law (L.D., Swindon)

SUNDAY 17th DECEMBER 2017: THIRD SUNDAY OF ADVENT: GAUDETE SUNDAY (YEAR B)
Isaiah 61, 1-11; Psalm Luke 1; I Thessalonians 5, 16-24; John 1, 6-28

Saturday 6.00 pm: Rowton Methodists: Eileen Law (L.D., Swindon)
Sunday 9.00 am: St Werburgh's: Susanna Timothy (Anniversary 2007)
Sunday 10.45 am: St Werburgh's: Graham George (L.D.)
Sunday 6.00 pm: St Werburgh's: Pasqual and Josephine DePoneo and Family
Prayer intentions
Your prayers are asked for the following who are sick: Ruth O'Kane, Iris Philp, James Donovan, Garth Stocking, Ann McGowan-Scanlan, Mary Lyons, Kevin Maguire, Christine Davies, Michael Morton; and for all the sick of the Parish; and for those who have died recently, especially Cherrie Pateman, Kathleen Herbert and Mary Ball; and for those whose anniversaries occur about this time: Margaret Aspinall, Geoff Crank, Betty Kinsey, Margaret Brotherston, Peter Wyn Jones, Fred Fazey, Elizabeth Clark, Tom McLoughlin, Patrick McDonough, Patrick Walsh, George Baxter, Irene Kite, William Barron, Antonio Nardini and Edith Dodd. May They All Rest in Peace
Parish events
"A War-Torn Chester Parish"
And here it is, our second Great War Book - and what a magnificent production it is. The content is superb, almost forty essays and articles covering so many aspects of St Werburgh's a hundred years ago. And the production of the book is equally first class, 220 pages and a host of fascinating illustrations and photographs. On sale today, £10 soft back and £20 hardback. I hope every family in the parish will buy one, and I myself will certainly be sending a number as personal Christmas Presents. A thousand congratulations to our Great War Group!
St Werburgh's Christmas Service Times Cards
Thousands have gone out, a few thousand still to go. Please, everyone, get them out there, as far and wide as possible. You have no idea how many people will come to Mass and Confessions because of them - and only because of them.
Catholic High School Parents Association
Carol Service, Tuesday 19th December at 6.30 pm, followed by refreshments, a Christmas raffle and musical entertainment by the School Jazz Band. Free entrance. Everybody is welcome.
Concerts in Church This Month
Tuesday 12th - Primary School Carol Concert
Saturday 16th - Chester Bach Singers
Thanks, James and Team, for Abbeygate's Concert last Friday night: you did us proud!
Putting Up Our Christmas Tree on Wednesday
Wednesday 13th at 1.00 pm. Everyone warmly welcome to come along and help - many hands will make light work. Tea, coffee and mince pies!
CathSoc Meetings for Rest of Term: Sun @ 7.00
Thanks, George and team, for a super Christmas Quiz last Sunday. This Sunday, 10th December, it's Christmas Meal Out. Leave from Church at 7.00 pm or see you there for 7.15 pm. Next Meeting - Sunday 14th January!
Short Liturgy Group Meeting on Wednesday
To tie up all the loose ends for Christmas, please. 7.00 pm, hopefully for just half an hour.
Chester Bach Singers Candlelit Carol Concert
Saturday 16th December at 7.30 pm. A mix of carols old and new for choir and many of the traditional favourites for the audience to join in. Retiring collection for Chester Aid to the Homeless. Tickets are £12 and £5 for students and include refreshments during the interval.
New Diocesan Ordos and Year Books on Sale: £4
The very popular guide to the Liturgical Life of the whole year is selling well and now we have our Diocesan Year Book for 2018 - both excellent reads and reference books. £4 each.
Christmas Volunteer Rota Now Available
Please sign up: we need the usual team of volunteer Eucharistic Ministers, Readers, Welcomers and Collectors for our special Masses on Christmas Eve and Christmas Day. Sunday morning Masses on Dec 24th: Normal Rota
Safeguarding Reps - Updated Lists Required
Our two new Parish Safeguarding Reps, Liz Aiello and Simon Neal, have hit the ground running. Every Parish must have such Reps, charged with making sure the Parish is a safe place for all children and vulnerable adults. Every parishioner who works with either group, as you know, must have DBS clearance, showing that there is nothing in our past that would make us unsuitable. Many of us have these already, but most of them will need updating. Can we ask the leaders of the following groups to get an up-to-date list of their members to FP as soon as possible? Altar Servers, FHC Catechists, Confirmation Catechists, Children's Liturgy Leaders, Home Eucharistic Ministers, SVP.
Caritas: Diocesan Children's Society
After some 25 years' service, Roger has decided to stand down as our Children's Society Collector. Thanks, Roger! Now we need someone...
City Centre Ministers Christmas Lunch
Many thanks to Bernice and Gillian for a superb do on Wednesday: 16 City Centre Revs sat down for a wonderful lunch. The smiles on their little faces made that 2.00 am start so worthwhile...
SVP 2nd Collection: Christmas Lunch and Gifts
At all Masses this weekend: GA Envelopes too.
Parish Website: We're Live Again!!!
Mille grazie, as they say in German, to our fantastic website team, for getting it up and running again after the recent disastrous hack. They've really worked their socks off: thanks, Brian, Fran and Peter! Much more work remains to be done, but it's flying, as from today. Photo of the week? A fabulous church Ann Marie and Brian saw in their recent gad and gallivant to Brazil.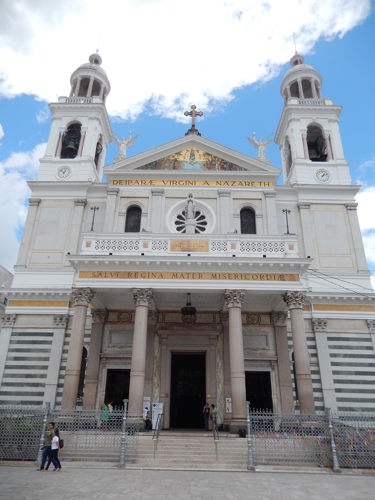 The Basílica Nossa Senhora de Nazaré do Desterro in Belém do Pará, north-west Brazil, is a large neoclassical church dedicated to Our Lady of Nazareth, devotion to whom is expressed in the annual procession of the Círio of Nazaré, the largest religious event in Brazil, on the second Sunday of October.
CAFOD Knitted Nativity and Coffee Morning
Raffle tickets for the Knitted Nativity and hats on sale today. Proceeds to CAFOD to support refugees. At present the total for the Coffee Morning is about £200 but needs to be finalised.
Shrewsbury Online Liturgical Calendar
For those of you who are Universalis users or are interested in an online/mobile app of the Divine Office and Mass Readings and prayers, the Shrewsbury Calendar is now available via www.universalis.com.
Waverton Christmas Cards
Four roads for us to deliver - any volunteers?