Parish Newsletter
SUNDAY 7th JANUARY 2018: THE EPIPHANY (YEAR B)
Liturgical
Isaiah 60, 1-6; Psalm 71; Ephesians 3, 2-6; Matthew 2, 1-12
Saturday 6.00 pm: Rowton Methodists: Terry Collier and Family
Sunday 9.00 am: St Werburgh's: Paul Lawton (Birthday Remembrance)
Sunday 10.45 am: St Werburgh's: Elizabeth Clarke
Sunday 6.00 pm: St Werburgh's: John and Vera Clyne

Monday 8th January: The Baptism of the Lord: Isaiah 55, 1-11; Ps Isaiah 12; I John 5, 1-9; Mark 1, 7-11
8.00 am: Poor Clares, Hawarden: Special Intention
12.15 pm: St Werburgh's: Tony Gibson
1.05 pm University Chapel: University Mass - All Welcome!

Tuesday 9th January: Ferial: I Samuel 1, 9-20; Psalm 1 Samuel 2; Mark 1, 21-28
8.00 am: Poor Clares Hawarden: Special Intention
12.00 noon: St Werburgh's: Requiem Mass for Joan Baxter, late of Woodfield Grove

Wednesday 10th January: Ferial: I Samuel 3, 1-120; Psalm 39; Mark 1, 29-39
12.15 pm: St Werburgh's: Patricia Cunniff (Birthday Remembrance)
1.20 pm: Blacon: Funeral Service for Norah Douglas, late of Curzon House N.H.

Thursday 11th January: Ferial: I Samuel 4, 1-11; Psalm 43; Mark 1, 40-45
12.15 pm: St Werburgh's: Paul Lawton (Birthday Remembrance)
1.20 pm Catholic High School: Weekly Voluntary Mass

Friday 12th January: Ferial: I Samuel 8, 4-22; Psalm 88; Mark 2, 1-12
1.00 pm: St Werburgh's: Requiem Mass for Maureen Middleton, late of Oaklands N.H.
7.30 pm: St Werburgh's: Reformation Talk III: How Catholic was Shakespeare?

Saturday 13th January: Ferial: I Samuel 9,1 - 10,1; Psalm 20; Mark 2, 13-17
10.30 am - 12.00 noon: St Werburgh's: Confessions
6.00 pm: Rowton Methodists: Birthday Intentions - James

SUNDAY 14th JANUARY: SECOND SUNDAY IN ORDINARY TIME (YEAR B)
I Samuel 3, 3-19; Psalm 39; I Corinthians 6, 13-20; John 1, 35-42

Saturday 6.00 pm: Rowton Methodists: Birthday Intentions – James
Sunday 9.00 am: St Werburgh's: Albert and Sheila Norman
Sunday 10.45 am: St Werburgh's: Mary O'Shea
Sunday 6.00 pm: St Werburgh's: Kathleen and Patrick O'Connell
Prayer intentions
Your prayers are asked for the following who are sick: Ruth O'Kane, Iris Philp, James Donovan, Garth Stocking, Ann McGowan-Scanlan, Mary Lyons, Kevin Maguire, Christine Davies, Michael Morton; and for all the sick of the Parish; and for those who have died recently, especially Carole Pollard, Finn Abberton, Joan Baxter, Norah Douglas, Maureen Middleton and Marie Gilmovitch; and for those whose anniversaries occur about this time: George Griffiths, Mary Le Gallez, Bridget Cullen, Arthur Barlow, Winifred Collins, Amelia Sanders, Richard Baxter, William Banks, Joan Roberts, Keith Ferguson, Patricia Pickering, Barbara McNay, Neil Roddy, John Conroy, William Lucas, Jane Molloy, Patrick Kavanagh, Thomas Lynch, Pat Williams, William Wright, Dorothy Costello, Gordon Ierston, Anthony Cooney, Maria Przeworski, Bernard Bamford, Kathleen Kennedy, Sarah Murphy, Joseph Lohinski, Helen Moreton, Basil Patterson, Kathleen O'Connell, Bette Cummings, Lilian Catherall, Grace Moore, Celine Little, Catherine Pate, Maurice Shanley and Miep Clarke. RIP.
Parish events
Epiphany and Baptism of the Lord
Today, Sunday 7th January, is the Epiphany (transferred from yesterday Saturday 6th. Whenever a Feast Day falls on a Saturday or a Monday it becomes the Sunday celebration.) Monday 8th is the Feast of the Baptism of the Lord, the Church's official end of Christmastide. Next Sunday, 14th, we pick up Ordinary Time again - Year B - and it is the Second Sunday in Ordinary Time. Hope that's clear. So...
...taking down the Christmas Tree and Decorations
We usually take the tree and decorations down after the Baptism of the Lord. Thursday 11th January 9.00 onwards, do come and join us. Once again, many hands will make light work.
Next Meeting for all FHC Parents
7.00 pm in St Werburgh's and St Columba's School, Lightfoot Street, on Monday 15th January. Please could you ensure that your children learn the Act of Contrition on page 18 of their First Forgiveness preparation books before their next meeting on 23rd January?
City Centre Churches Together
We meet again here at St Werburgh's on Tuesday afternoon at 2.30 pm to plan all our Ecumenical events for 2018. Starting with...
Week of Prayer for Christian Unity
Churches Together in Cheshire, the County Ecumenical Body, alternates a service in one of the larger Cheshire Churches - last year it was St Laurence's Frodsham - with a service in the Cathedral at which a national figure is invited to preach. In 2016 it was Lord Griffiths from the Methodists, 2014 Archbishop George Carey and 2012 Cardinal Cormac. This year it is the Archbishop of York coming to Chester Cathedral on Sunday 21st January 3.30 pm. With his dog collar. It's going to be a packed Cathedral, so please get their early.
SVP Christmas Lunch Saturday, 13th January
Many thanks, SVP, for organising this lovely event, and thanks, Parish, for your generosity in making it possible. We're looking forward to it!
Next Readers' Group Monthly Meeting
To explore the readings for the next month and prepare to read them. We meet in the Presbytery at 7.00 pm for about an hour on Monday 15th January. Meetings are open to all, whether readers or not. Do come along.
Part time Domestic Cleaner Wanted
For large house in Curzon Park. Duties include ironing, hoovering, dusting, general cleaning, etc. 4 hours a week preferably on Thursday or Friday. Good rate of pay. Contact John on 01244 683875 or 07905 982251.
Christleton and Waverton CT Week of Prayer
As in previous years, we visit each other's churches at 12.00 noon each day for a time of Prayer and Fellowship. Everyone warmly invited!
Monday 15th: Waverton Evangelical Fellowship
Tuesday 16th: Christleton Methodists
Wednesday 17th: St James Christleton
Thursday 18th: St Peter's Waverton
Friday 19th: Rowton Methodists
Saturday 20th: St Werburgh's
We normally take the Saturday, and as many people will be in town already, lay on a simple Sandwiches and Cake lunch afterwards. It means another 2.00 am start for yours truly, but, in the cause of Church Unity, I have to say it's worth it...
Retired Priests 2nd Collection 27/28 January
This is one of our eight 2nd Collections each year - three for the SVP, two for Flowers and one each for Retired Priests, Church Students and Annual Mission Appeal. Gift Aid envelopes available as usual. Many thanks, everyone!
Children's Liturgy - Starts Again 14th January
And we do hope our Catechists had a good Christmas and New Year Break, this time at the Saga Sunset Holiday Home, Cleethorpes.
Crib Collection: Diocesan Children's Society
And offerings - thanksgiving for our own Christmas and our own children? - will be forwarded to the Children's Society. Last chance to contribute - Wednesday 10th January.
January 'Day by Day' and Sacred Heart 'Messenger' - On the Newsstand - £1 each
Christmas Greetings from Oz and NZ
Thanks, Helen (from Oz) and Harper (from NZ).
"A War-Torn Chester Parish"
On sale again at all again Masses this weekend. It's going to sell out soon, so don't be disappointed. Soft Back £10, Hardback £20. Over 200 have been sold already - a superb result.
Next CathSoc Meeting: Sunday 14th January
Window-Ledge Christmas Cards
Please look and see if there are any for you - and a second name or initial can help?
Parish Website: We're Live Again
And 'Photo of the Week', one of our most popular features, is up and running once again, with a beautifully topical picture, our Altar Servers Annual Group Picture, Christmas 2017. Thanks, Team.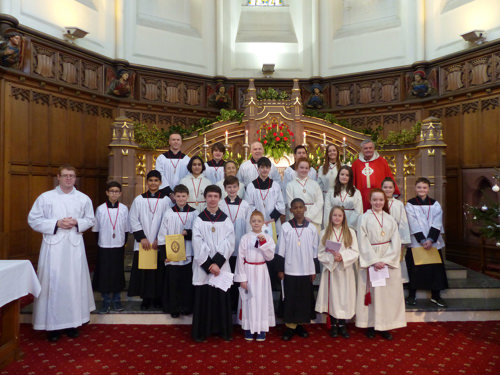 January Shakespeare Reformation Talk
As promised, it will be delivered in full on Friday January 12th: Talk at 7.30 pm, Discussion and Questions at 8.15 pm, Tea and Tab Nabs at 9.00 pm. All welcome.