Parish Newsletter
SUNDAY 21st JANUARY 2018: THIRD SUNDAY IN ORDINARY TIME (YEAR B)
Liturgical
Jonah 3, 1-10; Psalm 24; I Corinthians 7, 29-31; Mark 1, 14-20
Saturday 6.00 pm: Rowton Methodists: Sean Brosnan (L.D., Michigan)
Sunday 9.00 am: St Werburgh's: Joan Baxter (L.D.)
Sunday 10.45 am: St Werburgh's: Barbara Stoppard (1st Anniversary)
Sunday 3.30 pm: Chester Cathedral: Churches Together in Cheshire - Archbishop John Sentamu of York
Sunday 6.00 pm: St Werburgh's: Kathleen Wilbraham (1st Anniversary)

Monday 22nd January: Ferial: II Samuel 5, 1-10; Psalm 88; Mark 3, 22-30
10.30 am: St Francis: Requiem Mass for Eileen Morgan, Margaret Chandler's Mother
12.15 pm: St Werburgh's: John and Vera Clyne
1.20 pm: Blacon: Funeral Service for Margaret (Lexy) Wilkinson, late of the Willow NH
2.00 pm University Chapel: University Mass - All Welcome!

Tuesday 23rd January: Ferial: II Samuel 6, 12-19; Psalm 23; Mark 3, 31-35
8.00 am: Poor Clares Hawarden: Special Intention
12.15 pm: St Werburgh's: Intentions of Marianne

Wednesday 24th January: St Francis de Sales: II Samuel 7, 4-17; Psalm 88; Mark 4, 1-20
9.20 am: Blacon: Funeral Service for Brenda Margaret Blackwell, late of Crawford's Walk NH
12.15 pm: St Werburgh's: Kitty Daley (L.D., Little Sutton)

Thursday 25th January: Conversion of St Paul: Acts 22, 3-16; Psalm 116; Mark 16, 15-18
9.20 am: Blacon: Funeral Service for Zygmunt Dowicz, late of Spring Lodge, Flookersbrook
12.15 pm: St Werburgh's: Mae Kay (2nd Anniversary)

Friday 26th January: Saints Timothy and Titus: II Timothy 1, 1-8; Psalm 95; Luke 10, 1-9
12.15 pm: Ampleforth Abbey Conventual Mass: Intentions of Edward
12.15 pm: St Werburgh's: Eucharistic Service

Saturday 27th January: Ferial: II Samuel 12, 1-17; Psalm 50; Mark 4, 35-41
10.00 am: St Werburgh's: Celebration of First Forgiveness for our First Holy Communion Children
11.30 am - 12.30 pm: St Werburgh's: Confessions
6.00 pm: Rowton Methodists: Intentions of Freda Lloyd

SUNDAY 28th JANUARY: FOURTH SUNDAY IN ORDINARY TIME (YEAR B)
Jonah 3, 1-10; Psalm 24; I Corinthians 7, 29-31; Mark 1, 14-20

Saturday 6.00 pm: Rowton Methodists: Intentions of Freda Lloyd
Sunday 9.00 am: St Werburgh's: Agnes Kasperek (L.D.)
Sunday 10.45 am: St Werburgh's: Hazel Gardner-Thorpe (L.D. Sussex)
Sunday 12.30 pm: St Werburgh's: Baptisms of Grace and Lexi Tittershill and Benjamin Heaver
Sunday 2.30 pm: Comberbach Methodists: Churches Together in Northwich - Fr Paul Preaching
Sunday 6.00 pm: St Werburgh's: Bernie Boyle and Family (Ireland)
Prayer intentions
Your prayers are asked for the following who are sick: Ruth O'Kane, Iris Philp, James Donovan, Garth Stocking, Ann McGowan-Scanlan, Mary Lyons, Kevin Maguire, Christine Davies, Michael Morton; and for all the sick of the Parish; and for those who have died recently, especially Carole Pollard, Margaret Wilkinson, Brenda Blackwell and Zygmunt Dowicz; and for those whose anniversaries occur about this time: James Dean, Lawrence Heaney, Arthur Turner, Georgina Barlow, Mary Daly, Phyllis Campbell, Chris Redmond, Richard Bird, Brian Wilding, Margaret Fairhurst, Agnes Scanlon, John Anson, Mae Kay, Margaret Whelan, Douglas Haswell, Annie Burrows, Evelyn Stretch, Sister Christopher, Maria Scott, Sylvia Shaw, Jeremy Newell, Margaret Bates, Ernie Moore, Muriel Wright and Violet Brown. RIP
Parish events
Next stop Ash Wednesday, 14th February!
During Fridays in Lent, we will, as usual, alternate Stations of the Cross and Devotions, each taking about 45 minutes. Any volunteers to take Devotions this year? You have an entirely free hand to devise your own service.
February Pilgrimage / Retreat to Ampleforth
This year, our CathSoc students are going on Retreat to Ampleforth in beautiful North Yorkshire. We've been given exclusive use of the Guest House, which sleeps 15. This means we will have about four places available if any Parishioners would like to join us. Travelling up by Minibus, leaving here Monday morning 19th and back Thursday evening 22nd. Total cost £150, all inclusive. Anyone interested?
Next Meeting for FHC Parish Group
Tuesday 23rd January, Parish House, 6.30 pm.
Photo of the Week: Wood from the Screen
A notice board fashioned from the wood previously used in the Sanctuary screen. Many thanks, Cathy Elsden, for this lovely idea.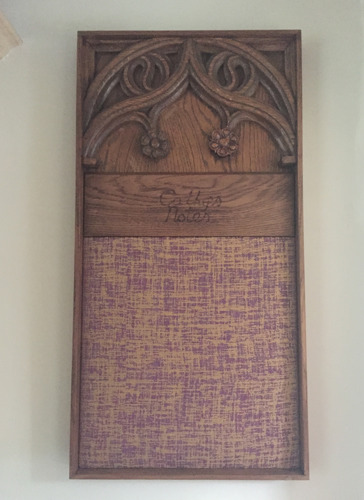 Mental Health Group Meeting on Monday 7.00
We're taking as our theme this month, "Tricks that Help Me". Have you learnt any little ways or tactics to help you manage your life more successfully? Do come and share them with us.
SVP Music Night, Friday 9th February 7.00 pm
St Columba's Parish Hall. A night of musical entertainment, dancing and fun, featuring the Chester Catholic High School Band, 'Nuns and Rosaries' and guests. All proceeds in support of the Chester and Ellesmere Port SVP Holiday Home. Tickets £10 on sale after all Masses on Saturday/Sunday 20/21 January.
Music Group Playing Today: 10.45 Mass
Bringing Holy Communion to You
If at Sunday or Weekday Mass you would find it easier for us to bring Holy Communion to you, please just stay in your seat and raise a hand at the end. We'll be looking out for you!
Week of Prayer for Christian Unity
Churches Together in Cheshire, the County Ecumenical Body, alternates a service in one of the larger Cheshire Churches - last year it was St Laurence's Frodsham - with a service in the Cathedral at which a national figure is invited to preach. In 2016 it was Lord Griffiths from the Methodists, 2014 Archbishop George Carey and 2012 Cardinal Cormac. This year it is the Archbishop of York coming to Chester Cathedral on Sunday 21st January 3.30 pm. With his dog collar. It's going to be a packed Cathedral, so please get there early.
Church Library - Back of Church
Thank you for all the books that have been donated this past year. The bookcases are now overflowing so we regret that we cannot accept any more books for the time being. There are also a number of books on top of the bookcases, including an Encyclopaedia Britannica, which we would like to go to a good home. If you are interested, please let FP know.
First Forgiveness Next Saturday at 10.00 am
So, general Confessions will be 11.30-12.30 pm.
Catholic High School Parents Association
Bingo Night on Friday, 2nd Feb 7.00 pm at the Catholic High School. Bar and tuck shop will be open. Raising funds for new sport kits and equipment. Adults and children welcome.
Annual Diocesan Mass for Married Life
If there are any couples in the parish who are celebrating significant wedding anniversaries during the course of 2018 and who would like to receive an invitation from the Bishop to participate in the Annual Diocesan Mass for the Celebration of Marriage at Our Lady and St Christopher's, Romiley on Saturday 10th February at 12 noon, please let FP know. All married couples are welcome to this Mass but invitations from the Bishop will only be sent to those celebrating significant anniversaries this year.
St Werburgh's Social: Friday 9th February 7.00
Our usual jolly social down at the club - free buffet, free first drink (you'll have to buy the other ten yourself), irritating FP Quiz - what's not to like? Tickets available from next weekend.
Domestic Cleaner Wanted for Parish House
To clean the House and two Church Toilets. Six hours a week, to be arranged by mutual convenience. Could split between two cleaners. Please see FP for further details or to apply.
Retired Priests 2nd Collection 27/28 January
This is one of our eight 2nd Collections each year. Gift Aid envelopes available as usual. Many thanks, everyone, for any support you can give!
CathSoc Meeting: Sunday 21st January
Prayer and Praise this evening - all students very warmly welcome. Next Sunday (28th) - Shared Table Supper. Wrinklies invited!
Reformation Talks
More copies of all three talks on the table at the back. The series seemed to go well: ideas for future topics that have come in so far include Recusant Parishes (i.e. those few parts of England that never went Protestant but stayed Catholic) and more on the Literature of the 17th Century. Any further suggestions gratefully received.