Parish Newsletter
SUNDAY 28th JANUARY 2018: FOURTH SUNDAY IN ORDINARY TIME (YEAR B)
Liturgical
Deuteronomy 18, 15-20; Psalm 94; I Corinthians 7, 32-35; Mark 1, 21-28
Saturday 6.00 pm: Rowton Methodists: Intentions of Freda Lloyd
Sunday 9.00 am: St Werburgh's: Agnes Kasperek (L.D.)
Sunday 10.45 am: St Werburgh's: Hazel Gardner-Thorpe (L.D. Sussex)
Sunday 12.30 pm: St Werburgh's: Baptisms of Grace and Lexi Tittershill and Benjamin Heaver
Sunday 2.30 pm: Comberbach Methodists: Churches Together in Northwich - Fr Paul Preaching
Sunday 6.00 pm: St Werburgh's: Bernie Boyle and Family (Ireland)

Monday 29th January: Ferial: II Samuel 15,13 - 16,13; Psalm 3; Mark 5, 1-20
12.15 pm: St Werburgh's: Alan Povey
1.05 pm University Chapel: University Mass - All Welcome!

Tuesday 30th January: Ferial: II Samuel 18,9 - 19,3; Psalm 85; Mark 5, 21-43
8.00 am: Poor Clares Hawarden: Special Intention
1.30 pm: St Werburgh's: Requiem Mass for Carole Pollard, late of Tarvin Court NH

Wednesday 31st January: St John Bosco: II Samuel 24, 8-17; Psalm 31; Mark 6, 1-6
1.30 pm: St Werburgh's: Requiem Mass for Josephine McCann, late of Beckett's Lane

Thursday 1st February: Ferial: I Kings 2, 1-12; Psalm I Chronicles 29; Mark 6, 7-13
12.15 pm: St Werburgh's: Desmond Mooney (L.D., Co Meath)

Friday 2nd February: The Presentation of the Lord: Malachi 3, 1-4; Psalm 23; Luke 2, 22-40
10.00 am: Primary School: Mass for the Feast of St Werburgh
12.15 pm: St Werburgh's: Intentions of Gladys Wells (Lincoln)

Saturday 3rd February: St Werburgh: I Kings 3, 1-14; Psalm 118; Mark 6, 30-34
10.00 am - 11.00 am: St Werburgh's: Confessions
12.00 noon: Poor Clares Hawarden: Mass for Feast of St Colette - Patron Saint of New Mothers
6.00 pm: Rowton Methodists: Pedro Ballester (L.D.)

SUNDAY 4th FEBRUARY: FIFTH SUNDAY IN ORDINARY TIME - FEAST OF ST WERBURGH (YEAR B)
Job 7, 1-7; Psalm 146; I Corinthians 9, 16-23; Mark 1, 29-39

Saturday 6.00 pm: Rowton Methodists: Pedro Ballester (L.D.)
Sunday 9.00 am: St Werburgh's: Joan Baxter (L.D.)
Sunday 10.45 am: St Werburgh's: Graham Parry
Sunday 6.00 pm: St Werburgh's: Rachael Andrews (9th Anniversary)
Prayer intentions
Your prayers are asked for the following who are sick: Ruth O'Kane, Iris Philp, James Donovan, Garth Stocking, Ann McGowan-Scanlan, Mary Lyons, Kevin Maguire, Christine Davies, Michael Morton; and for all the sick of the Parish; and for those who have died recently, especially Josephine McCann, Carole Pollard, Margaret Wilkinson, Brenda Blackwell and Zygmunt Dowicz; and for those whose anniversaries occur about this time: Michael Cochrane, Gerald Kay, Mary Buckley, Kathleen Wilbraham, Sr Christopher Whitehead, Jim Ilott, Baby Dane Layden, Maud Matthews, Denis Mannion, Mary Williams, Jean Bourne, Audrey O'Brien, Zita Box, Pat Fitzgerald, Doreen Maindorge, Alex McKeegan, John Smart, William Rainbow, Gertrude Lucas, John Dee, Winifred Esser, Peter Taylor, Margaret Mercer, Bernard Egan, Winifred Fields, Paul Webber and Joan Thornton-Firkin. May They All Rest in Peace.
Parish events
Ash Wednesday: 14th February
Exquisite timing this year: Ash Wednesday is St Valentine's Day, Easter Sunday April Fool's Day. Who says God doesn't have a sense of humour?
Lent Friday Devotions
Two of the three slots have been taken - one left if anyone is interested.
February Pilgrimage / Retreat to Ampleforth
Three places left if any Parishioner would like to join us for our CathSoc Retreat to Ampleforth in beautiful North Yorkshire. We've been given exclusive use of the Guest House, which sleeps 15. Travelling up by Minibus, leaving here Monday morning 19th and back Thursday evening 22nd. Total cost £150, all inc. See FP if interested.
Poor Clares: Mass for Feast of St Colette
St Colette is the Patron Saint of hopeful and expectant parents, of babies and the unborn, especially any in particular need of prayer. There is a special Mass next Saturday, 3rd February, at 12.00 noon at the Poor Clares in Hawarden (CH5 3EN). If you fall into any of these categories, you are very welcome to join the Sisters for this special Mass and Blessing.
Photo of the Week: Those Poor Benedictines!
Br Alberic and Br Benedict from Ampleforth, Br Augustine from Belmont and Sr Thérèse from Stanbrook, the four Benedictine Juniors I teach every three weeks or so. Feel sorry for them?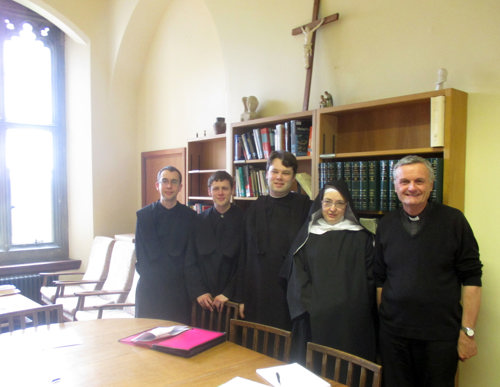 Mental Health Group Meeting on Monday 7.00
Good meeting on Monday, sharing with each other a few tips or tricks that help us when the mind isn't working exactly how we'd like it to. Next meeting: Tuesday 20th February at 7.00 pm.
SVP Music Night, Friday 9th February 7.00 pm
St Columba's Parish Hall. A night of musical entertainment, dancing and fun, featuring the Chester Catholic High School Band, 'Nuns and Rosaries' and guests. All proceeds in support of the Chester and Ellesmere Port SVP Holiday Home. Tickets £10 on sale after all Masses on Saturday/Sunday 20/21 January.
If the Office Door is Closed...
If I'm in the Office with the door closed, folks, it will be because I have someone with me. Three or four times in recent months, people have just walked straight into the office, when the door's been closed, which is embarrassing for all concerned. I don't want to put a "Please Do Not Disturb" notice on the door, and I'm sure it's not necessary! Door Closed = FP With Someone!
Liturgy Group Meeting on Tuesday at 7.00 pm
Planning for Lent, Holy Week and Easter - it's coming upon us quickly! Everyone welcome.
Bringing Holy Communion to You
If at Sunday or Weekday Mass you would find it easier for us to bring Holy Communion to you, please just stay in your seat and raise a hand at the end. We'll be looking out for you!
Church Library - Back of Church
Thank you for all the books that have been donated this past year. The bookcases are now overflowing so we regret that we cannot accept any more books for the time-being. There are also a number of books on top of the bookcases, including an Encyclopaedia Britannica, which we would like to go to a good home. If you are interested, please let FP know.
Catholic High School Parents Association
Bingo Night on Friday, 2nd Feb 7.00 pm at the Catholic High School. Bar and tuck shop will be open. Raising funds for new sport kits and equipment. Adults and children welcome.
Annual Diocesan Mass for Married Life
If there are any couples in the parish who are celebrating significant wedding anniversaries during the course of 2018 and who would like to receive an invitation from the Bishop to participate in the Annual Diocesan Mass for the Celebration of Marriage at Our Lady and St Christopher's, Romiley on Saturday 10th February at 12 noon, please let FP know. All married couples are welcome to this Mass but invitations from the Bishop will only be sent to those celebrating significant anniversaries this year.
St Werburgh's Social: Friday 9th February 7.00
Our usual jolly social down at the club - free buffet, free first drink (you'll have to buy the other ten yourself), irritating FP Quiz - what's not to like? Tickets available this weekend.
Domestic Cleaner Wanted for Parish House
To clean the House and two Church Toilets. Six hours a week, to be arranged by mutual convenience. Could split between two cleaners. Please see FP for further details or to apply.
Retired Priests 2nd Collection 27/28 January
This is one of our eight 2nd Collections each year. Gift Aid envelopes available as usual. Many thanks, everyone, for any support you can give!
CathSoc Meeting: Sunday 28th January
Shared Table Supper this evening - succulent dishes from all over the world. And Tesco. Wrinklies warmly invited! 7.00 pm.
Lourdes Diocesan Hospitality Group
Celebrating the Feast of Our Lady of Lourdes with Mass at 3.00 pm on Sunday 11th February, at St Peter's Church, Green Lane, Hazel Grove, Stockport SK7 4EA. Everyone warmly welcome!