Parish Newsletter
SUNDAY 11th FEBRUARY 2018: SIXTH SUNDAY IN ORDINARY TIME (YEAR B)
Liturgical
Leviticus 13, 1-46; Psalm 31; I Corinthians 10,31 – 11,1; Mark 1, 45-45
Saturday 6.00 pm: Rowton Methodists: Eileen Morgan (L.D.)
Sunday 9.00 am: St Werburgh's: Janette Doherty (L.D.)
Sunday 10.45 am: St Werburgh's: Elizabeth and Pat Doyle, and family (Ireland)
Sunday 12.30 pm: St Werburgh's: Baptism of Francis Michael Jones
Sunday 6.00 pm: St Werburgh's: Mick Fields

Monday 12th February: Ferial: James 1, 1-11; Psalm 118; Mark 8, 11-13
12.15 pm: St Werburgh's: James Smyth (Anniversary - Dublin)
1.05 pm University Chapel: University Mass - All Welcome!

Tuesday 13th February: Ferial: James 1, 12-18; Psalm 93; Mark 8, 14-21
8.00 am: Poor Clares Hawarden: Special Intention
12.00 noon: St Werburgh's: Requiem Mass for Gerardina Vitelli, late of Croft Close, Rowton

Wednesday 14th February: ASH WEDNESDAY: Joel 2, 12-18; Psalm 50; II Cor 5,20 – 6,2; Matthew 6, 1-18
7.30 am: St Werburgh's: Intentions of Ray Harper
12.15 pm: St Werburgh's: The People of the Parish
7.30 pm: St Werburgh's: Intentions of James Andrews

Thursday 15th February: Thursday after Ash Wednesday: Deuteronomy 30, 15-30; Psalm 1; Luke 9, 22-25
12.15 pm: St Werburgh's: Special Intention (DCE)

Friday 16th February: Friday after Ash Wednesday: Isaiah 58, 1-9; Psalm 50; Matthew 9, 14-15
7.00 pm: Stations of the Cross
7.30 pm: St Werburgh's: Terence Cunniff (Anniversary)
8.00 - 9.00 pm: Adoration of the Blessed Sacrament

Saturday 17th February: Saturday after Ash Wednesday: Isaiah 58, 9-14; Psalm 85; Luke 5, 27-32
10.30 am - 12.00 noon St Werburgh's: Confessions
12.30 pm: St Werburgh's: Baptism of Eve Bernadette Carrotte
6.00 pm: Rowton Methodists: Pamela Reece (3rd Anniversary)

SUNDAY 18th FEBRUARY: FIRST SUNDAY OF LENT (YEAR B)
Genesis 9, 8-15; Psalm 24; I Peter 3, 18-22; Mark 1, 12-15

Saturday 6.00 pm: Rowton Methodists: Pamela Reece (3rd Anniversary)
Sunday 9.00 am: St Werburgh's: Vincent Lea (Anniversary 1997)
Sunday 10.45 am: St Werburgh's: Kareena - 1st Birthday Thanksgiving
Sunday 6.00 pm: St Werburgh's: Sheila and Jim Doyle (Ireland)
Prayer intentions
Your prayers are asked for the following who are sick: Ray Harper, Ruth O'Kane, Iris Philp, James Donovan, Garth Stocking, Ann McGowan-Scanlan, Mary Lyons, Kevin Maguire, Christine Davies, Michael Morton; and for all the sick of the Parish; and for those who have died recently, especially Gerardina Vitelli; and for those whose anniversaries occur about this time: Maurice Cashman, Patrick Foley, Eileen Glynn, Brian Barrett, Margaret Lightfoot, Teresa Brazzill, Bernard Rainville, Ellen Leyland, Raymond Langan, Norma Cambes, Margaret Dunne, Tadeusz Danczak, Judith Roberts and Joyce Higgins. May They All Rest in Peace.
Parish events
Ash Wednesday Masses: 14th February
Usual three here: 7.30 am, 12.15 pm and 7.30 pm
Lent Friday Devotions and Stations at 7.30 pm
Friday 16th February we will have Stations of the Cross at 7.00 pm, Mass at 7.30 pm and then Adoration of the Blessed Sacrament till 9.00 pm.
Post-Confirmation Pizza
Thanks to everyone for a super evening out on Wednesday. Sitting enjoying a meal out with our Candidates reminded us all what lovely young people they are, and not children any more.
February Pilgrimage / Retreat to Ampleforth
Important information/briefing session Thursday 15th at 6.00 pm, please.
Lent Day by Day - February and March Sacred Heart Messengers £1 each.
Photo of the Week
Alison and Carla have sent in another very evocative archive photo, their Auntie Beryl on her Wedding Day, with their Dad giving her away. February 1954. See that snow piled up - and how Dad is dressed. Dear dead days beyond recall??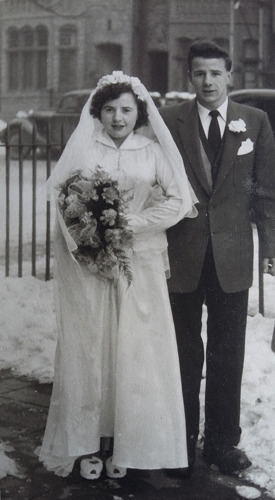 Foodbank - Thank You!
Thank you for the 335.86 kg of food our Parish has donated in the last twelve months.
CathSoc Bake Sale After Sunday Mass
Our students are having a bake sale this Sunday, February 11th, after each of the three Sunday Masses, to raise money for CAFOD.
Dickens Productions Coming Up Locally
3 productions coming up: would you like to make up a party to go and see them, all at 7.30 pm?
Nicholas Nickleby: King's School: Wed 28th Feb
Great Expectations: Theatr Clwyd: Sat 3rd March
Hard Times: Liverpool Playhouse: Tues 27th March
Usual boring FP talk on Monday 26th February on the three novels and their dramatisations.
Christleton CT Mini-Pilgrimages: Thursdays 2.30
We are repeating our popular and successful series of Mini-Pilgrimages around 5 local Houses of Prayer. All welcome to join us: make your own way there or meet in St James Car Park 1.45 pm.
Thursday 22nd Feb: Foxhill Conference Centre
Thursday 1st March: Sisters of Jesus Way, W Kirby
Thursday 8th March: Saughall Methodists
Thursday 15th March: St Winefride's, Holywell
Thursday 22nd March: Frodsham Prayer Garden
A time of prayer, a time of quiet, a time of tea and tab nabs. See flyers for full details.
St Werburgh's Social: Friday 9th February 7.00
Thanks, John, for an excellent buffet and Social down at the Club on Friday Night. Record numbers to celebrate our Feast Day together.
Retired Priests Collection - Last chance today.
Furniture Wanted by Our SVP
A wardrobe, a desk and chair, bunkbeds and two second-hand laptops. svpchester@gmail.com.
Old Phones and Printer Cartridges
The SVP can turn old mobile phones and used printer cartridges (branded) into cash for their new SVP Holiday Home fund. In the box, please!
New Tax Year Weekly Offertory Envelopes
2018/19 envelopes available at back of church.
Ray Harper
Can we all keep our very dear friends Ray and Brenda Harper in our prayers this weekend? Ray is very seriously ill in Hospital, but well enough to send his love and best wishes to all his many friends here at St Werburgh's, a Parish he served so faithfully for so many years.
First Holy Communion Parish Group
Our next meeting for parents and children is on Tuesday 13th February at 6.30 in the Parish House. Please could the children bring their pencil cases and folders. They will receive their First Communion Preparation Books.
Next Readers' Meeting
Monday February 19th (3rd Monday of the month) at 7.00 pm in the Presbytery for about an hour to study the readings for the next 4 Sundays of Lent. Always a very open meeting. Everyone welcome. Lent is an excellent time to explore Readings.
Christian Aid Lent Lunch and Coffee Morning
St Werburgh's Christian Aid Lenten Lunch is on Mon 19th Feb at Quaker Meeting House, Frodsham Street, from 12 noon. The Christian Aid Coffee Morning will be held from 10 am on Saturday 24th February at the United Reformed church, Hoole Road. If you can make some cakes for the event, please contact Marie Broadhurst on 311374.
Parish Day Out to Cheadle, Staffs: 21st May
Visiting the glorious Catholic Church of St Giles designed by Pugin in 1846. Lunch at The Manor House Hotel. Travel by coach. Cost is £27.00 per person and booking opens at the beginning of March. Priority for St Werburgh's Parishioners.
Chester Theatre Club - Youth Theatre
The Man Who Disappeared - The Story of Private Harry Farr. Harry was shot at dawn on 18th October 1916 for "cowardice". The Youth Theatre are presenting a dramatized version of his story here in St Werburgh's, Sunday 4th March at 3.00 pm. Everyone warmly welcome!
Music Group
Playing at 10.45 am Mass next Sunday. Usual practice in Church, Monday 12th February 6.45 pm.