Parish Newsletter
SUNDAY 18th FEBRUARY 2018: FIRST SUNDAY OF LENT (YEAR B)
Liturgical
Genesis 9, 8-15; Psalm 24; I Peter 3, 18-22; Mark 1, 12-15
Saturday 6.00 pm: Rowton Methodists: Pamela Reece (3rd Anniversary)
Sunday 9.00 am: St Werburgh's: Vincent Lea (Anniversary 1997)
Sunday 10.45 am: St Werburgh's: Kareena - 1st Birthday Thanksgiving
Sunday 6.00 pm: St Werburgh's: Sheila and Jim Doyle (Ireland)

Monday 19th February: Ferial: Leviticus 19, 1-18; Psalm 18; Matthew 25, 31-46
12.15 pm: St Werburgh's: Eucharistic Service
Intention at Ampleforth: Edith and Helen Murphy

Tuesday 20th February: Ferial: Isaiah 55, 10-11; Psalm 33; Matthew 6, 7-15
12.15 pm: St Werburgh's: Eucharistic Service
Intention at Ampleforth: Ray O'Brien (8th Anniversary)

Wednesday 21st February: Ferial: Jonah 3, 1-10; Psalm 50; Luke 11, 29-32
12.15 pm: St Werburgh's: Eucharistic Service
Intention at Ampleforth: Intentions of Wendy O'Brien

Thursday 22nd February: Chair of St Peter: I Peter 5, 1-4; Psalm 22; Matthew 16, 13-19
12.15 pm: St Werburgh's: Eucharistic Service
Intention at Ampleforth: For Peace of Mind

Friday 23rd February: St Polycarp: Ezekiel 18, 21-28; Psalm 129; Matthew 5, 20-26
12.30 pm: St Werburgh's: Nuptial Mass for Shane Williams and Nickola Marnell
7.00 pm: Stations of the Cross
8.00 – 9.00 pm: Adoration of the Blessed Sacrament

Saturday 24th February: Ferial: Deuteronomy 26, 16-19; Psalm 118; Matthew 5, 43-48
10.00 am: HMP Berwyn: Mass for Prisoners and Staff
6.00 pm: Rowton Methodists: Betty Rice (Liverpool)

SUNDAY 25th FEBRUARY: SECOND SUNDAY OF LENT (YEAR B)
Genesis 22, 1-18; Psalm 115; Romans 8, 31-34; Mark 9, 2-10

Saturday 6.00 pm: Rowton Methodists: Betty Rice (Liverpool)
Sunday 9.00 am: St Werburgh's: Alex Barnes
Sunday 10.45 am: St Werburgh's: Gary Nelson (1st Anniversary)
Sunday 12.30 pm: St Werburgh's: Baptism of Etta Spilsbury
Sunday 6.00 pm: St Werburgh's: Bill and Elsie Wilson
Prayer intentions
Your prayers are asked for the following who are sick: Wendy O'Brien, Ruth O'Kane, Iris Philp, James Donovan, Garth Stocking, Ann McGowan-Scanlan, Mary Lyons, Kevin Maguire, Christine Davies, Michael Morton; and for all the sick of the Parish; and for those who have died recently, especially Gerardina Vitelli and Ray Harper; and for those whose anniversaries occur about this time: Josephine Owens, Margaret Connolly, Bernard Flaherty. John Axon, Mary Barr, Kathleen Vickers, Winifred Swaine, Gary Nelson, Mary Lambert, Harry Keyzor, Peter Melia, Eric Muldoon, Dorothy Welch, Fred McClelland, Joe Dunne, Bob Ward, Bernie Clark, Irene Whitehouse and Winifred Morris. May They All Rest in Peace.
Parish events
Wendy O'Brien
Can we all please keep Wendy in our prayers? She had a nasty fall on the pavement outside Church on Friday lunchtime and banged her head. She was taken to Walton Hospital and had an operation Friday night. News from Martin - Friday night - is that she's come through well and is on the road to recovery.
Lent Friday Devotions and Stations at 7.00 pm
Apologies for the confusion over the Start Time: always 7.00 pm, please. Denise led us in beautiful and thoughtful Stations last Friday; this Friday, Jean will lead the Stations, followed by Adoration and quiet prayer till 9.00 pm.
Next Week's Pilgrimage / Retreat to Ampleforth
We leave 8.30 Monday morning, back about 10.00 pm on Thursday. Please keep us in your prayers, as we will you in ours. Oremus pro invicem!
Photo of the Week: New Pentecost Banner
Many thanks, Gerry, for obtaining this splendid new banner for us, and Paula for photographing it. You'll notice we also now have a new St Werburgh Banner, and hope to add to our collection in the years ahead.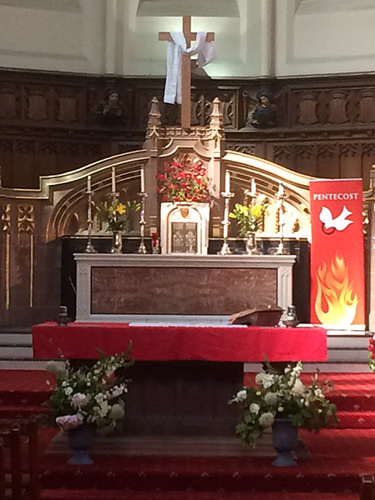 Student CathSoc Bake Sale After Sunday Mass
£247.97 raised for CAFOD - a fantastic result, and well done everyone! I thought it was so good, President Trump would like to be told. His reaction? "Cake news! CAKE NEWS!" [Sorry!] Thanks to all the bakers and sellers, and to Joe-Joe for sampling them all.
Dickens Productions Coming Up Locally
Nicholas Nickleby: King's School: Wed 28th Feb
Great Expectations: Theatr Clwyd: Sat 3rd March
Hard Times: Liverpool Playhouse: Tues 27th March
Usual boring FP talk on Monday 26th February on the three novels and their dramatisations. Plenty have signed up - anyone else?? I shall get the tickets myself and then hand them out.
Christleton CT Mini-Pilgrimages: Thursdays 2.30
We start this coming Thursday at Foxhill. Do take a flyer for all the details for the coming weeks.
Old Phones and Printer Cartridges
Coming in excellently - please keep'em coming!
Ray Harper RIP
Ray went home peacefully to the Lord last Sunday Morning. We are very honoured that Brenda has asked if his Funeral can be here: Wednesday 28th at 12.00 noon.
Next Readers' Meeting
Monday February 19th (3rd Monday of the month) at 7.00 pm in the Presbytery for about an hour.
Christian Aid Lent Lunch and Coffee Morning
St Werburgh's Christian Aid Lenten Lunch is on Mon 19th Feb at Quaker Meeting House, Frodsham Street, from 12 noon. The Christian Aid Coffee Morning will be held from 10 am on Saturday 24th February at the United Reformed church, Hoole Road. If you can make some cakes for the event, please contact Marie Broadhurst on 311374.
Parish Day Out to Cheadle, Staffs: 21st May
Visiting the glorious Catholic Church of St Giles designed by Pugin in 1846. Get it in your Diaries!
Chester Theatre Club - Youth Theatre
The Man Who Disappeared - The Story of Private Harry Farr. Harry was shot at dawn on 18th October 1916 for "cowardice". The Youth Theatre are presenting a dramatized version of his story here in St Werburgh's, Sunday 4th March at 3.00 pm. Everyone warmly welcome!
Music Group Playing at 10.45 Today
SVP Afternoon Tea at the Catholic High School
For all our elderly and housebound friends, Wednesday, 7th March 2.00 pm. Transport will be provided. Contact Parish Office if required!
SVP Lenten Service of Reconciliation
Again, for our elderly and housebound: Saturday, 17th March 10.30 am. All welcome to join us at this service when there will be the chance for Confessions. Ring us if you need transport.
Bishop's Pastoral Letter for Lent
Please take a copy from the back of church.
Next Mental Health Group: Tuesday 20th March
Next Refreshments After Mass: 21st March
Youth Connect 5
This popular five-week course for parents is running again starting 28th February. Aimed at those looking after children over 8, the course helps parents understand the stresses that young people face and gives practical tools for helping build emotional resilience. 7.00 pm at St Werburgh's and St Columba's Primary School. https://youthconnect5.org.uk/ or 07743704383.
HMP Berwyn Mass next Saturday, 24th February
So, no Confessions here that morning.
Wrexham Newman Circle
Next Friday Evening, I've been invited to give a talk on "Our Universities Today, Yesterday and Tomorrow". Should be interesting!
Women's World Day of Prayer Friday 2nd March
10.30 am at Wesley Methodists. This year's service is prepared by the women of Surinam. All welcome.