Parish Newsletter
SUNDAY 25th MARCH: PALM SUNDAY (YEAR B)
Liturgical
Mark 11, 1-10; Isaiah 50, 4-7; Psalm 21; Philippians 2, 6-11; Mark 14,1 – 15,47

Saturday 6.00 pm: Rowton Methodists: Gerardina Vitelli (L.D.)
Sunday 9.00 am: St Werburgh's: Marie & John Keegan; Brendan Keegan
Sunday 10.45 am: St Werburgh's: Garry Nelson (1st Anniversary)
Sunday 1.00 pm: St Werburgh's: Baptism of Holly May Robertshaw
Sunday 6.00 pm: St Werburgh's: Jo McCann (L.D.)
Monday 26th March: Monday of Holy Week: Isaiah 42, 1-7; Psalm 26; John 12, 1-11
12.15 pm: St Werburgh's: Intentions of Declan Burley
1.05 pm: University Chapel: University Mass – All Welcome! (Next University Mass: Monday 9th April)
7.00 pm – 10.00 pm: St Werburgh's: Confessions
Tuesday 27th March: Tuesday of Holy Week: Isaiah 49, 1-6; Psalm 70; John 13, 21-38
8.00 am: Poor Clares Hawarden: Special Intention
10.00 am – 12.00 noon: St Werburgh's: Confessions
12.15 pm: St Werburgh's: Frau Irmgard Herzog (L.D. Munich)
Wednesday 28th March: Wednesday of Holy Week: Isaiah 50, 4-9; Psalm 68; Matthew 26, 14-25
10.00 am – 12.00 noon: St Werburgh's: Confessions
12.15 pm: St Werburgh's: Dilys Ball (6th Anniversary)
2.40 pm: Blacon: Funeral Service for Margaret Thornton, late of Reeves Road, Great Boughton
7.00 pm: Shrewsbury Cathedral: Diocesan Chrism Mass (Leave from Chester Station 5.30 pm)
Thursday 29th March: MAUNDY THURSDAY
10.40 am: Blacon: Funeral Service for Dennis Snee, late of Gawsworth Road, Great Sutton
12.15 pm: St Werburgh's: Philip
7.30 pm: Mass of the Lord's Supper: Intentions of St Werburgh's Eucharistic Ministers
8.30 pm – Midnight: Watching at the Altar of Repose
Friday 30th March: GOOD FRIDAY
10.00 am: St Werburgh's: Children's Stations of the Cross
3.00 pm: St Werburgh's: Liturgy of the Passion
Saturday 31st March: HOLY SATURDAY
8.30 pm: St Werburgh's: Vigil Mass of Easter: Intentions of Mandy Pritchard and Family
12.00 Midnight: St Werburgh's: Midnight Mass: Matthew Robinson
SUNDAY 1st APRIL: EASTER SUNDAY (YEAR B)
Acts 10, 3-43; Psalm 117; Colossians 3, 1-4; John 20, 1-9
Sunday 9.00 am: St Werburgh's: Sylvia Pritchard (3rd Anniversary)
Sunday 10.45 am: St Werburgh's: Mary Taylor (Birthday Remembrance)
Sunday 6.00 pm: St Werburgh's: Kevin and Dolores Coriam (Anniversary)
Prayer Intentions
Your prayers are asked for the following who are sick: Wendy O'Brien, Ruth O'Kane, Iris Philp, James Donovan, Garth Stocking, Ann McGowan-Scanlan, Mary Lyons, Kevin Maguire, Christine Davies, Michael Morton; and for all the sick of the Parish; and for those who have died recently, especially Karen Ash, Dennis Snee and Margaret Thornton; and for those whose anniversaries occur about this time: Angelo Pavia, Mary Smith, Michael Bird, Maureen Newton, Michael Feeney, Edna Smith, Susan Lofthouse, Cath Thompson, Margaret Keenan, Joe Stockton, Norah Williams, Alan Baines, Eleanor Clay, Phyllis Kerrison, George Wilson, Alice Hignett, Sylvia Pritchard, Patricia Davies, Urcina Hernandez and Pope John Paul II. May They All Rest in Peace
Parish events
Easter Service Times Cards
First-rate response so far – many thanks everyone. Let's get the last few cards out there!
More Palms Next Week – Back of Church
Plenty of blessed Palms to collect all next week.
Sunday 9.00 am Choir
Excellent Choir Practice last Thursday preparing all the music for Holy Week and Easter. Open Meeting to discuss the way forward: Thursday, April 12th, 7.30 pm, Parish House.
Palm Sunday 2nd Collection Easter Flowers
Ready for our usual burst of Easter colour!
Chrism Mass on Wednesday Evening
At the Cathedral, with Bishop Mark and most of the Priests of the Diocese. A group of Werbies is going down by train, 5.30 pm from Chester, and back on the 20.56 or 21.39, depending on how good the Buffet is!! Please sign up if you'd like to come, and we can negotiate a Group Ticket. (For the train, you fools, not the Buffet!)
Lent Friday Devotions and Stations at 7.00 pm
Thanks to everyone who led Stations or Devotions during Lent. Not too early to start thinking if you'd like to be one of the Leaders next year!
Eucharistic Ministers Renewal of Commitment
All EM's need to renew their Commitment every year, and our opportunity here in St Werburgh's is at the Mass of the Lord's Supper on Thursday evening at 7.30 pm.
Last Dickens Production – Hard Times
Liverpool Playhouse on Tuesday 27th March. Do sign up and come along. Leaving by train from Chester at 6.15 pm – all welcome!
Christleton CT Mini-Pilgrimages: Thursdays 2.30
Great to see so many of you out at the Frodsham Prayer Garden, opposite St Luke's Church. Thanks for all your support during Lent 2018!
Holy Week Rota for All Ministries
The following gaps MUST be filled, so do please sign up TODAY for any you can fill:
Palm Sunday 6.00 pm: Readers x 2
Maundy Thursday 7.30 pm: Welcomers x 4
Good Friday 3.00 pm: General Intercessions & Welcomers x 1
Parish Garden Club
We'll be getting together our Gardening Club after Easter to carry on the great work in the front & back gardens. Please hold fire until then, so that we don't tread on anyone's toes, folks!
Last Chance for Confessions
Monday evening (7.00 -10.00 pm), Tuesday and Wednesday Mornings (10.00 am - noon).
Deputy Diocesan Director of Schools
(Salary circa £65,000 ~ £70,000)
Further details and an application form are available from the Diocesan website http://www.dioceseofshrewsbury.org/about-us/curia/vacancies Completed applications to pauline.mcculloch@dioceseofshrewsbury.org
Adoremus Eucharistic Congress at Liverpool
Friday Symposium Day (7th Sept) at the ACC Convention Centre.
Of particular interest to those involved with children's catechetics in parishes, Extraordinary Ministers of the Eucharist and school RE Coordinators/Chaplains. Keynote speakers Canons Mervyn Tower and David Oakley and Sister Margaret Atkins. Lunch provided. Choice of three afternoon sessions, details on booking forms.
Saturday Congress Day (8th Sept) at the ACC Liverpool Echo Arena.
A 6-hour event with two keynote talks including drama presentations - keynote speaker: Bishop Robert Barron - concluding with Benediction and Reflections led by Cardinal Vincent Nichols.
Sunday Pilgrimage Day (9th Sept)
Liverpool Metropolitan Cathedral - Solemn Mass at 9:30am – Celebrant: Archbishop Malcom McMahon - Solemn Mass at 11:30 am – Celebrant: Cardinal Vincent Nichols, Preacher: Archbishop Malcolm McMahon - Outdoor Eucharistic Procession concluding with Benediction. Diocese of Shrewsbury - Ad Clerum 18/01 March 2018 – Page 6 Friday and Saturday are ticketed events and each day is £40 including a reserved seat at a Sunday Mass on 9th September. Delegate payments should be made directly to the parish and, on receipt of the booking form by the Diocese, each parish will be invoiced directly. Schools' participation coordinated by Cath Duffy (cath.duffy@dioceseofshrewsbury.org). Details of resources and further events to prepare for the Congress, in addition to those organised by the Department for New Evangelisation, will be shared in the next weeks.

St Werburgh's: As a Parish, we'll be asking after Easter for who'd like to attend .
Photo of the Week: School Football Team 1950
Terence Barlow, John D'Arcy, Peter Holyoake, Geoff Hewson [Who he? Ed], Terry Wilson, Dave Lipscombe, Mike Barnett, Brian McDermott, Tommy Elwood, Sid Barber, Walter Cunniffe (!!), Peter Latham, Paddy Scanlon, Bernard Keating and Tony McEnmead. Where are they now??? (Unfortunately, in some cases, we know…)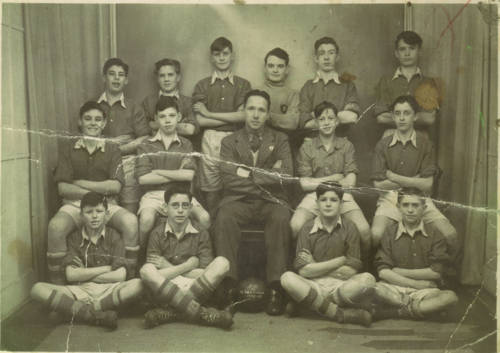 Sunday Evening CathSoc Meetings
Happy Easter Hols to all our CathSoc Students! Next Meeting: Sunday 15th April at 7.00 pm.