Parish Newsletter
SUNDAY 1st APRIL: EASTER SUNDAY (YEAR B)
Liturgical
Acts 10, 3-43; Psalm 117; Colossians 3, 1-4; John 20, 1-9
Sunday 9.00 am: St Werburgh's: Sylvia Pritchard (3rd Anniversary)
Sunday 10.45 am: St Werburgh's: Mary Taylor (Birthday Remembrance)
Sunday 6.00 pm: St Werburgh's: Kevin and Dolores Coriam (Anniversary)
Monday 2nd April: Monday of Easter Week: Acts 2, 14-32; Psalm 15; Matthew 28, 8-15
12.15 pm: St Werburgh's: Eucharistic Service
Tuesday 3rd April: Tuesday of Easter Week: Acts 2, 36-41; Psalm 32; John 20, 11-18
12.15 pm: St Werburgh's: Eucharistic Service
Wednesday 4th April: Wednesday of Easter Week: Acts 3, 1-10; Psalm 104; Luke 24, 13-35
12.15 pm: St Werburgh's: Eucharistic Service
Thursday 5th April: Thursday of Easter Week: Acts 3, 11-26; Psalm 8; Luke 24, 35-48
12.15 pm: St Werburgh's: Eucharistic Service
Friday 6th April: Friday of Easter Week: Acts 4, 1-12; Psalm 117; John 21, 1-14
12.15 pm: St Werburgh's: Eucharistic Service
Saturday 7th April: Saturday of Easter Week: Acts 4, 13-21; Psalm 117; Mark 16, 9-15
10.00 am: HMP Berwyn: Mass for Prisoners and Staff
12.00 noon: St Werburgh's: Baptisms of Patrick Gerard Thomas and Elsie Rose Fitzgerald
12,30 pm: St Werburgh's: Baptism of Elsie Margaret Elizabeth Flynn
6.00 pm: Rowton Methodists: John and Phyllis Gerard
SUNDAY 8th APRIL: SECOND SUNDAY OF EASTER (YEAR B)
Acts 4, 32-35; Psalm 117; I John 5, 1-6; John 20, 19-31
Saturday 6.00 pm: Rowton Methodists: John and Phyllis Gerard
Sunday 9.00 am: St Werburgh's: Alex Barnes
Sunday 10.45 am: St Werburgh's: William Maher (12th Anniversary)
Sunday 12.30 pm: St Werburgh's: Baptism of Florence Louise Whitley
Sunday 1.00 pm: St Werburgh's: Baptism of Charlie Dowicz
Sunday 6.00 pm: St Werburgh's: Thanksgiving (M&L)
Prayer Intentions
Your prayers are asked for the following who are sick: Wendy O'Brien, Ruth O'Kane, Iris Philp, James Donovan, Garth Stocking, Ann McGowan-Scanlan, Mary Lyons, Kevin Maguire, Christine Davies, Michael Morton; and for all the sick of the Parish; and for those who have died recently, especially Karen Ash, Dennis Snee and Margaret Thornton; and for those whose anniversaries occur about this time: Mary Stockton, Julia Zao, Mary Jordan, Johanna Ryan, May Brierley, Joan Hughes, Joanna Yeardsley, James Roberts, Audrey Steele, Sally Booth, Annie Houghton, Florence Taylor, Frances Shepherd, Peter Hoban, Colin Brown, Bill Collins, Fred Hutchinson, Edward O'Brien, Margaret O'Connor, Alec Edwards. Ester Dunning, Lily Weatherley, William Walsh, Tony Petranca, Betty Williams and Hilda Kinsey. May They All Rest in Peace.
Parish events
An Easter Welcome!
Welcome to all our Wizziters this weekend – family, friends, tourists, everyone who steps over the door of our Church for the Easter celebrations. You are so welcome and make our Parish Family what it is. Happy Easter!
Can You Be Brave?
I shall be away next week, Monday to Friday, down in the Smoke, visiting family, and finally getting that guided tour of Sandhurst and its magnificent Chapel. Plus, the odd Exhibition, Gallery and Play thrown in, I'm sure. Please don't pretend you're going to miss me.
Sunday 9.00 am Choir
Thank you, James and Choir, for all your hard work over the Easter Triduum, leading the Music at all Services, Holy Week and Easter. Open Meeting to discuss the way forward: Thursday, April 12th, 7.30 pm, Parish House.
Second Collection for Easter Flowers
Many thanks for all your contributions last week.
Chrism Mass on Wednesday Evening
Twelve of us went down to the Cathedral on Wednesday for the Chrism Mass, with Bishop Mark and most of the Priests of the Diocese. Also, good to hear about some of the work being done at the Cathedral and the Cathedral House…
Cathedral House of Discernment
Bishop Mark writes: "Please continue to pray for the men who are using this time and facility at our Cathedral to discern the vocation to the priesthood. We presently have six men in discernment considering or already beginning their application for Priesthood in the Shrewsbury Diocese. After Easter this number will rise to seven. It has already proved a fruitful initiative and thank you for your support since I first proposed this vocational project."
Lent Friday Devotions and Stations at 7.00 pm
Thanks to everyone who led Stations or Devotions during Lent. Not too early to start thinking if you'd like to be one of the Leaders next year!
Hard Times: Liverpool Playhouse Last Tuesday
The last of our three Dickensian productions – and an excellent, fast-paced adaptation it was too. Been great having groups of Parishioners going to all these plays: would there be any appetite for a Parish Theatre Club, to advertise and organise trips for all interesting plays coming off in the area, for people who like the theatre but might be nervous of going on their own?
Holy Week Rota for All Ministries
Many thanks to EVERYONE who signed up! We really do depend on willing wollunteers at Easter.
Easter Day by Day and April SH Messenger
Now on the News-Stand: £1 each.
Parish Gardening Club
Can we try for a quick meeting on Tuesday 10th April at 10.00 please? All welcome!
Deputy Diocesan Director of Schools
(Salary circa £65,000 ~ £70,000)
Further details and an application form are available from the Diocesan website http://www.dioceseofshrewsbury.org/about-us/curia/vacancies Completed applications to pauline.mcculloch@dioceseofshrewsbury.org
Adoremus Eucharistic Congress at Liverpool
As a Parish, we'll be asking after Easter who'd like to attend in September to represent us all.
Diocesan Pilgrimage to Lourdes this Summer
This year marks the 160th anniversary of the apparitions of Our Lady to Bernadette in Lourdes. The Diocesan Pilgrimage will take place 26 July-3 August overland and 27 July-2 August by air. Brochures and booking forms can be downloaded from the Pilgrimage Website www.shrewsburypilgrimage.co.uk or Pilgrimage Office: St Alban's, 30 Mill Lane, Wallasey, CH44 5UD. Early booking recommended.
Repository Notice
Closed on 1st & 8th April. There will be a Sale of second hand goods on Sunday 29th April: anyone have anything they'd like to donate for this sale?
Photo of the Week: The Man Who Disappeared
Super reminder of the recent play put on by the Chester Little Theatre Youth Team, on the deaths of those "Shot at Dawn" in the Great War. You'll spot our own Matthew Black 4th from the left!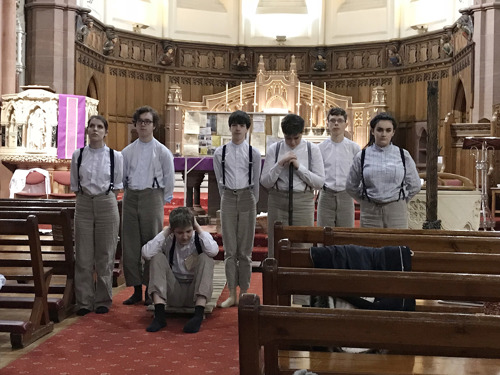 Meetings after Easter – All in Parish House
Monday 9th: SVP at 1.30 pm
Monday 9th: Music Group at 6.45 pm
Tuesday 10th: Gardening Club at 10.00 am
Wednesday 11th: Great War Group at 2.00 pm
Wednesday 11th: Plaque Group at 7.00 pm
Thursday 12th: Choir Meeting at 7.30 pm
Sunday 15th: Student CathSoc at 7.00 pm
"When Does Lent End, Father?"
A question I get asked more than any other, especially at this time of the year. As you all know, the Church's Teaching on this is quite clear, first promulgated at the famous Council of Yadslooflirpa in the Ukraine in the 5th century: the answer is dogmatically 7.05 on Easter Sunday evening. In the Middle Ages, this was signalled by a peal of Cathedral Bells; today, the sound is a little quieter but equally satisfying. Clink, clink, glug, glug, glug, fizzzzzzzzzzzzzzzzzzz.