Parish Newsletter
SUNDAY 8th APRIL: SECOND SUNDAY OF EASTER (YEAR B)
Liturgical
Acts 4, 32-35; Psalm 117; I John 5, 1-6; John 20, 19-31

Saturday 6.00 pm: Rowton Methodists: John and Phyllis Gerard
Sunday 9.00 am: St Werburgh's: Alex Barnes
Sunday 10.45 am: St Werburgh's: William Maher (12th Anniversary)
Sunday 12.30 pm: St Werburgh's: Baptism of Florence Louise Whitley
Sunday 1.00 pm: St Werburgh's: Baptism of Charlie Dowicz
Sunday 6.00 pm: St Werburgh's: Thanksgiving (M&L)
Monday 9th April: THE ANNUNCIATION: Isaiah 7,10 – 8,10; Psalm 39; Hebrews 10, 4-10; Luke 1, 26-38
10.30 am: Overleigh: Burial of Ashes for the late Eamonn Wallace
12.15 pm: St Werburgh's: Catherine Knox
1.05 pm: University Chapel – University Mass. All Welcome!
Tuesday 10th April: Ferial: Acts 4, 32-37; Psalm 92; John 3, 7-15
8.00 am: Poor Clares Hawarden: Special Intention
12.15 pm: St Werburgh's: Pamela Meaden
Wednesday 11th April: St Stanislaus: Acts 5, 17-26; Psalm 33; John 3, 16-21
12.00 noon: St Werburgh's: Requiem Mass for Karen Ash, late of Adder Hill, Great Boughton
Thursday 12th April: Ferial: Acts 5, 27-33; Psalm 33; John 3, 31-36
10.00 am: St Werburgh's: Steve Cook's Mother and Father (L.D.)
Friday 13th April: Ferial: Acts 5, 34-42; Psalm 26; John 6, 1-15
12.15 pm: St Werburgh's: Eucharistic Service
12.45 pm: Ampleforth Abbey Conventual Mass: Finn Abberton (L.D.)
Saturday 14th April: Ferial: Acts 6, 1-7; Psalm 32; John 6, 16-21
10.30 am – 12.00 noon: St Werburgh's: Confessions
6.00 pm: Rowton Methodists: Ann Snowling (4th Anniversary)
SUNDAY 15th APRIL: THIRD SUNDAY OF EASTER (YEAR B)
Acts 3, 13-19; Psalm 4; I John 2, 1-5; Luke 24, 35-48
Saturday 6.00 pm: Rowton Methodists: Ann Snowling (4th Anniversary)
Sunday 9.00 am: St Werburgh's: Sheila Norman (Birthday Remembrance)
Sunday 10.45 am: St Werburgh's: Eddie Ronayne (Birthday Remembrance and Anniversary)
Sunday 12.30 pm: St Werburgh's: Baptism of Myles George McGabhann
Sunday 6.00 pm: St Werburgh's: Jo McCann (L.D.)
Prayer Intentions

Your prayers are asked for the following who are sick: Wendy O'Brien, Ruth O'Kane, Iris Philp, James Donovan, Garth Stocking, Ann McGowan-Scanlan, Mary Lyons, Kevin Maguire, Christine Davies, Michael Morton; and for all the sick of the Parish; and for those who have died recently, especially Karen Ash and Catherine Bottomley; and for those whose anniversaries occur about this time: Winifred Boucke, Eddie Ronayne, John Henry Allman, Honora Short, Herbert Kerrison, Jean Hogan, Peter Hoban, Beryl Whittaker, James Daley, Kenneth Lawley, Peter Bullen, Winifred Tonks, George Bolland, Leo Maguire and Bernard Carr. May They All Rest in Peace.
Parish events
Thanks for Minding the Shop!
Thanks, as always, to the team who mind the shop while I'm away. They do such a superb job, I really ought to go away a bit more often…
Sunday 9.00 am Choir
Thank you, James and Choir, for all your hard work over the Easter Triduum. Open Meeting to discuss the way forward: Thursday, April 12th, 7.30 pm, Parish House.
Easter Day by Day and April SH Messenger
Both on the News-Stand: £1 each.
Parish Gardening Club
Quick meeting on Tuesday 10th April at 10.00 please. All welcome to join us, to help look after the front and back gardens.
Deputy Diocesan Director of Schools
(Salary circa £65,000 ~ £70,000)
Further details and an application form are available from the Diocesan website http://www.dioceseofshrewsbury.org/about-us/curia/vacancies Completed applications to pauline.mcculloch@dioceseofshrewsbury.org
Adoremus Eucharistic Congress at Liverpool 
As a Parish, we'll be asking in the next few weeks who'd like to attend in Sept to represent us all.
Diocesan Pilgrimage to Lourdes this Summer
This year marks the 160th anniversary of the apparitions of Our Lady to Bernadette in Lourdes. The Diocesan Pilgrimage will take place 26th July-3rd August overland and 27th July-2nd August by air. Brochures and booking forms can be downloaded from the Pilgrimage Website www.shrewsburypilgrimage.co.uk or Pilgrimage Office: St Alban's, 30 Mill Lane, Wallasey, CH44 5UD. Early booking recommended.
Repository Notice
Closed on 1st & 8th April. There will be a Sale of second hand goods on Sunday 29th April: anyone have anything they'd like to donate for this sale?
Photo of the Week: 1st Holy Communion 1954
A lovely preparation for our own Parish FHC's starting next month. In this group from 1954, there's a present member of our Parish Council. The usual fiver for the first correct answer!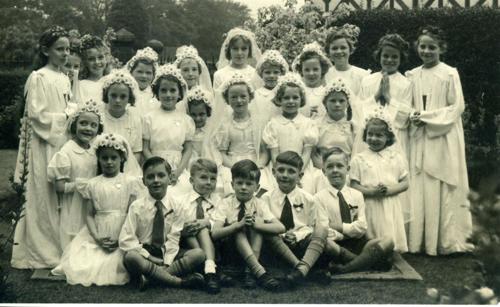 Meetings This Week – All in Parish House
Monday 9th: SVP at 1.30 pm
Monday 9th: Music Group at 7.00 pm
Tuesday 10th: Gardening Club at 10.00 am
Wednesday 11th: Plaque Group at 7.00 pm
Thursday 12th: Cheshire CT at Noon (Crewe)
Thursday 12th: Christleton CT at 2.00 pm (Chris)
Thursday 12th: Choir Meeting at 7.30 pm
Sunday 15th: Student CathSoc at 7.00 pm
Music Group
Playing at 10.45 am Mass Sunday 15th April
Practice in Church, Monday 9th April 7.00 pm.
Catholic Women's League April Meeting
1.00 pm Monday 10th April in St Francis's Church Hall. Annual Review & talk on Mary's Meals.
All welcome to attend.
Great War Group
No meeting this coming week but do please attend the Memorial Plaque Planning Group Meeting on Wednesday 11th April at 7.00 pm.
Parish Youth Minister: Full time
Salary £19,000 - £22,000
The Catholic Parishes of St Michael and All Angels, Woodchurch and St Maximilian Kolbe, Runcorn are looking to employ a full time Parish Youth Minister to engage with young people in their Parishes and local areas. This role will work closely with the newly formed Shrewsbury Youth Mission Team. Full details of both posts and application forms can be found at http://www.dioceseofshrewsbury.org/about-us/curia/vacancies
"Time for Tea?"
Chester Fairtrading Volunteers invite you to this event between 2.00 -4.00 pm on Wednesday 11th April at Chester Quaker Meeting House, Union Walk, Frodsham Street. By making time to pop in for tea and delicious cakes you will enable Traidcraft Exchange to help more people (especially women) in some of the poorest countries who have all the talent and determination to be successful but lack the opportunity. We will have the kettle on and look forward to seeing you!" For more information contact Sue on 01244 679270"
SVP Mass for the Elderly and Housebound
Sunday 22nd April at 2.30 pm in the Primary School followed by afternoon tea. Transport will be provided. For further information please contact the Parish House.
The SVP Holiday Home Available
For the weeks commencing 12th May and 29th September. If you know of anyone who would be interested in a lovely holiday in North Wales who probably wouldn't be have a holiday otherwise, please contact Stephen Perry on 07775 781204.
"Work and Love - the Big Things in Our lives"
Day of Reflection for 'ACTS' ('Adult Catholics Together Spiritually') Sat 21st April, if you are aged between 18 – 35. The day will start at 9.30 pm at Wistaston Hall, Crewe, finish around 5.00 pm. Please contact Siobhan Cartwright for further details: siobhanbc@gmail.com tel: 0161 477 2783 / 07761138947).
CathSoc Sunday Evenings Start Again Next Week