Parish Newsletter
SUNDAY 15th APRIL: THIRD SUNDAY OF EASTER (YEAR B)
Liturgical
Acts 3, 13-19; Psalm 4; I John 2, 1-5; Luke 24, 35-48
Saturday 6.00 pm: Rowton Methodists: Ann Snowling (4th Anniversary)
Sunday 9.00 am: St Werburgh's: Sheila Norman (Birthday Remembrance)
Sunday 10.45 am: St Werburgh's: Eddie Ronayne (Birthday Remembrance and Anniversary)
Sunday 12.30 pm: St Werburgh's: Baptism of Myles George McGabhann
Sunday 6.00 pm: St Werburgh's: Jo McCann (L.D.)
Monday 16th April: Ferial: Acts 6, 8-15; Psalm 118; John 6, 22-29
12.15 pm: St Werburgh's: Intentions of NR
1.05 pm: University Chapel – University Mass. All Welcome!
Tuesday 17th April: Ferial: Acts 7,51 – 8,1; Psalm 30; John 6, 30-35
8.00 am: Poor Clares Hawarden: Special Intention
12.15 pm: St Werburgh's: John Vickers (L.D.)
Wednesday 18th April: Ferial: Acts 8, 1-8; Psalm 65; John 6, 35-40
12.15 pm: St Werburgh's: Pat Griffiths (5th Anniversary)
Thursday 19th April: Ferial: Acts 8, 26-40; Psalm 65; John 6, 44-51
12.15 pm: St Werburgh's: Intentions of Br Benedict
Friday 20th April: Ferial: Acts 9, 1-20; Psalm 116; John 6, 52-59
12.30 pm: St Werburgh's: Nuptial Mass for Oliver Law and Jenny Ducie
Saturday 21st April: Ferial: Acts 9, 31-42; Psalm 115; John 6, 60-69
10.30 am – 12.00 noon: St Werburgh's: Confessions
12.00 noon: St Werburgh's: Baptism of Jacob Ciarán Bridgett
2.00 pm: Wedding Service for Glyn Richards and Kate Hayden
6.00 pm: Rowton Methodists: Mavis Fazey (Anniversary 2013)

SUNDAY 22nd APRIL: FOURTH SUNDAY OF EASTER (YEAR B)
Acts 4, 8-12; Psalm 117; I John 3, 1-2; John 10, 11-18
Saturday 6.00 pm: Rowton Methodists: Mavis Fazey (Anniversary 2013)
Sunday 9.00 am: St Werburgh's: Ken Lawley and Kathleen Hargrave
Sunday 10.45 am: St Werburgh's: John Beatty (Anniversary)
Sunday 12.30 pm: St Werburgh's: Baptism of Henry Roy Plant
Sunday 1.00 pm: St Werburgh's: Baptism of Lennon Guy Francis Molloy
Sunday 2.30 pm: Primary School: Spring Mass for Elderly and Housebound – All Welcome!
Sunday 6.00 pm: St Werburgh's: Cara Messer (10th Anniversary)
Prayer Intentions
Your prayers are asked for the following who are sick: Wendy O'Brien, Ruth O'Kane, Iris Philp, James Donovan, Garth Stocking, Mary Lyons, Kevin Maguire, Christine Davies, Michael Morton; and for all the sick of the Parish; and for those who have died recently, especially Ann McGowan-Scanlan, Karen Ash and Catherine Bottomley; and for those whose anniversaries occur about this time: Janie Turner, Helen Bird, Terry King, Mary Byrne, Cecilia Gresty, Patricia Griffiths, Kathleen Hughes, James Thornton, Arthur Tolley, John Claxton, Jerry Walsh, John Connolly, Catherine O'Mahony, Matthew Harper, Marie Foley, Mary Reddy, William Edge, Joseph Jones, Cara Messer, Mavis Fazey, Eileen Johnson, Norah Atherton, Esther Wilbraham, Barbara Cooke and Gerry Cummins. May They All Rest in Peace.
Parish events
Sunday Morning Choir
Excellent meeting last Thursday evening, all of us putting our heads together to discuss the best way forward. General agreement that the Choir had achieved good results in their first four years, but now needed to move on to the next level. Three main developments: recruitment drive to persuade new members to join us, a Choir at both 9.00 and 10.45 Masses, and blocks of Choir Practices targeted at the main Liturgical Feasts. Next Choir Practice will be Thursday 3rd May at 7.30, preparing for the great Summer Feasts of Pentecost (20th May), Trinity (27th May), Corpus Christi (3rd June) and SS Peter and Paul (29th June). Half Term Break: 31st May. Eight Choir Practices, in other words, between May and end of June, with a Summer Break for July and August. If you join us, we want you to be committed to all eight. So, let's see you all on Thursday 3rd May, with lots of new faces, for the exciting next stage of our musical life together!
Bulbs for the Front Garden
Parish Gardening Club up and running now: many of you have commented on how lovely the front garden looks, with all the bulbs coming into flower. We'd like to plant a lot more: can you all give us a bag of bulbs to sow in the next fortnight or so, while we can see where they need going?
Children's Liturgy Re-Starts 22nd April 10.45 am
Diocesan Pilgrimage to Lourdes this Summer
The Diocesan Pilgrimage will take place 26th July-3rd August overland and 27th July-2nd August by air. Brochures and booking forms can be downloaded from the Pilgrimage Website www.shrewsburypilgrimage.co.uk or Pilgrimage Office: St Alban's, 30 Mill Lane, Wallasey, CH44 5UD. Early booking recommended.
Repository Reopens Sunday 15th April
There will be a Sale of second hand goods on Sun 29th April: do you have anything to donate?
Photo of the Week: Lighting the Paschal Candle
Easter Saturday Vigil, a fortnight ago, in the front garden. I know, I know – it does rather call out for a Caption Competition, and some of you have not been backward in submitting your suggestions. Very funny, very satirical, ho, ho…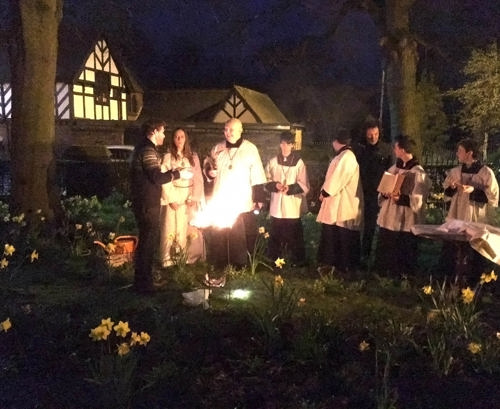 Music Group Playing at 10.45 Mass Today
Refreshments After Mass This Wednesday, 18th
Meetings This Week – All in Parish House
Monday 16th: Readers at 7.00 pm
Tuesday 17th: City Centre CT at 2.30 pm
Tuesday 17th: Liturgy Group at 7.00 pm
Wednesday 18th: Mental Health Group at 7.00 pm
Thursday 19th: FHC Parish Group at 6.30 pm
St Werburgh's SVP Treasurer
We're urgently looking for a new Treasurer to support our work. If you could offer this support, please contact svpchester@gmail.com. It would help if you could attend most SVP meetings (at 13.30 on the second Monday and at 18.30 on the last Wednesday of each month). Wider SVP involvement welcome but not essential.
SVP Mass for the Elderly and Housebound
Sunday 22nd April at 2.30 pm in the Primary School followed by afternoon tea. All welcome!
The SVP Holiday Home Available
For weeks commencing 12th May & 29th Sept. If you know of anyone who would be interested, please contact Stephen Perry on 07775 781204.
Mental Health Group – Wednesday at 7.00 pm
First Holy Communion Parish Group Meetings
Our next meeting for the Parish Group, children and parents, takes place next Thursday 19th April at 6.30 pm in the Parish House. Our Commentary Mass for all our FHC children and their families is in Church on Monday 23rd April at 6.30 pm.
Next Meeting of the Readers' Group
Monday April 16th 7.00 pm for about an hour to look at the Sunday readings for the next month.
Everyone welcome, whether readers or not.
Coffee Morning – Hoole URC – Sat 28th April
10.00 – noon, with Chanasa Products from Malawi & Cakes & Preserves on sale. Proceeds to be used to empower girls and women in Malawi through the creation of sustainable Chifundo UK fair trade textile products.
Great War Memorial Plaque: First Draft!
Draft Design out today – all comments welcome!
CathSoc Sunday Evenings This Term at 7.00 pm
Sunday 15th April – Cake and Catch-Up
Sunday 22nd April – Prayer and Praise
Sunday 29th April – Visit to Poor Clares
Sunday 6th May – Curry Evening
Sunday 13th May – Canal Walk to Christleton
Sunday 20th May – Debate Evening
Sunday 27th May – Geoff's Canal Tour and Supper
Sunday 3rd June – End of Year Chinese Meal