Parish Newsletter
SUNDAY 22nd APRIL: FOURTH SUNDAY OF EASTER (YEAR B)
Liturgical
Acts 4, 8-12; Psalm 117; I John 3, 1-2; John 10, 11-18
Saturday 6.00 pm: Rowton Methodists: Mavis Fazey (Anniversary 2013)
Sunday 9.00 am: St Werburgh's: Ken Lawley and Kathleen Hargrave
Sunday 10.45 am: St Werburgh's: John Beatty (Anniversary)
Sunday 12.30 pm: St Werburgh's: Baptism of Henry Roy Plant
Sunday 1.00 pm: St Werburgh's: Baptism of Lennon Guy Francis Molloy
Sunday 2.30 pm: Primary School: Spring Mass for Elderly and Housebound – All Welcome!
Sunday 6.00 pm: St Werburgh's: Cara Messer (10th Anniversary)
Monday 23rd April: St George, Martyr: Apocalypse 12, 10-12; Psalm 125; John 15, 18-21
12.15 pm: St Werburgh's: Gerry Cummins (4th Anniversary)
1.05 pm: University Chapel – University Mass. All Welcome!
6.30 pm: St Werburgh's: First Holy Communion Commentary Mass – All Welcome!
Tuesday 24th April: Ferial: Acts 11, 19-26; Psalm 86; John 10, 22-30
8.00 am: Poor Clares Hawarden: Special Intention
12.00 noon: St Werburgh's: Requiem Mass for Ann McGowan Scanlon
Wednesday 25th April: Saint Mark: I Peter 5, 5-14; Psalm 88; Mark 16, 15-20
12.15 pm: St Werburgh's: Intentions of Sophie
Thursday 26th April: Ferial: Acts 13, 13-25; Psalm 88; John 13, 16-20
10.30 am: St Francis of Assisi, Garston, Liverpool: Requiem Mass for Kathy Reynolds, late of Aigburth
7.30 pm: St Werburgh's: Philip Beck (L.D. – Funeral today at St Mary's Grantham, 12.00 noon)
Friday 27th April: Ferial: Acts 13, 26-33; Psalm 2; John 14, 1-6
8.30 am: St Werburgh's: John and Vera Clyne
1.00 pm: St Werburgh's: Wedding Service for Stuart Lockwood and Kate Jones
3.20 pm: Blacon: Funeral Service for Catherine Bottomley, late of Steele Street
Saturday 28th April: Ferial: Acts 44-52; Psalm 97; John 14, 7-14
10.30 am – 12.00 noon: St Werburgh's: Confessions
12.30 noon: St Werburgh's: Baptism of Felix Anthony Moloney
6.00 pm: Rowton Methodists: Mary Fazey (Birthday Remembrance)

SUNDAY 29th APRIL: FIFTH SUNDAY OF EASTER (YEAR B)
Acts 9, 26-31; Psalm 21; I John 3, 18-24; John 15, 1-8
Saturday 6.00 pm: Rowton Methodists: Mary Fazey (Birthday Remembrance)
Sunday 9.00 am: St Werburgh's: James Maher (L.D., Brighton)
Sunday 10.45 am: St Werburgh's: Eileen Corcoran (Anniverary)
Sunday 6.00 pm: St Werburgh's: Gerry Cummins (4th Anniversary)
Prayer Intentions
Your prayers are asked for the following who are sick: Wendy O'Brien, Ruth O'Kane, Iris Philp, James Donovan, Garth Stocking, Mary Lyons, Kevin Maguire, Christine Davies, Michael Morton; and for all the sick of the Parish; and for those who have died recently, especially Ann McGowan Scanlon, Catherine Bottomley and Kathy Reynolds; and for those whose anniversaries occur about this time: John Flaherty, Mary Barrett, Rose Davies, Raymond Egan, Gazala Thweney, John Davies, Steven Pavia, Isabella Hamilton, Frances Frearson, Maureen Edwards, Norman Cross, Katie Dowling, Patricia Maguire, John Heffernan, John McAnally, Cath Clisham and Lorna Harris. May They All Rest in Peace.
Parish events
Sunday Morning Choir
Let's see you all on Thursday 3rd May, with lots of new faces, for the exciting next stage of our musical life together!
Bulbs for the Front Garden
Thanks for all the offers – box at the back of church to leave them in. The more we get, the more colourful that front garden will be, so do please keep'em coming!
Children's Liturgy Re-Starts 22nd April 10.45 am
Catholic High School Parents' Association
Swing Band Dance Night – Join us for an evening of fun and musical entertainment at the annual Dance Night with music from the school's acclaimed City Jazz Swing Band Friday 27th April, 7.30 until late, in the School Hall. Free entrance. Donations welcome. The bar will be open.
Traidcraft "Time for Tea?"
Many thanks to everyone who supported this event in Wesley Church Centre on 11th April. Not only a very successful social event, tea, cake and good company but also, thanks to the wonderful generosity of those who came along, we raised £248 for Traidcraft Exchange's Hidden Entrepreneur Appeal, and with the promise of UK Government Matchfunding this will be doubled in value to £496! Thank you so much.
'NightFever'
On Friday 15th June we'll be launching a 'NightFever' programme in St Francis' Church Chester. We will start with Mass at 7.00 pm. Adoration will begin at 8.00 pm running through until 10:30 pm. NightFever is a fairly new idea and requires a small team of willing volunteers to go out into busy town/city centres inviting passers-by to come into church to light a candle and experience Adoration. There is also the opportunity to receive the Sacrament of reconciliation. NightFever is hugely successful across Europe and the USA. So please do come along to Mass and spend some time in prayer during adoration after. If anyone would like to volunteer/more info please contact Ant Hunt (Catholic High School Chaplain) on 07714 160 268.
Free Table Today
Back of Church – Please Help Yourselves!
May Mags Now on News-Stand: £1 each
Day by Day and Sacred Heart Messenger
Finance Committee – Annual Financial Return
We meet on Tuesday night to carry on working on the Return to be sent into the Diocese – all ten pages of it, and 48 separate lines of income and expenditure. Huge thanks to Denise and Syd for all the preliminary work they do on this.
Photographer's Tripod for the Highest Bidder?
Left after a wedding 3 years ago, and never claimed. Top range: so sealed bids, please!
Christleton Churches Together AGM Wednesday
7.30 pm, at the Methodists, reviewing last year, planning next! Everyone warmly welcome.
Repository Reopens Sunday 15th April
Sale of second hand goods on Sun 29th April.
Photo of the Week: Canon Welch & the Jones Sisters
An enchantingly natural picture from 1954.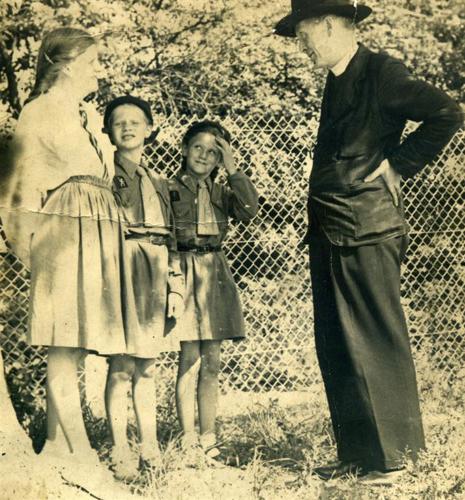 Our Primary School RE Report "Outstanding"
Congratulations, Mrs Oates and Team!
Refreshments After Mass Last Wednesday
Many thanks to Denise and Team for another super spread! Next lunch: Wednesday 23rd May.
Meetings This Week in Parish House Or…
Monday 6.30 pm: FHC Commentary Mass
Tuesday at 7.00 pm: Finance Committee
Wednesday at 7.30 pm: Christleton CT AGM
Friday at 8.00 pm: Website Group Meeting
St Werburgh's SVP Treasurer
Many thanks to a good'un who stepped forward!
SVP Mass for the Elderly and Housebound
Sunday 22nd April at 2.30 pm in the Primary School followed by afternoon tea. All welcome!
First Holy Communion Commentary Mass
For all our FHC children and their families is in Church on Monday 23rd April at 6.30 pm.
Coffee Morning – Hoole URC – Sat 28th April
10.00 – noon, with Chanasa Products from Malawi & Cakes & Preserves on sale. To empower girls and women in Malawi.
Great War Memorial Plaque: First Draft!
12 pages of comments and suggestions have come in so far: just what we want! Keep them coming. Every comment will be carefully considered.
CathSoc Sunday Evenings This Term at 7.00 pm
Sunday 22nd April – Prayer and Praise
Sunday 29th April – Visit to Poor Clares
Sunday 6th May – Curry Evening
Sunday 13th May – Canal Walk to Christleton
Sunday 20th May – Debate Evening
Sunday 27th May – Geoff's Canal Tour and Supper
Sunday 3rd June – End of Year Chinese Meal