Parish Newsletter
SUNDAY 13th MAY: SEVENTH SUNDAY OF EASTER (YEAR B)
Liturgical
Acts 1, 15-26; Psalm 102; I John 4, 11-16; John 17, 11-19
Saturday 6.00 pm: Rowton Methodists: John Saunders (L.D. Durham)
Sunday 9.00 am: St Werburgh's: Thanksgiving for 10th Anniversary of Reception into Catholic Church
Sunday 10.45 am: St Werburgh's: Richard Spencer (Birthday Remembrance)
Sunday 12.15 pm: St Werburgh's: Baptism of Joshua Michael Ward
Sunday 6.00 pm: St Werburgh's: Marcus McCann (Birthday Remembrance)
Monday 14th May: St Matthias: Acts 1, 15-26; Psalm 112; John 15, 9-17
10.00 am: St Peter's at the Cross: Ecumenical Service
12.15 pm: St Werburgh's: Lorna Harris (Anniversary)
1.05 pm: University Chapel – University Mass. All welcome!
Tuesday 15th May: Ferial: Acts 20, 17-27; Psalm 67; John 17, 1-11
8.00 am: Poor Clares Hawarden: Private Intention
12.15 pm: St Werburgh's: Brian Boardman (2nd Anniversary)
Wednesday 16th May: Ferial: Acts 20, 28-38; Psalm 67; John 17, 11-19
12.15 pm: St Werburgh's: Harry Teague (4th Anniversary)
6.30 pm: Catholic High School: Year 13 Leavers' Mass
Thursday 17th May: Ferial: Acts 22,30 – 23,11; Psalm 15; John 17, 20-26
12.15 pm: St Werburgh's: Birthday Intentions of Mario del Rosario
Friday 18th May: Ferial: Acts 25, 13-21; Psalm 102; John 21, 15-19
12.15 pm: St Werburgh's: Eucharistic Service
12.45 pm: Ampleforth Monastery Conventual Mass: Intentions of MP
Saturday 19th May: St Milburga: Acts 28, 16-31; Psalm 10; John 21, 20-25
9.30 - 10.30 am: St Werburgh's: Confessions
10.30 am – 5.00 pm: St Werburgh's: Marriage Preparation Day
6.00 pm: Rowton Methodists: Mike Knox (L.D. Ellesmere Port) & Ursula Ratchford (Anniversary)

SUNDAY 20th MAY: PENTECOST – WHIT SUNDAY (YEAR B)
Acts 2, 1-11; Psalm 103; Galatians 5, 16-25; John 15, 27-27
Saturday 6.00 pm: Rowton Methodists: Mike Knox (L.D. Ellesmere Port) & Ursula Ratchford (Anniv)
Sunday 9.00 am: St Werburgh's: Ursula Ratchford (Anniversary) & Mike Knox (L.D. Ellesmere Port)
Sunday 10.45 am: St Werburgh's: Ottavio Stentella Lopes (3rd Anniversary)
Sunday 3.00 pm: St Werburgh's: Marian Hour for the Month of May
Sunday 6.00 pm: St Werburgh's: Barbara Noblet (L.D.)
 
Prayer Intentions
Your prayers are asked for the following who are sick: Matt Corcoran, Freda Lloyd, Henri Diacono, Wendy O'Brien, Ruth O'Kane, Iris Philp, James Donovan, Garth Stocking, Kevin Maguire, Christine Davies, Michael Morton; and for all the sick of the Parish; and for those who have died recently, especially Anne Grimes and Maureen Moran; and for those whose anniversaries occur about this time: Peter Walsh, Harry Teague, Brian Boardman, Connie Clarkson, Angelo Castrichino, Tommy Brady, Paul Pollard, Anne Delamere, Joseph Thomas, Ben O'Brien, Tommy Phillips, Christopher Donnelly, Mary Reid, Nora Reilly and Ursula Ratchford. May They All Rest in Peace.
Parish events
St Werburgh's Parish Safeguarding
Steaming ahead now, and the first group we want to update is our excellent First Holy Communion Team. Expect to hear from us soon.
Bulbs for the Front Garden: Thank You
Huge response: just wait for this time next year!
Joseph Barnes
Joseph is with us for a month's Work Experience. He's a second year Politics student at the University and next year's President of CathSoc. He comes from Stevenage, but nobody's perfect…
Mental Health Group
Meeting on Tuesday at 7.00 pm. Everyone very warmly welcome, whatever your interest.
SVP Theatre Night – 'Dial M for Murder'
7.30 pm Wednesday 6th June Gladstone Theatre, Port Sunlight. Tickets at £9 will be available for sale after
Masses this weekend.
SVP Second Collection to support their summer outing for the Elderly and Housebound will take place at all Masses on 19th/20th May.
Building Work Next Door
Work is about to start on the new Hotel. The Site Manager has come around and introduced himself, and one of their first jobs will be taking down the wall between us. This may mean the passageway where we park our cars being out of use for a few days, so do please watch out for any signs or cones and please be prepared to park elsewhere for those few days. Thank you.
Trip to St Giles Cheadle on Monday 21st May
We leave the lay-by outside St John's Church (next to the amphitheatre) at 8.45 am prompt.
Newsletter Sick List
Three not identified: Iris Philp, Christine Davies and Michael Morton. Any information, please?
Annual Financial Return – Headline Figures
Income: £124,809. Expenditure: £108,750.
Operating Surplus: £16,059.
Full Annual Return now on the Notice Board at back of church.
Tidying up the Outhouses
Scheduled for Monday 14th May – could we postpone for a fortnight or so, please, until we see what impact the building work next door will have on our use of the passage-way?
Repository 2nd Hand Sale Finishing Today
Refreshments after Mass Next Wednesday
Our very popular monthly get-together after Mass is next Wednesday 16th May. All warmly welcome.
Catholic Enquiry Course
Thank you for all the offers of help: a major new course will be taking place this autumn.
Photo of the Week: What a Holiday Church!
Another in our very popular series of Churches you've come across while on holiday. This is from Liz and Mike Brooke: SS Peter and Paul, mid-way between Cape Town and Port Elizabeth, and the oldest Catholic Church in South Africa. Thanks, Liz and Mike – spending the kids' inheritance, eh?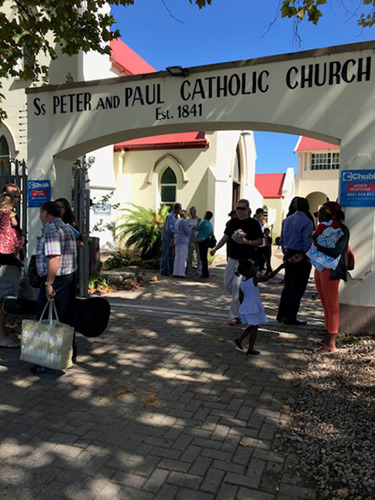 Meetings & Events This Week
Monday 6.45 pm: Music Group Practice
Tuesday 7.00 pm: Mental Health Group
Wednesday 12.45 pm: Refreshments after Mass
Saturday 10.30 am: Marriage Preparation Day
Last Week's Typo - Sorry!
The Photo of Fr Gerry Courell was from 1969, not 1960. Pure typo – he wasn't ordained till 1968. Thanks to Mike and Margaret for spotting that!
Adoremus Meeting Sunday 13th May at 3.00 pm
If you would like to attend the Eucharistic Congress in Liverpool 7th–9th September this year, please come to a meeting today at 3.00 pm
First Holy Communions Continue This Sunday
At 10.45 we welcome Olivia Hughes and Ted Marks. Please keep them both, and their families, in your prayers on this very special day.
Eucharistic Ministers' Review Meetings
EM's, you must please sign up for one meeting:
Tuesday 15th May 10.00-11.00 am
Wednesday 30th May 7.00-8.00 pm
Thursday 31st May 7.00-8.00 pm
Great War Memorial: Last Call for Comments
Excellent response here, and so helpful. Deadline for comments: Monday Midnight 14th May.
CathSoc Sunday Evenings This Term at 7.00 pm
Sunday 13th May – Canal Walk to Christleton
Sunday 20th May – Debate Evening
Sunday 27th May – Geoff's Canal Tour and Supper
Sunday 3rd June – End of Year Chinese Meal
Music Group
Playing at 10.45 am Mass Sunday 20th May. Usual practice in Church, Monday 14th at 6.45 pm.
Marriage Prep Day Next Saturday
Seven couples coming along next Saturday – we run four of these days each year. So, do please note the earlier time of Confessions.
Data Protection
Big changes in the law coming in this month, as many of you will be aware. This will affect our life as a Parish and a Diocese: I'm at a Diocesan Training Day on Friday 25th May, so can update you all after that. In essence: why are we keeping this data and are we keeping it safely? Only keep data if there's a reason for keeping it and make sure it's well protected. Simples!