Parish Newsletter
SUNDAY 27th MAY: THE MOST HOLY TRINITY (YEAR B)
Liturgical
Deuteronomy 4, 32-40; Psalm 32; Romans 8, 14-17; Matthew 28, 16-20
Saturday 6.00 pm: Rowton Methodists: Terry Collier (1st Anniversary)
Sunday 9.00 am: St Werburgh's: May Brierley (Birthday Remembrance and 7th Anniversary)
Sunday 10.45 am: St Werburgh's: John and Vera Clyne
Sunday 1.00 pm: St Werburgh's: Baptism of Lucas Joseph Francis Pimblett
Sunday 1.30 pm: St Werburgh's: Baptism of Jonathan Charles
Sunday 6.00 pm: St Werburgh's: Mick Fields (4th Anniversary)
Monday 28th May: Ferial: I Peter I, 3-9; Psalm 110; Mark 10, 17-27
10.00 am: St Werburgh's: Anthony G. (March 2012)
12.00 noon: St Werburgh's: Baptism of George Galvin
[No University Mass today – Bank Holiday. Next Mass Monday 4th June at 1.05 pm]
Tuesday 29th May: Ferial: I Peter 1, 10-16; Psalm 97; Mark 10, 28-31
8.00 am: Poor Clares Hawarden: Private Intention
12.15 pm: St Werburgh's: Guilhermine Fernandes (16th Anniversary)
Wednesday 30th May: Ferial: I Peter I, 18-25; Psalm 147; Mark 10, 32-45
11.30 am: St Werburgh's: Catherine Coombes
Thursday 31st May: The Visitation of the BVM: Zephaniah 3, 14-18; Psalm Isaiah 12; Luke 1, 39-56
1.00 pm: St Werburgh's: Requiem Mass for Eileen Doran, late of Mollington Grange NH
Friday 1st June: St Justin: I Peter 4, 7-13; Psalm 95; Mark 11, 11-25
12.15 pm: St Werburgh's: Eucharistic Service
12.45 pm: Ampleforth Abbey Conventual Mass: Terry Collier
Saturday 2nd June: Ferial: Jude 1, 20-25; Psalm 62; Mark 11, 27-33
10.30 am – 12.00 noon: St Werburgh's: Confessions
12.30 pm: St Werburgh's: Baptism of Samuel Richard Michael Brian Willett
1.00 pm: St Werburgh's: Baptism of Isabelle Grace Denton
6.00 pm: Rowton Methodists: Freda Lloyd
SUNDAY 3rd JUNE: CORPUS CHRISTI – THE BODY AND BLOOD OF CHRIST (YEAR B)
Exodus 24, 3-8; Psalm 115; Hebrews 9, 11-15; Mark 14, 12-26
Saturday 6.00 pm: Rowton Methodists: Freda Lloyd
Sunday 9.00 am: St Werburgh's: Mary Carey (Anniversary)
Sunday 10.45 am: St Werburgh's: Maureen Burke (Birthday Remembrance and L.D.)
Sunday 1.00 pm: St Werburgh's: Wedding Service for John Harrison and Emma Mitchell
Sunday 6.00 pm: St Werburgh's: Rachael Andrews
Prayer Intentions
Your prayers are asked for the following who are sick: Matt Corcoran, Freda Lloyd, Henri Diacono, Wendy O'Brien, Ruth O'Kane, Iris Philp, James Donovan, Garth Stocking, Kevin Maguire, Christine Davies, Michael Morton; and for all the sick of the Parish; and for those who have died recently, especiallyMaureen Moran and Eileen Doran; and for those whose anniversaries occur about this time: Sheila Austin, Gladys Read, Trudy Axon, Mary Abbate, Christine Farr, Denis Hughes, Terry Collier, John Keegan, Simon Reynard, Stan Hughes, Peter Caswell, Denis Mannion, Baby Joseph Anderson, Joan Clarke, Winifred Sexton, Eileen Dinwoodie, Joan Bell, Vincent Lennon and Richard Brown.  Rest in Peace.
Parish events
Last Sunday Afternoon's Marian Holy Hour
Some very useful feedback afterwards: some of you would like these Holy Hours more frequently: do please let us have your views.
Eileen Doran Funeral Thursday 31st May
Everyone knew Eileen and Jean, always at 9.00 Mass together and sharing a house for so many years. You might have thought they were sisters! I'm sure many of us would want to be there for her Requiem Mass on 31st May at 1.00 pm.
Next 'First Friday' Recital: Friday 1st June
Slight change of programme: Catherine is coming later in the series, and for June we welcome our good friend Andrew Wyatt from the Cathedral for what will be a sparkling Organ Recital.
SVP Second Collection Last Weekend
Still plenty of time to contribute if you want to!
Newsletter Sick List
Iris Philp now identified, so just Christine Davies and Michael Morton left. Any information, please?
Diocesan GDPR Data Protection Training
Good morning on Friday, our Diocesan Solicitor telling us what we need to do to be compliant with the new law. It's largely common sense, but there's a list of 23 checkpoints for every Parish which I'll be unveiling, four at a time, over the next six weeks. The four guiding principles are:
1. Know exactly what data we are collecting;
2. Know exactly why it is being collected;
3. Be clear to everyone how it is being used;
4. Store it safely, then, asap, destroy it.
Refreshments after Mass last Wednesday
Many thanks to Denise and team for another excellent spread.  Next bash: 27th June.
Photo of the Week: The Church's West Side
Already, that magnificent view is being obscured as temporary fencing goes up on the Hotel Site next door. So, a thousand thanks to Geoff T and John C for photographing it now, a view we haven't seen for decades and will probably never see again. And to Mike C and Kris for offering to paint it for us. Thanks, everyone!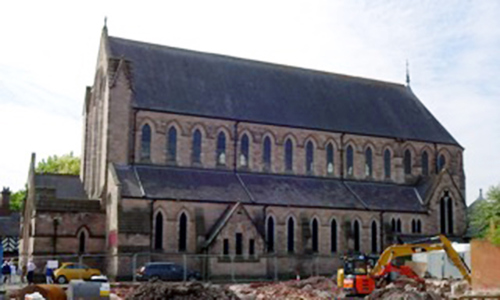 Meetings & Events This Week
Monday 6.00 pm: Website Group
Tuesday 7.00 pm: Liturgy Group Shared Table
Wednesday 6.00 pm: SVP
Wednesday 7.00 pm EM Review Session
Thursday 7.00 pm: EM Review Session
Friday 7.30 pm: First Friday Organ Recital
First Holy Communions Conclude This Sunday
At 10.45 we welcome Bethan Duke, Angus Dunlop-Jones, Isabella Marquez, Mason Ridgway and Grace & Lexi Tittershill. Please keep them all, and their families, in your prayers.
Last Eucharistic Ministers' Review Meetings
Wednesday 30th May 7.00-8.00 pm
Thursday 31st May 7.00-8.00 pm
Great War Memorial
You can see all six tenders on the Notice Board at the back of church. Excellent meeting last Tuesday in which we unanimously identified our Preferred Bidder, based on a clear set of criteria drawn up by Kate and Pete, our Project Leaders. Monday afternoon I am going to look at some of this company's work in Liverpool and Wallasey.
Monday's Day Pilgrimage to Cheadle
Many thanks to Gerry and Bernice for another superb day out: such a warm welcome from Fr Eric in Pugin's masterpiece, St Giles Cheadle; a short stroll to a first-class lunch; and then a lovely drive back through the beautiful Cheshire countryside. Many thanks, team!
Chester Heritage Festival: 22nd – 30th June
Leaflets now available at rear of Church. Two events are being held here in St. Werburgh's. Sunday 24th June at 3.00 pm: A Talk on Chester 1918 and the Story of the remarkable Joseph Chambers (Rector of St. Werburgh's 1903-1924). Wednesday 27th June at 200 pm: A Talk on Cosmopolitan Chester 1914-1918. Both events are FREE so please come and support our contributions to the Heritage Festival.
Save the Date: Chester Mystery Plays
Tuesday 10th July at 7.30 pm
Only produced every 5 years, this treasured part of Britain's cultural heritage is returning to the Nave of Chester Cathedral and is not to be missed! We have purchased 40 tickets for St Werburgh's for 10th July. Booking opens soon!
Events at the Retreat House, Chester
"Love was his meaning": a 'homely' approach to the spirituality of Julian of Norwich. As Chester prepares for its 2018 presentation of its Mystery Plays, with their medieval origins, this day is an invitation to explore how much Julian, medieval English mystic, anchorite, writer and woman of humour and common sense, has to say to us today. Cloister Room of Chester Cathedral. Saturday 9th June 10.30 am–3.00 pm. £20. www.chestercathedral.com or 01244 500959. 
June Day by Day and SH Messenger Now on Sale
£1 each, on the News Stand.
Diocesan Support Worker Needed…
…to assist the Diocesan Welfare Officer, visiting sick and retired priests.  For further information please visit our website http://www.dioceseofshrewsbury.org/about-us/curia/vacancies.