Parish Newsletter
SUNDAY 10th JUNE: TENTH SUNDAY IN ORDINARY TIME (YEAR B)
Liturgical
Genesis 3, 9-15; Psalm 129; II Corinthians 4,13 – 5,1; Mark 3, 20-35
Saturday 6.00 pm: Rowton Methodists: Intentions of JB
Sunday 9.00 am: St Werburgh's: Harry Teague
Sunday 10.45 am: St Werburgh's: Elsie and Bill Wilson
Sunday 12.30 pm: St Werburgh's: Baptism of Jonathan Charles
Sunday 1.00 pm: St Werburgh's: Baptism of Xavier Lee Vevar and Xadie Jaye Vevar
Sunday 6.00 pm: St Werburgh's: David Foxley
Monday 11th June: St Barnabas: Acts 11,21 – 13,3; Psalm 97; Matthew 5, 1-12
12.15 pm: St Werburgh's: Intentions of Patrick McKeown
1.05 pm: University Chapel – University Mass. All Welcome!
Tuesday 12th June: Ferial: I Kings 17, 7-16; Psalm 4; Matthew 5, 13-16
8.00 am: Poor Clares Hawarden: Private Intention
12.15 pm: St Werburgh's: Sheila Motley (L.D.)
Wednesday 13th June: St Anthony of Padua: I Kings 18, 20-39; Psalm 15; Matthew 5, 17-19
8.00 am: Poor Clares, Hawarden: For MP
10.40 am: Blacon: Funeral Service for Christopher Rose, late of Crawford's Walk (Grosvenor Gardens) NH
12.15 pm: St Werburgh's: Intentions of Chris Booley
Thursday 14th June: Ferial: I Kings 18, 41-46; Psalm 64; Matthew 5, 20-26
10.15 am: St Werburgh's: Funeral Service for Fred Sargent, late of Liscard, Wallasey
12.15 pm: St Werburgh's: Ian Gower (L.D., Nantwich)
2.30 pm: Overleigh: Funeral Service for Doreen Feely, late of Crawford's Walk (Grosvenor Gardens) NH
Friday 15th June: Ferial: I Kings 19, 9-16; Psalm 26; Matthew 5, 27-32
11.00 am – 12.00 noon: St Werburgh's: Exposition of the Blessed Sacrament
12.15 pm: St Werburgh's: Gordon Jones (L.D.)
Saturday 16th June: Ferial: I Kings 19, 19-21; Psalm I5; Matthew 5, 33-37
9.00 am – 10.00 am: St Werburgh's: Confessions
11.00 am: Our Lady and St John's Heswall: First Holy Communions
6.00 pm: Rowton Methodists: Intentions of Jean Lynch
SUNDAY 17th JUNE: ELEVENTH SUNDAY IN ORDINARY TIME (YEAR B)
Ezekiel 17, 22-24; Psalm 91; II Corinthians 5, 6-10; Mark 4, 26-34
Saturday 6.00 pm: Rowton Methodists: Intentions of Jean Lynch
Sunday 9.00 am: St Werburgh's: Brian Boardman
Sunday 10.45 am: St Werburgh's: Pat and Gerry Cummins (52nd Wedding Anniversary Remembrance)
Sunday 6.00 pm: St Werburgh's: Raymond Gain (4th Anniversary)
Prayer Intentions
Your prayers are asked for the following who are sick: Patrick McKeown, Matt Corcoran, Freda Lloyd, Henri Diacono, Wendy O'Brien, Ruth O'Kane, Iris Philp, James Donovan, Garth Stocking, Kevin Maguire, Christine Davies, Michael Morton; and for all the sick of the Parish; and for those who have died recently, especially James Turrell, Patrick White, Christopher Rose, Fred Sargent and Doreen Feely; and for those whose anniversaries occur about this time: Margaret McGovern, Tom Arnold, Des Eldridge,  Vera Heath-Coleman, Kenneth Jones, Joseph McGough, George Tilston, Catherine Caldwell, Fr Kevin Moorhouse, Derek Wright, Pamela Meaden, George Taylor, Maria Blazejewicz, Kathleen Mills, Maureen Jones, Harold King, Hugh Beattie, Anne Thacker, Gabrielle Ruane and Vi Clifford. Rest in Peace.
Parish events
Pauline Hackett
Great joy for all of us last Sunday at 9.00 am to present Pauline with her Papal Medal, "Bene Merenti" (Well Deserved!) for her phenomenal work with SVP and Home Communions for 40 years. Some lovely photos at the back of church.
Mental Health Group – Tuesday 12th at 7.00 pm
One last meeting - in July – and then we decide where we would like this Group to go.
Diocesan 'Our Mission Together' Newsletter
In its final stages now. Total raised to date: £10.5m!! Our own Parish Share Project is the remodelling of the front of church, plus a list of 'Minor Works'. We are moving on now to the renewal of the coloured Altar Cloths, which have become badly damaged by spillages of wax. To stop this recurring, we are thinking of having free-standing candlesticks, near but not on the Altar. One such has been lent to us by Hayes & Finch – ours would be silver, not gold – and we would like your comments and reactions.
Diocesan GDPR Data Protection Training
23 checks: 4 at a time, over the next 6 weeks.
5. Funeral Records: we must ask families if they wish us to keep records, to make contact subsequently for Anniversary Remembrances etc.
6. Except for marriages, once information is entered in the Registers, shred Pro Formas.
7. All Computers holding Parish information should be Password and AVG Protected.
8. Requests to be removed from the Parish Database must be carried out.
SVP 2nd Collection: Summer Lunch £1,170-36.
Thanks for your support. And over 40 Werbies came to 'Dial M for Murder' on Wednesday. For any unable to attend, the Butler did it.
Work on the Roof and House
All the High-Level work has now been completed by the steeplejacks, plus the Presbytery. Now we move on to the Lower Level, where ladders will do the job, after which the outside of the Presbytery will be painted. It never stops!
Children's Liturgy Younger Group (4-7 yrs old)
Parents/carers must take responsibility for their children and remove them if they become too disruptive. Thanks, all – and thanks, Team!!
Sophia Aiello - 15-mile Wirral Coastal Walk
For CAFOD's Emergency Appeal, Sunday 24th June. Details of how this fund helps families and individuals in countries such as Syria can be seen on the CAFOD noticeboard in the porch. If you would like to support Sophia sponsor forms are available at the back of Church. Many thanks.
Diocesan Audit on Tuesday
Oremus Pro Nobis!
Parish 1st Holy Communion Celebration Mass
10.45: welcome all our children & Music Group!
Photo of the Week: Stonyhurst Memorial Chapel
Designed by Bertram Kirby, Edmund's son, who also designed our own War Memorial Chapel.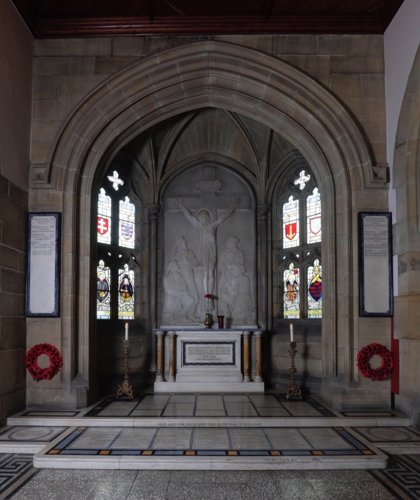 Meetings & Events This Week
Monday 1.30 pm: SVP
Tuesday 7.00 pm: Mental Health Group
Thursday 7.30 pm: Churches Together in Chester
Thursday 7.30 pm: Choir
Great War Memorial: Your Comments
All comments carefully scrutinised, and many of them actioned. Four last issues we'd like your views on – please see board at back of church.
Chester Heritage Festival: 22nd – 30th June
Sunday 24th June at 3.00 pm: A Talk on Chester 1918 and the story of the remarkable Joseph Chambers (Rector of St. Werburgh's 1903-1924). Wednesday 27th June at 2.00 pm: A Talk on Cosmopolitan Chester 1914-1918. Both events are FREE so please come and support!
Chester Mystery Plays Tuesday 10th July at 7.30
We've 40 tickets: Booking opens today!
Bookings must have phone number to be valid.
Families may get a better deal directly.
Tickets allocated 23rd June
Nuala Keenan Sponsored Walk for SPUC
24th June; Wirral Way, 15 Miles. Nuala will be here today if you wish to sign her Sponsor Sheets.
Next Meeting of the Readers' Group
Monday 18th June 18th, 7.00 pm in the Presbytery for about an hour, to look at readings for the next 4 Sundays. All welcome: do come along!
Sick List Names to Identify by end June
Just Christine Davies and Michael Morton left.
Safeguarding Update: Guinea Pigs Almost There!
And then our FHC Catechists come next.
Catholic Women's League Monthly Meeting
Monday 11th June, 1.00 pm in St Francis's Church Hall. Talk on The History of the Poppy appeal
'NightFever': Friday 15th June – 7.00 pm
St Francis' Church, Chester starting with Mass at 7.00 pm, and followed by a small team of volunteers going out into the city streets to invite people to come into Church to light a candle and experience Adoration of the Blessed sacrament. Volunteers required! Organised by Anthony Hunt (Chaplain at Chester Catholic High School) and supported by members of the Clergy from Chester & Ellesmere Port Deanery parishes. To volunteer or obtain more information call Anthony on 07714 160268.