Parish Newsletter
SUNDAY 17th JUNE: ELEVENTH SUNDAY IN ORDINARY TIME (YEAR B)
Liturgical
Ezekiel 17, 22-24; Psalm 91; II Corinthians 5, 6-10; Mark 4, 26-34
Saturday 6.00 pm: Rowton Methodists: Intentions of Jean Lynch; Kathleen Mary McGrath (3rd Anniv.)
Sunday 9.00 am: St Werburgh's: Brian Boardman
Sunday 10.45 am: St Werburgh's: Pat and Gerry Cummins (52nd Wedding Anniversary Remembrance)
Sunday 6.00 pm: St Werburgh's: Raymond Gain (4th Anniversary)
Monday 18th June: Ferial: I Kings 21. 1-16; Psalm 5; Matthew 5, 38-42
12.15 pm: St Werburgh's: John and Vera Clyne
1.05 pm: University Chapel – University Mass. All Welcome!
Tuesday 19th June: Ferial: I Kings 21, 17-29; Psalm 50; Matthew 5, 43-48
12.15 pm: St Werburgh's: Eucharistic Service
Intention in Leeds: Gerry Cummins and Family
Wednesday 20th June: Ferial: II Kings 2, 6-14; Psalm 30; Matthew 6, 1-18
7.30 pm: St Werburgh's: Andrew and Emily Cunniff
Thursday 21st June: St Aloysius Gonzaga: Ecclesiasticus 48, 1-14; Psalm 96; Matthew 6, 7-15
12.15 pm: St Werburgh's: Sheila Motley (L.D.)
Friday 22nd June: SS John Fisher & Thomas More: II Maccabees 6, 18-31; Psalm 30; Matthew 24, 4-13
12.15 pm: St Werburgh's: Eucharistic Service
12.45: Ampleforth Abbey Conventual Mass: Intentions of MP
Saturday 23rd June: Ferial: II Chronicles 24, 17-25; Psalm 88; Matthew 6, 24-34
10.30 am – 12.00 noon: St Werburgh's: Confessions
12.30 pm: St Werburgh's: Baptism of Charlie Brook
6.00 pm: Rowton Methodists: Peter Newbrook (4th Anniversary)

SUNDAY 24th JUNE: THE BIRTH OF ST JOHN THE BAPTIST (YEAR B)
Isaiah 49, 1-6; Psalm 138; Acts 13, 22-26; Luke 1, 57-80
Saturday 6.00 pm: Rowton Methodists: Peter Newbrook (4th Anniversary)
Sunday 9.00 am: St Werburgh's: Alex Barnes
Sunday 10.45 am: St Werburgh's: Peter Pickering (20th Anniversary)
Sunday 6.00 pm: St Werburgh's: Teresa Murray-Hession (L.D., Dublin)

Prayer Intentions
Your prayers are asked for the following who are sick: Yvonne McCabe, Patrick McKeown, Matt Corcoran, Freda Lloyd, Henri Diacono, Ruth O'Kane, James Donovan, Garth Stocking, Kevin Maguire, Michael Morton; and for all the sick of the Parish; and for those who have died recently, especially James Turrell, Patrick White, Christopher Rose, Fred Sargent and Doreen Feely; and for those whose anniversaries occur about this time: Ernest Earlam, Frederick Hutfield, Liz McGovern, Jim Kinsella, Michael Garvey, Ethel Burridge, Francine Howat, John Maguire, Elizabeth Bastow, Joan Feeney, Bill Wilson, Charlie Lancaster, Arnold Foy, Mary Massey, Peter Newbrook and Elizabeth Jones.May they all Rest in Peace.

Parish events
National Chaplains Conference at Leeds
Monday tea-time to Wednesday tea-time I shall be over at Hinsley Hall Leeds, for the Annual Conference of all the Catholic University Chaplains from the hundred or so English and Welsh Universities. It's a very useful gathering, and great to network with Colleagues. This summer we're addressing the thorny question of "Catholic Identity on Secular Campuses". How does a Catholic boy or girl live out their faith in such a challenging environment, where most students have no religious faith or practice and where moral standards can sometimes be horribly adrift from what our youngsters are used to?
Special Mass Here on Monday 9th July 12.15 pm
Honoured and delighted that Bishop Mark has asked if he can bring the Junior Clergy Group (those ordained five years or less), our Diocesan Seminarians, and those currently living in the House of Discernment down at the Cathedral to St Werburgh's for Mass and Lunch on Monday 9th July. They are exploring the history of the Diocese and will go on to visit the Cathedral after lunch. (Actually, they are visiting all the old ruins of the Diocese, and thought immediately of me…) All parishioners very warmly welcome to join us.
New Altar Cloths & Free-Standing Candlesticks
We are moving on now to the renewal of the coloured Altar Cloths, which have become badly damaged by spillages of wax. To stop this recurring, we are thinking of having free-standing candlesticks, near but not on the Altar. One such has been lent to us by Hayes & Finch – ours would be silver, not gold – and we would like your comments and reactions. Any last thoughts?
Diocesan GDPR Data Protection Training
23 checks: 4 at a time, over the next 6 weeks:
9. Signing-Up Lists at back of church should be just name and phone number, not addresses;
10. Only display photos with names (or photos of children without names) if consent has been obtained first;
11. Be careful with Volunteer Rotas, that they contain the minimum of personal information;
12. Be careful that Accident Books contain the minimum of personal information.
Poor Clares Leaving Hawarden
As most of you know by now, very sadly the Poor Clares are leaving their Monastery in Hawarden this summer to join their Community in Nottingham. We shall miss them more than we can say. We are delighted that they are coming here to St Werburgh's for a Mass of Thanksgiving and Farewell on Tuesday 31st July at 7.30 pm. They are having an Auction of everything they're not taking with them on Saturday 30th June at 10.00 am. Go and grab yourself a bargain!
Sophia Aiello - 15-mile Wirral Coastal Walk
For CAFOD's Emergency Appeal, Sunday 24th June. If you'd like to support Sophia, sponsor forms are at the back of Church. Many thanks.
Diocesan Audit on Tuesday – We Survived!
They want us to change the way we record year-end transactions – otherwise we passed with flying colours.
Photo of the Week: Steeplejacks at Work
Recent work on the roof has set our witty little Organist off. Very funny, James, very comical…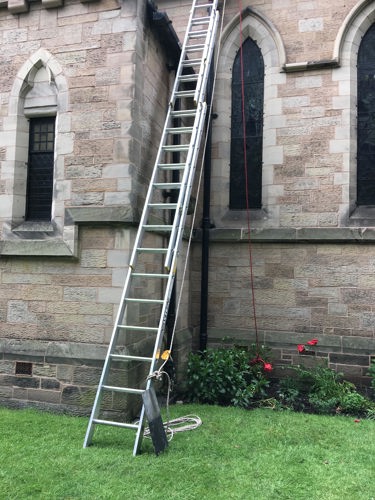 Meetings & Events This Week
Monday 7.00 pm: Readers' Group
Thurs 10.00 am: Gt War Plaque Sub-Committee
Thurs 12.45 pm: Churches Together in Cheshire
Thursday 7.30 pm: Choir
Great War Memorial: The Four 'Eated Debates
Speech Marks Round Quotations? Yes=36; No=4
"Widowed and Orphaned"? Yes=42; No=3
Fr B Williamson, Chaplain? Yes=43; No=2
Include 'Bishop Mark' & Date? Yes=28; No=19
Mrs Merton would have been proud of you all!
Chester Heritage Festival: 22nd – 30th June
Sunday 24th June at 3.00 pm: A Talk on Chester 1918 and the story of the remarkable Rev Joseph Chambers (Rector of St. Werburgh's 1903-1924). Wednesday 27th June at 2.00 pm: A Talk on Cosmopolitan Chester 1914-1918. Both events are FREE so please come and support!
Chester Mystery Plays Tuesday 10th July at 7.30
All sold! Money/Forms back by 24th June, please.

FP Talk on the Mystery Plays 
What are they? Why were they written? For whom and when were they written? Why is Chester so important here? What should we be looking out for on 10th July?
FP Talk: Tuesday 3rd July, Church, 7.00 pm.
Nuala Keenan Sponsored Walk for SPUC
24th June; Wirral Way, 15 Miles. Nuala will be here today if you wish to sign her Sponsor Sheets.
Next Meeting of the Readers' Group
Monday 18th June 18th, 7.00 pm in the Presbytery for an hour, looking at next month's readings.
Sick List Names to Identify by end June
Just Michael Morton left.
Chester CAFOD Support Group Strawberry Tea
Sunday 24th June from 2.30-4.30 pm at Ann & John McCarthy's, 49 St Chad's Road, Blacon CH1 5LF. Tickets can be purchased in advance or on the door, price £3 but please ring either Ann on 01244 375606 or Sue on 01244 679270 if you are coming, so that we know how many to cater for! If you can also bring a garden chair that would be wonderful.