Parish Newsletter
SUNDAY 24th JUNE: BIRTHDAY OF ST JOHN THE BAPTIST (YEAR B)
Liturgical
Isaiah 49, 1-6; Psalm 138; Acts 13, 22-26; Luke 1, 57-80
Saturday 6.00 pm: Rowton Methodists: Peter Newbrook (4th Anniversary)
Sunday 9.00 am: St Werburgh's: Alex Barnes
Sunday 10.45 am: St Werburgh's: Peter Pickering (20th Anniversary)
Sunday 6.00 pm: St Werburgh's: Teresa Murray-Hession (L.D., Dublin)

Monday 25th June: Ferial: II Kings 17, 5-18; Psalm 59; Matthew 7, 1-5
12.15 pm: St Werburgh's: Pat Cleaver (Birthday Remembrance)
1.05 pm: University Chapel - University Mass. All Welcome! Last Uni Mass till 10th September

Tuesday 26th June: Ferial: II Kings 19, 9-36; Psalm 47; Matthew 7, 6-14
8.00 am: Poor Clares, Hawarden: Special Intention
7.30 pm: St Werburgh's: Patricia Cunniff

Wednesday 27th June: Ferial: II Kings 22,8 - 23,3; Psalm 118; Matthew 7, 15-20
9.00 am: Requiem Mass for Desmond Sloan, late of Little Sutton
12.15 pm: St Werburgh's: Charlie Lancaster (3rd Anniversary)

Thursday 28th June: St Irenaeus: II Kings 24, 8-17; Psalm 78; Matthew 7, 21-29
12.15 pm: St Werburgh's: Shay Bannon (L.D., Dublin)

Friday 29th June: SS Peter and Paul - HOLYDAY OF OBLIGATION
Acts 12, 1-11; Psalm 33; II Timothy 4, 6-18; Matthew 16, 13-19
7.30 am: St Werburgh's: Intentions of Baby Arthur Horsdal
10.00 am: Primary School: First Holy Communion Thanksgiving Mass
12.15 pm: St Werburgh's: Fr Peter Preston SDS (Diamond Jubilee Thanksgiving)
7.30 pm: St Werburgh's: Michael Welsh

Saturday 30th June: Ferial: Lamentations 2, 2-19; Psalm 73; Matthew 8, 5-17
10.00 am: HMP Berwyn, Wrexham: Mass for Prisoners and Staff
12.30 pm: St Werburgh's: Baptism of Jacob Ciaran Bridgett
6.00 pm: Rowton Methodists: Charles Davis (L.D., Liverpool)

SUNDAY 1st JULY: THIRTEENTH SUNDAY IN ORDINARY TIME (YEAR B)
Wisdom 1, 13-24; Psalm 29; II Corinthians 8, 7-15; Mark 5, 21-43

Saturday 6.00 pm: Rowton Methodists: Charles Davis (L.D., Liverpool)
Sunday 9.00 am: St Werburgh's: Canon Eugene Dolan (L.D., Salford Diocese)
Sunday 10.45 am: St Werburgh's: Denis Hickey (11th Anniversary)
Sunday 12.30 pm: St Werburgh's: Baptism of Benedict Wildes
Sunday 1.00 pm: St Werburgh's: Baptism of Anwen Elizabeth Margaret Lunt
Sunday 6.00 pm: St Werburgh's: Rachael Andrews
Prayer intentions
Your prayers are asked for the following who are sick: Baby Arthur Horsdal, Yvonne McCabe, Patrick McKeown, Matt Corcoran, Freda Lloyd, Henri Diacono, Ruth O'Kane, James Donovan, Garth Stocking, Kevin Maguire, Michael Morton; and for all the sick of the Parish; and for those who have died recently, especially Desmond Sloan; and for those whose anniversaries occur about this time: Michael Carroll, Denis Hickey, Cecilia Parker, Peter Jezek, Marjorie Harvey, Frank Hughes, Brian McElmeel, Annie Egan, Pauline Kelly, Corinne Mashiter, Vincent Mapp, Brenda Thomas, Frank Miciah, Rebecca Halsall, Mary McCleary, John Atkinson, Patricia Smith, Liz Allison, Pearl Corken and Susan Cross. May they all Rest in Peace.
Parish events
This Afternoon, Sunday, at 3.00 pm
A Talk by Gerry on Chester 1918 and the story of the remarkable Rev Joseph Chambers (Rector of St Werburgh's 1903-1924). Don't miss it!
Wednesday 27th June at 2.00 pm: A Talk by Anne-Marie on Cosmopolitan Chester 1914-1918.
Next Friday 29th June: Holyday of Obligation
Next Friday is the Feast of SS Peter and Paul, and a Holyday of Obligation. Usual Mass Times - 7.30 am, 12.15 pm, and 7.30 pm. Delighted that we are able to have music at the evening Mass, with a couple of hymns, and two pieces from the Choir. Thank you, musicians!
New Altar Cloths and Free-Standing Candlesticks
We've had a very favourable reaction to our suggestion of renewing the Altar Cloths and having free-standing Candlesticks to prevent any future wax damage to the new ones.
Next First Friday Recital: Catherine Tighe
Set your GPS sat navs for St Werburgh's on Friday 6th July for a lovely recital by our good friend Catherine Fahy. As well as possessing a beautiful soprano voice she's also building an academic career in music, researching 'Music in the plays of Samuel Beckett' for a PhD at York, following her undergraduate studies at Manchester, and has also landed a Research Fellowship at the University of Austin, Texas. Wow! She studies singing with Andrew Heggie and has recently performed in a new opera, Medea Maria, by composer Helen Madden at York Theatre Royal. Joined by Tim Stuart on the piano, she's performing a wonderful recital for us of songs by Britten, Schumann, Fauré and Verdi, as well as some from the more popular end of the repertoire. Clue: I've got rhythm. Don't miss it!
Churches Together in Christleton Summer Teas
In the Methodist Schoolroom. Please come and support our delicious Sunday Teas with home-made cakes, served every Sunday until 30th September, 2.30 pm - 4.30 pm, proceeds to The Rock of Joy Trust, for schools in Uganda.
Chester Mystery Plays Tuesday 10th July at 7.30
FOUR tickets have now become available again: any takers? Please sign up on list at back of church if interested. Money and Forms back by 24th June, please.
FP Talk on the Mystery Plays - What are they? Why were they written? For whom and when were they written? Why is Chester so important here? What should we look out for on 10th July?
FP Talk: Tuesday 3rd July, Church, 7.00 pm.
Owen Gresty Diaconate Ordination
Our very good friend, Owen, son of Dominique and Brian, brother of Natalie and Loic, is being ordained a Permanent Deacon in St Chad's cathedral, Birmingham, next Sunday afternoon, We are delighted that Gerry is able to go to represent St Werburgh's.
Refreshments After Mass Next Wednesday
Straight After 12.15 pm Mass - ideal if you are stopping on for Ann Marie's Talk!
Meetings and Events This Week
Monday 7.00 pm: Children's Liturgy Group
Tuesday 10.30 am: Christleton CT at Brown Knoll
Wednesday 12.45 pm: Refreshments After Mass
Wednesday 6.30 pm: SVP
Thursday 7.30 pm: Choir
Diocesan GDPR Data Protection Training
23 checks: 4 at a time, over the next 6 weeks.
13. Standard Privacy Notices must appear on all Parish emails, mail-outs and websites, and people have to opt IN to receive these, not opt OUT.
14. Privacy Notices must be on all CCTV, webcams and live streamings.
15. Filming in Church needs consent - of the Parish Priest and of those being filmed.
16. All personal devices containing parish information (lap-tops, tablets, phones) must be password-protected and secure at all times.
Special Mass Here on Monday 9th July 12.15 pm
Honoured and delighted that Bishop Mark has asked if he can bring the Junior Clergy Group (those ordained five years or less), our Diocesan Seminarians, and those currently living in the Cathedral House of Discernment to St Werburgh's for Mass and Lunch on Monday 9th July. They are exploring the history of the Diocese and will go on to visit the Cathedral after lunch. All parishioners warmly welcome to join us.
National Uni Chaplains Conference at Leeds
Excellent gathering last week, Monday to Wednesday, at Hinsley Hall in Leeds. Very good talks from Professor Gavin D'Costa (Bristol University), Fr Nicholas Crowe OP (Dominican Vocations Director) and Mgr Keith Barltrop, leading Westminster Diocese's outreach to the LGBT community. Plus the usual invaluable networking with chaplaincy colleagues from the hundred or so English and Welsh Universities.
Poor Clares Leaving Hawarden
Saturday 30th June at 10.00 am: Auction of all the odds and ends they're not taking with them. (Sadly, you cannot bid for any of the Sisters. You couldn't afford them).
Tuesday 31st July, 7.30 pm, Mass of Thanksgiving for all the Chester friends of the Sisters.
Photo of the Week: Mother Helen and Class 1935
St Werburgh's School, Girls' Class, about 1935. Many thanks to Ann Marie Curtis for sending it in: how many of these girls can we identity over eighty years later?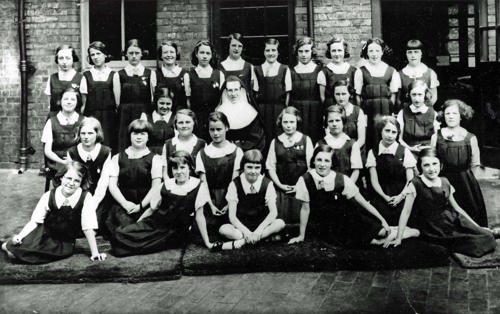 Chester Little Theatre Youth Group
They visited us in March for a riveting performance of "The Man Who Disappeared", the story of those soldiers who were Shot At Dawn in the First World War. Delighted they are paying us a return visit on Friday 13th July at 7.30 pm for their performance of George Crabbe's astonishing poem, "Peter Grimes".
Great War Plaque
The sub-committee (Kate, Anne Marie and FP) met our Contractor on Thursday: text now entirely agreed: now we move on to finalise the art work!