Parish Newsletter
SUNDAY 15th JULY: FIFTEENTH SUNDAY IN ORDINARY TIME (YEAR B)
Liturgical
Amos 7, 12-15; Psalm 84; Ephesians 1, 3-14; Mark 6, 7-13
Saturday 6.00 pm: Rowton Methodists: Lorna Harris
Sunday 9.00 am: St Werburgh's: John Timothy (Anniversary 2008)
Sunday 10.45 am: St Werburgh's: Maureen Burke (L.D., Marple Bridge)
Sunday 12.30 pm: St Werburgh's: Baptisms of Sophia Grace Enright & Jack Christopher Enright
Sunday 6.00 pm: St Werburgh's: Special Intention (B.D.)
Monday 16th July: Our Lady of Mount Carmel: Isaiah 1, 10-17; Psalm 40; Matthew 10,34 – 11,1
12.15 pm: St Werburgh's: Matthew Robinson
7.00 pm: Carmelite Monastery, Birkenhead: Mass of Thanksgiving for their Centenary
Tuesday 17th July: Ferial: Isaiah 7, 1-9; Psalm 47; Matthew 11, 20-24
8.00 am: Poor Clares, Hawarden: Special Intention
12.15 pm: St Werburgh's: Monica Concannon (90th Birthday Remembrance)
Wednesday 18th July: Ferial: Isaiah 10, 5-16; Psalm 93; Matthew 11, 25-27
12.15 pm: St Werburgh's: Intentions of Karen Ennis
Thursday 19th July: St John Plessington: Isaiah 26, 7-19; Psalm 101; Matthew 11, 28-30
12.15 pm: St Werburgh's: Sheila and Patrick Callanan (L.D.)
Friday 20th July: Ferial: Isaiah 38, 1-8; Psalm Isaiah 38; Matthew 12, 1-8
12.15 pm: St Werburgh's: Eucharistic Service
12.45 pm: Ampleforth Abbey Conventual Mass: Intentions of JA
Saturday 21st July: Ferial: Micah 2, 1-5; Psalm 9; Matthew 12, 14-21
10.30 am – 12.00 noon: St Werburgh's: Confessions
12.30 pm: St Werburgh's: Baptism of Beatrice Jasmine Dimech-Limmage
1.00 pm: St Werburgh's: Baptism of James Peter William Connolly
6.00 pm: Rowton Methodists: Intentions of Bernadette O'Hanlon and family
SUNDAY 22nd JULY: SIXTEENTH SUNDAY IN ORDINARY TIME (YEAR B)
Jeremiah 23, 1-6; Psalm 22; Ephesians 2, 13-18; Mark 6, 30-34
Saturday 6.00 pm: Rowton Methodists: Intentions of Bernadette O'Hanlon and family
Sunday 9.00 am: St Werburgh's: Liz Allison
Sunday 10.45 am: St Werburgh's: Bernie Booth
Sunday 12.00 noon: St Werburgh's: Baptism of Hudson Louis Murphy
Sunday 12.30 pm: St Werburgh's: Baptism of Cara Quinn Roddy
Sunday 1.00 pm: St Werburgh's: Baptism of Ava Lea Benson
Sunday 6.00 pm: St Werburgh's: James and Agnes Alcock
Prayer Intentions
Your prayers are asked for the following who are sick: Baby Arthur Horsdal, Patrick McKeown, Matt Corcoran, Freda Lloyd, Henri Diacono, Ruth O'Kane, James Donovan, Garth Stocking and Kevin Maguire; and for all the sick of the Parish; and for those who have died recently, especially Nuala McDonough, Margaret Sproston and Yvonne McCabe; and for those whose anniversaries occur about this time: Bob Kelly, Bridie Mackie, Mary Murray, Doris Moran, Alfred Jones, Freda Hughes, Ted Baker, Kathleen Woolley, Bernie Booth, Mary Guiney, Frank Casey, Tom McGuire and Brenda Quine. May They All Rest in Peace.
Parish events
Last Monday's Mass and Lunch with the Bishop
Many thanks to you all for a remarkably successful day. Bishop Mark asked me to pass on his sincerest thanks to everyone, for the Mass and the lunch. I told him it hadn't taken me long… Everyone seemed to think that it was a great day: having the three groups together – Junior Priests, Seminarians and Discerners, each sharing with the others. The Mass was a perfect way of celebrating both St Werburgh and our togetherness as a Diocese. And the lunch afterwards was perfect. Cold salmon, salad, cous-cous and new potatoes. To finish it off perfectly, an Apricot Flan – one of my better ones – just disappeared, and there were about six strawberries left. All washed down with a glass of rather cheeky Château Huntington 2018. Everyone was so appreciative: and I just said it's the sort of event we all enjoy putting on, both the Mass and the Lunch. I walked them over the park and along the river afterward, up to the Castle and back to St Francis, where they had left cars. They set off for Pantasaph, nourished in spirit and body! Many thanks team, for a superb Mass and Lunch. It made my two o'clock start so worthwhile…
New Baptismal Register Commissioned
We have now filled the last page of the existing Register which began in 1962! On the altar for you to look at. So, work has started on commissioning a new one to take us up to 2078…
Parish Diary 2018/19
Almost there now, ironing out the clashes we've identified. Hopefully, to the printers in August, all ready for distribution in September.
Next First Friday Recital – The Lute Family!
Friday 3rd August, we welcome back our old friend Hugh Cherry and his amazing collection of Lutes, plus Soprano Deborah Catterall and Tenor Gareth Glyn Roberts. Info sheet at back of church with full details! Do please take one.
Chester Across Group Nurse Urgently Needed
This summer marks the 25th annual pilgrimage to Lourdes by the Chester Across Group. Sadly, one of our two nurses has had to drop out due to personal circumstances. So, we desperately need another nurse - and a Doctor would be a bonus! Dates - Thu 30th Aug to Sat 8th Sept
Cost - approx £400 but we have funds to subsidise folk who cannot afford this.
Refreshments After Mass on Wednesday
Syd, our Parish Secretary, is on a spot of leave, so we won't have our scheduled Refreshments After Mass this week. Watch the Newsletter for the next one!
Poor Clares Leaving Hawarden
Tuesday 31st July, 7.30 pm, Mass of Thanksgiving for all the Chester friends of the Sisters.

Next meeting of the Readers' Group
Monday July 16th at 7.00 pm for about an hour to look at the Sunday readings for the next four weeks. In the Presbytery. All are always welcome!
Music Group Playing at 10.45 Mass Today
Meetings This Week
Monday 7.00 pm: Readers' Group
Tuesday 2.30 pm City Centre CT at St Mary's
Wednesday 18th 7.00 pm Parish Council
Thursday 7.30 pm Catenians Clergy Night
Carmel Centenary on Monday
Monday night at 7.00 pm, we celebrate one hundred years of our beloved Carmelite Sisters being in Birkenhead, with a Mass led by Bishop Mark. I shall be going if anyone wants to follow and isn't sure of the way.
Parish Council Meeting on Wednesday
Any items to any member, please.
Headteacher Vacancy St Hugh's Timperley
Please see noticeboard or Diocesan website for full details.
SVP Summer Holiday Second Collection
There will be an SVP collection on the weekend of 21/22 July to fund summer holiday support for some families and to assist the SVP Holiday Home caravan. Your contributions are vital to the work of the SVP and are much appreciated.
Saturday 29th July – Mass at Chamboree 2018
Chamboree is Cheshire's Scout and Guide Jamboree, which takes place at Tabley every four years and welcomes thousands of youngsters from all over the globe for an amazing week's programme. See their website for details. I'm honoured to be asked to go out and say Mass for them on the Saturday Evening, 29th July, and delighted that our good friend, Fr Mark Connolly, from the Spiritans, is able to say the Rowton Mass for us. Dyb, dyb, dyb!
Water Aid: Sponsored Bike Ride
Jeremy Black is cycling the Prudential 100 Mile "Ride London" on July 29th to raise money for Water Aid. Please get in touch with him if you'd like to sponsor him, or just find out a bit about Water Aid's work to promote clean water.
Mental Health Group on Tuesday at 7.00 pm
Last Meeting before the summer break: everyone warmly welcome, as always.
Photo of the Week: What is that baby saying?
If this one doesn't provoke the usual spate of Caption Competition entries, then I'm not the Archbishop of Canterbury…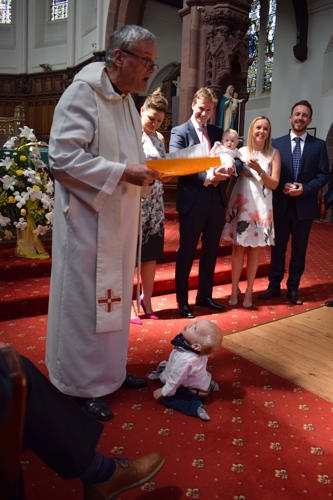 Chester Little Theatre Youth Group Last Friday
Many thanks to them for their performance of George Crabbe's astonishing poem, 'Peter Grimes.'
Residential & Nursing Home Religious Services
Thanks for offers of help: meeting in September!
New Catholic Enquiry Course
Starting in September and running fortnightly till Easter: have a word with FP if interested.
My Holiday Dates:
20th August – 7th September