Parish Newsletter
SUNDAY 22nd JULY: SIXTEENTH SUNDAY IN ORDINARY TIME (YEAR B)
Liturgical
Jeremiah 23, 1-6; Psalm 22; Ephesians 2, 13-18; Mark 6, 30-34
Saturday 6.00 pm: Rowton Methodists: Intentions of Bernadette O'Hanlon and family
Sunday 9.00 am: St Werburgh's: Liz Allison
Sunday 10.45 am: St Werburgh's: Bernie Booth
Sunday 12.00 noon: St Werburgh's: Baptism of Hudson Louis Murphy
Sunday 12.30 pm: St Werburgh's: Baptism of Cara Quinn Roddy
Sunday 1.00 pm: St Werburgh's: Baptism of Ava Lea Benson
Sunday 6.00 pm: St Werburgh's: James and Agnes Alcock
Monday 23rd July: St Bridget: Galatians 2, 19-20; Psalm 33; John 15, 1-8
7.30 am: St Werburgh's: Intentions of CT
Tuesday 24th July: Ferial: Micah 7, 14-20; Psalm 84; Matthew 12, 46-50
8.00 am: Poor Clares, Hawarden: Special Intention
11.00 am: St Werburgh's: Shirley Rider (L.D.)
12.00 noon: Blacon: Funeral Service for Yvonne McCabe
2.00 pm: St Werburgh's: Baptism of Bobby Edward Ellis Jones
Wednesday 25th July: St James: II Corinthians 4, 7-15; Psalm 125; Matthew 20, 20-28
10.00 am: St Werburgh's: Jane Potter (L.D.)
Thursday 26th July: SS Joachim and Anne: Jeremiah 2, 1-13; Psalm 35; Matthew 13, 10-17
12.15 pm: St Werburgh's: Patricia Cunniff (Anniversary)
Friday 27th July: Ferial: Jeremiah 3, 14-17; Psalm Jeremiah 31; Matthew 13, 18-23
12.00 noon: St Werburgh's: Requiem Mass for Charles Whittaker, late of Hatchmere Drive
Saturday 28th July: Ferial: Jeremiah 7, 1-11; Psalm 83; Matthew 13, 24-30
10.30 am – 12.00 noon: St Werburgh's: Confessions
12.30 pm: St Werburgh's: Wedding Service for Michael Ansaldo & Sarah-Louise Holmes-Threlfall
6.00 pm: Tabley Showground: Chamboree Mass for International Scouts and Guides
6.00 pm: Rowton Methodists: Bridie Looby (L.D., Tipperary)

SUNDAY 29th JULY: SEVENTEENTH SUNDAY IN ORDINARY TIME (YEAR B)
II Kings 4, 42-44; Psalm 144; Ephesians 4, 1-6; John 6, 1-15
Saturday 6.00 pm: Rowton Methodists: Bridie Looby (L.D., Tipperary)
Sunday 9.00 am: St Werburgh's: Anne Timothy (Anniv. 2002) and Gerard Walsh (Anniv. 1988)
Sunday 10.45 am: St Werburgh's: Denis Twohig
Sunday 12.30 pm: St Werburgh's: Baptism of Phoebe Mayo
Sunday 6.00 pm: St Werburgh's: Rachael Andrews
Prayer Intentions
Your prayers are asked for the following who are sick: Baby Arthur Horsdal, Patrick McKeown, Matt Corcoran, Freda Lloyd, Henri Diacono, Ruth O'Kane, James Donovan, Garth Stocking and Kevin Maguire; and for all the sick of the Parish; and for those who have died recently, especially Yvonne McCabe, Charles Whittaker and Deryck Fairhurst; and for those whose anniversaries occur about this time: Victoria Johnson, Albert Hassall, Therese Platel, Terence O'Brien, Jack Friery, Mary Banks, Patricia Cunniff, Pauline Higgins, Alice Sproston, Joan Croft, Rosemarie Shone, Albert Tilston, Dorothy Rice, Anthony Graham, Norah Smith, Sebastian Vitelli, Kathleen Wright, Bill Wilson, Nan Butcher, Mary Kirkland-Jones and Norman Haggart. May They All Rest in Peace.
Parish events
Diocesan Appeal Fruits: New Priests, Old Priests
A week ago, we welcomed the eleven young men preparing for Priesthood for our Diocese, either in Seminary or in our Cathedral House of Discernment. A very encouraging number, and all thanks to your support of the Our Mission Together Diocesan Appeal. At the other end, I thought you might be interested in some statistics on our Retired Priests, which the Appeal is equally supporting:
30 Retired Shrewsbury Priests in Total
20 Living Independently
2 in 24-hour Sheltered Housing
4 at home with Care Packages
3 in Care Homes1 in Hospital
Again, just not possible without your support!
New Baptismal Register Commissioned
The existing Register which began in 1962 is now full! On the Silver Lectern for you to look at. So, work has started on commissioning a new one to take us up to 2078…
1st Holy Communion Preparation Classes 2018-19
For children attending Non-Catholic Primary Schools. Please contact Fr Paul by phone or email before 9th September, if you would like your child to prepare for their First Holy Communion. Our Classes and Preparation Books are geared to children in Year Three, but as long as children are in Primary School this September, they are eligible to join.
Older children wishing to make their First Holy Communion should contact Father Paul.
APF Mission – Red Boxes Now Due In!
Bernie will be available at the 9.00 am, 10.45 am and 6.00 pm Masses on Sunday 29th July for those who would like to bring their red box in for emptying. Bernie will do another date in September or you can call her to arrange a collection Tel: 340768. Anyone who wants to bring it to the Saturday Mass at Rowton can give their box to Cath and Brian Haslam.

NB. We're still looking for someone to take over the equivalent job from Roger for Caritas Boxes.
Spare ADOREMUS ticket 7th / 8th September
A spare ticket has become available for the Friday and Saturday. See FP if interested.
Constructing the Great War Memorial Frame
Some fascinating photos on the Notice Board at the back of church of starting to build the wooden frame for our new Great War Memorial, using the old wood from the Choir Stalls / Screen.
SVP Research and Project Development Officer
To review, re-model, project plan and potentially produce resources for our programme for 18-30 year olds in preparation for a service re-launch in Sept 2019. £27k pa pro rata; 3 days a week; one-year contract. Home-based with national travel. For more details & application pack, please visit the vacancies section of the SVP website: https://www.svp.org.uk/.
Next First Friday Recital – The Lute Family!
Please take a flyer with you for full details.
Requesting a Mass Intention
The earlier you get your key dates in, the better! Sunday Morning is booked up for months!
Poor Clares Leaving Mass: Transport Needed
Here, on Tuesday 31st July, 7.30 pm, Mass of Thanksgiving for all the Chester friends of the Sisters. Can you please help with transport? 12 of the Sisters are coming (out of 14), so can anyone help pick them up at 6.45 and drop them back at 8.45 pm? Sign up List at back of church.
Meetings This Week
Wednesday 25th 11.00 am: Chester Clergy
Wednesday 25th 6.30 pm: SVP
SVP Summer Holiday Second Collection
There will be an SVP collection this weekend, 21st and 22nd July to fund summer holiday support for families and to assist the SVP Holiday Home caravan. Your contributions are vital to the work of the SVP and are much appreciated.
Saturday 28th July – Mass at Chamboree 2018
Chamboree is Cheshire's Scout and Guide Jamboree, which takes place at Tabley every four years and welcomes thousands of youngsters from all over the globe for an amazing week's programme. See their website for details. I'm honoured to be asked to go out and say Mass for them on the Saturday Evening, 29th July, and delighted that our good friend, Fr Mark Connolly, from the Spiritans, is able to say the Rowton Mass for us. Dyb, dyb, dyb!
Water Aid: Sponsored Bike Ride
Jeremy Black is cycling the Prudential 100 Mile "Ride London" on July 29th to raise money for Water Aid. Please get in touch with him if you'd like to sponsor him, or just find out a bit about Water Aid's work to promote clean water.
Mental Health Group on Tuesday at 7.00 pm
Last Meeting before the summer break: it's been a great year, so dates fixed
for next year…
Photo of the Week: Bishop Joseph Gray
Visiting our Primary School in 1985. He was our Bishop from 1980-1995, Bishop Brian's predecessor and the Bishop who first took me on all those years ago. He was wonderful to me, and I loved the bones of him.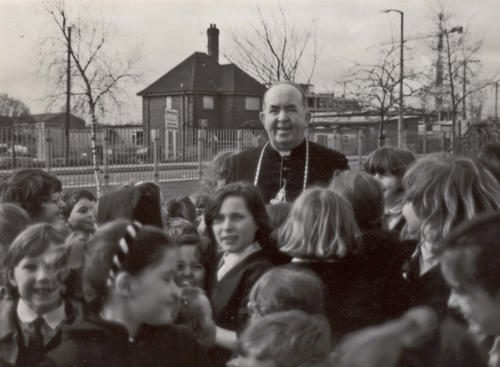 Residential & Nursing Home Religious Services
Thanks for offers of help: meeting in September!
New Catholic Enquiry Course
Starting in September and running fortnightly till Easter: have a word with FP if interested. Meeting for prospective new helpers: Monday 30th July at 8.00 pm. Please let me know if not possible!
My Holiday Dates: 20th August – 7th September
No, not Palazzola this year, but spreading my wings a little and off to Sicily…