Parish Newsletter
SUNDAY 29th JULY: SEVENTEENTH SUNDAY IN ORDINARY TIME (YEAR B)
Liturgical
II Kings 4, 42-44; Psalm 144; Ephesians 4, 1-6; John 6, 1-15
Saturday 6.00 pm: Rowton Methodists: Bridie Looby (L.D., Tipperary)
Saturday 6.00 pm: Tabley Showground: Mass for International Scouts & Guides Chamboree
Sunday 9.00 am: St Werburgh's: Anne Timothy (Anniv. 2002) and Gerard Walsh (Anniv. 1988)
Sunday 10.45 am: St Werburgh's: Denis Twohig
Sunday 12.30 pm: St Werburgh's: Baptism of Phoebe Mollie Mayo
Sunday 6.00 pm: St Werburgh's: Rachael Andrews
Monday 30th July: Ferial: Jeremiah 13, 1-11; Psalm Deuteronomy 32; Matthew 13, 31-35
12.15 pm: St Werburgh's: Joan Barlow (Birthday Remembrance)
2.00 pm: Blacon: Funeral Service for Ina Williams, late of Grange Road, Chester
Tuesday 31st July: St Ignatius Loyola: Jeremiah 14, 17-22; Psalm 78; Matthew 13, 36-43
8.00 am: Poor Clares, Hawarden: Special Intention
7.30 pm: St Werburgh's: Mass of Thanksgiving for Poor Clares, Hawarden
Wednesday 1st August: St Alphonsus Liguori: Jeremiah 15, 10-21; Psalm 58; Matthew 13, 44-46
12.15 pm: St Werburgh's: Bernie Hogan (L.D., Dublin)
Thursday 2nd August: Ferial: Jeremiah 18, 1-6; Psalm 145; Matthew 13, 47-53
8.00 am: Poor Clares, Hawarden: Intentions of MP
12.00 noon: St Werburgh's: Nuptial Mass for Richard Collins and Kathryn Wilson
Friday 3rd August: St Oswald: Jeremiah 26, 1-9; Psalm 68; Matthew 13, 54-58
9.30 am: Stanbrook Abbey Conventual Mass: Intentions of Graham and Anna
12.15 pm: St Werburgh's: Eucharistic Service
Saturday 4th August: St John Vianney: Jeremiah 26, 11-24; Psalm 68; Matthew 14, 1-12
10.30 am – 12.00 noon: St Werburgh's: Confessions
12.30 pm: St Werburgh's: Baptism of Eleanor Abela Horne
6.00 pm: Rowton Methodists: Eileen Doran (L.D.)

SUNDAY 5th AUGUST: EIGHTEENTH SUNDAY IN ORDINARY TIME (YEAR B)
Exodus 16, 2-15; Psalm 77; Ephesians 4, 17-24; John 6, 24-35
Saturday 6.00 pm: Rowton Methodists: Eileen Doran (L.D.)
Sunday 9.00 am: St Werburgh's: Thelma Brierley
Sunday 10.45 am: St Werburgh's: David Woodbury (L.D., Essex)
Sunday 6.00 pm: St Werburgh's: Mary Cargan (L.D., Crawley)
Prayer Intentions
Your prayers are asked for the following who are sick: Baby Arthur Horsdal, Patrick McKeown, Matt Corcoran, Henri Diacono, Ruth O'Kane, James Donovan, Garth Stocking and Kevin Maguire; and for all the sick of the Parish; and for those who have died recently, especially Yvonne McCabe, Charles Whittaker, Deryck Fairhurst and Freda Lloyd; and for those whose anniversaries occur about this time: Rose Sutherland, William McDermott, Anthony Smith, Michael Roberts, Gerard Walsh, Ethel Ellis, Leslie Barlow, Mary Kelly, Hugh Connolly, Denis Twohig, Ted Lugg, Peter Ratchford, Chris Meys, Norah O'Connell, Elaine Wood, Peggy O'Dea, Paul Cubitt, Bert Paddock, Peter Shaw, Joseph Higgins, Jean O'Boyle, Clyda Jones, Elizabeth Morrissey, Bernard Carter, Bridget Friend, Stanislaus Sulek, John Brierley and Rita Bowyer. May They All Rest in Peace.
Parish events
Arranging a Mass Intention
Always a joy and a privilege to say Mass for your intentions, so just a few reminders:
1. If it's a special date, the sooner you get it in the better – 2019 Diary now filling up!
2. Best ways of sending them in are in a sealed envelope or by email.
3. Please give me as much information as possible, especially what sort of Intentions it is – Lately Dead, Anniversary, Birthday Remembrance, Intentions of, and so on.
4. You can give me the full name, or just initials;
5. If it's for a specific date, also give a phone number, so I can phone you if that date's taken;
6. Mass Cards are in the top drawer in the Sacristy, but they have to be signed to be valid;
7. If you don't have a specific date, it will go in the queue, which at present, is about six weeks long.
1st Holy Communion Preparation Classes 2018-19
For children attending Non-Catholic Primary Schools. Please contact Fr Paul by phone or email before 9th September, if you would like your child to prepare for their First Holy Communion. Our Classes and Preparation Books are geared to children in Year Three, but as long as children are in Primary School this September, they are eligible to join.
Older children wishing to make their First Holy Communion should contact Father Paul.
APF Mission – Red Boxes Due In Today!
Bernie will be available at the 9.00 am, 10.45 am and 6.00 pm Masses on Sunday 29th July for those who would like to bring their red box in for emptying. Bernie will do another date in September or you can call her to arrange a collection Tel: 340768. Anyone who wants to bring it to the Saturday Mass at Rowton can give their box to Cath and Brian Haslam.
Spare ADOREMUS ticket 7th / 8th September
See FP if interested.
Constructing the New Great War Memorial
More fascinating photos on the Notice Board at the back of church as the work gets underway.
SVP Research and Project Development Officer
To review, re-model, project plan and potentially produce resources for our programme for 18-30 year olds. £27k pa pro rata; 3 days a week; one-year contract. Home-based with national travel. For more details https://www.svp.org.uk/.
Catholic Enquiry Course Helpers
Short Meeting Monday 7.00 pm if you'd like to help out with the Course this Autumn.
Next First Friday Recital – The Lute Family!
Please take a flyer with you for full details.
Poor Clares Leaving Mass on Tuesday Evening
Here, on Tuesday 31st July, 7.30 pm, Mass of Thanksgiving for all the Chester friends of the Sisters. Let's give them a great send off, folks! They've done so much for us in recent years, Thanks for all Volunteer Drivers: I'll contact you with final details on Monday.
No Meetings in August – Thank Heavens!
SVP Summer Holiday Second Collection
Not too late to make your contribution if you missed it last week – envelopes at back of church.
Saturday 28th July – Mass at Chamboree 2018
Chamboree is Cheshire's Scout and Guide Jamboree, which takes place at Tabley every four years and welcomes thousands of youngsters from all over the globe for an amazing week's programme. See their website for details. I'm honoured to be asked to go out and say Mass for them on the Saturday Evening, 29th July, and delighted that our good friend, Fr Mark Connolly, from the Spiritans, is able to say the Rowton Mass for us. Dyb, dyb, dyb!
Sophia Aiello Sponsorship
Sophia would like to thank everyone who sponsored her for The Wirral Coastal Walk for CAFOD's Emergency Fund. Current total is £295.
Repository Summer Closing
From Sunday 22nd July to Sunday 9th September.
However, Paula and Bernice will be available at their respective Masses (9.00 & 10.45) if needed.
Photo of the Week: Another Holiday Church
Nuestra Senora del Carmen de Mahon, in Menorca – John and Barbara Dolan joining the queue in spending their Kids' Inheritance. Go for it!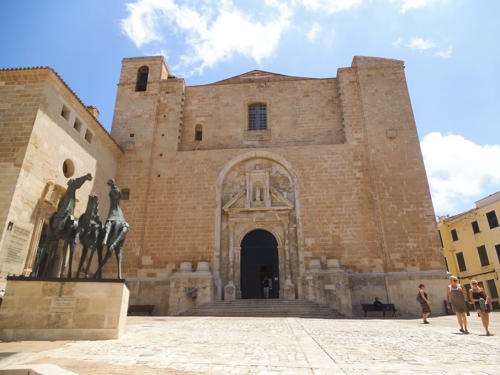 Foundation School Governors
The Diocese has a number of vacancies for Foundation Governors within your local area, particularly people with financial experience. If interested, please contact Sue Blackwell at sue.blackwell@dioceseofshrewsbury.org
Foodbank- Just Food, Please!
Thanks everyone for your continued very generous support of the Food Bank but please, no clothing or other non-food items – we can't accept them.
Diocesan Caritas Vacancy
Caritas Shrewsbury is looking for an experienced and dedicated person to be our Family Support Social Worker. The post is for 21 hours per week working in the Diocese, mainly in the South Manchester area. For more information claire.griffiths@caritasshrewsbury.org.uk. Closing date for applications is the 16th August 2018.
50th Anniversary of Bavaria Plane Crash: 9/8/68
In Langenbruck, between Nuremberg and Munich, there will be a special Mass and a procession to the cemetery where there is a memorial to the 44 passengers and four crew who died on the British Eagle plane which crashed on the afternoon of Friday August 9th, 1968. There were no survivors. A group of seven young women from the Liverpool Catholic Ramblers Association were among the dead, on their way to Innsbruck in Austria for a walking holiday. Jean Baxter, 24, a teacher at Our Lady of the Assumption School, Gateacre, was one of them, Tony and Cyril's sister, and I am most grateful to Tony for reminding me of this. Mass here on Friday 10th August at 12.15 pm.
My Holiday Dates: 20th August – 7th September
No, not Palazzola this year, but Sicily… More details of what I'll be up to next week.