Parish Newsletter
SUNDAY 5th AUGUST: EIGHTEENTH SUNDAY IN ORDINARY TIME (YEAR B)
Liturgical
Exodus 16, 2-15; Psalm 77; Ephesians 4, 17-24; John 6, 24-35
Saturday 6.00 pm: Rowton Methodists: Eileen Doran (L.D.)
Sunday 9.00 am: St Werburgh's: Thelma Brierley
Sunday 10.45 am: St Werburgh's: David Woodbury (L.D., Essex)
Sunday 6.00 pm: St Werburgh's: Mary Cargan (L.D., Crawley)
Monday 6th August: Transfiguration of the Lord: Daniel 7, 9-14; Psalm 96; Mark 9, 2-10
10.00 am: Belmont Abbey: Mass of Solemn Profession for Br Augustine Primavesi OSB
7.30 pm: St Werburgh's: Gerry Cummins
Tuesday 7th August: Ferial: Jeremiah 30, 1-22; Psalm 101; Matthew 14, 22-36
8.00 am: Poor Clares, Hawarden: Special Intention
12.00 noon: St Werburgh's: Requiem Mass for Deryck Fairhurst, late of Woodlands Drive, Hoole
Wednesday 8th August: St Dominic: Jeremiah 31, 1-7; Psalm Jeremiah 31; Matthew 15, 21-28
10.00 am: St Werburgh's: Gordon Jones
12.15 pm: St Werburgh's: Funeral Service for Freda Lloyd, late of Round Hill Meadow
Thursday 9th August: St Teresa Benedicta: Hosea 2, 16-22; Psalm 44; Matthew 25, 1-13
8.00 am: Poor Clares, Hawarden: Intentions of MP
12.15 pm: St Werburgh's: John Rogers (15th Anniversary)
Friday 10th August: St Lawrence: II Corinthians 9, 6-10; Psalm 111; John 21, 24-26
10.00 am: St Werburgh's: Jean Baxter, and all who lost their lives on Friday, 9th August 1968
12.30 pm: St Werburgh's: Wedding Service for Kai Stockton and Kate Graham
2.30 pm: St Werburgh's: Nuptial Mass for Philip Stevenson and Emma Bowyer
Saturday 11th August: St Clare: Habakkuk 1,12 – 2,4; Psalm 9; Matthew 17, 14-20
10.30 am – 12.00 noon: St Werburgh's: Confessions
12.30 pm: St Werburgh's: Baptism of Casey Cristopher Clarkson
1.00 pm: St Werburgh's: Baptism of Cora Collins
6.00 pm: Rowton Methodists: John and Sarah Collins (Anniversaries)

SUNDAY 12th AUGUST: NINETEENTH SUNDAY IN ORDINARY TIME (YEAR B)
I Kings 19, 4-8; Psalm 33; Ephesians 4, 30 – 5,2; John 6, 41-51
Saturday 6.00 pm: Rowton Methodists: John and Sarah Collins (Anniversaries)
Sunday 9.00 am: St Werburgh's: Christine Costello (L.D., Co Meath)
Sunday 10.45 am: St Werburgh's: Jean and Leonard Cook
Sunday 12.30 pm: St Werburgh's: Baptisms of Jack Christopher Enright & Sophia Grace Enright
Sunday 6.00 pm: St Werburgh's: Lorna Harris

Prayer Intentions
Your prayers are asked for the following who are sick: Baby Arthur Horsdal, Patrick McKeown, Matt Corcoran, Henri Diacono, Ruth O'Kane, James Donovan, Garth Stocking and Kevin Maguire; and for all the sick of the Parish; and for those who have died recently, especially Deryck Fairhurst and Freda Lloyd; and for those whose anniversaries occur about this time: Cathryn Gornall, Phyllis Webb, Joseph Mealor, Vera Delaney, John Mayers,John Rogers, Bernard Manfredi-Lewis, Janice Cartwright, Frederick Whelan, James Bruder and Kathleen Harker. May They All Rest in Peace.
Parish events
Farewell to the Poor Clares
Many thanks to everyone who helped make Tuesday evening such a joyous occasion: the drivers who brought the Sisters over and took them back again; those who helped me at 2.00 am in the Kitchen (ahem!); the Refreshments Team; all of you for turning up (including folk from many far-flung Parishes); and especially the Sisters, for sharing the evening with us in such a happy and thankful atmosphere. Apparently, they really liked my Ginger-bread, and thought my Lemon Drizzle Cake simply divine. You know what, they weren't wrong!
And Farewell to the Benedictines!
Rather an elegiac note this week (good, eh?), as Friday marked my last visit up to North Yorkshire, the three-year teaching programme now come to its conclusion. I was able to travel up Thursday Afternoon, and join the Monks for Vespers and then - a real treat – a Monastic Barbeque, Fr Chad and Fr Kentigern slapping on the burgers and sausages, Fr Cedd rustling up bowls of delicious salad, and Fr Gabriel filling up everyone's glass. It was a really warm, sunny evening, and the views over the valley will be something I will long remember. On Friday, we drove over to Stanbrook for the Class, and to give cheek to the nuns there. Thanks to those of you who've asked me about the four Benedictine Students I've been teaching, and for everyone who's kept them in their prayers over the last three years. One decided to return to the world, one is still cogitating, one has already made Solemn Profession, and one will do so on Monday down at Belmont. Our prayers go with them and their communities.
1st Holy Communion Preparation Classes 2018-19
For children attending Non-Catholic Primary Schools. Please contact Fr Paul by phone or email before 9th September, if you would like your child to prepare for their First Holy Communion. Our Classes and Preparation Books are geared to children in Year Three, but as long as children are in Primary School this September, they are eligible to join.

Older children wishing to make their First Holy Communion should contact Father Paul.
Last Call for APF Mission Red Boxes!
Please contact Bernie (Tel: 340768) if you have not yet handed in your Red Box to her.
Photos on the Noticeboard: Keep'em Coming!
The Poor Clares Mass on Tuesday, the Chamboree Mass last Saturday afternoon, and the latest stage in the Great War Memorial's construction.
Catholic Enquiry Course Helpers
Excellent meeting last Monday, and a great team assembled to help me with the classes – Jean, Anne, Pat, Syd, Neill, Steve and Simon. Thanks, Team! Today, flyers available advertising the Course: please distribute far and wide, everyone!
First Friday Recitals
Fascinating and beautiful Lute Recital from Hugh, Deborah and Gareth on Friday - thanks, all. Friday 7th September, our great friend the organist Graham Eccles, wonderful technique, great flair…
SVP Summer Holiday Second Collection
Final call today: envelopes at back of church.
Jeremy Black's Water Aid Sponsored Bike Ride
"I completed the 100 miles last week, through rainy, wind-swept London & Surrey. I'll be at the back of church after Mass for any sponsorship money or donations. Thanks, everyone!"
Catholic Women's League Afternoon Tea
Everyone is invited on Wednesday 15th August at Marian's house, 11 Boughton Hall Drive Chester from 3.00 pm until late. All proceeds to RTU. Come and celebrate this lovely Assumption feast.
Repository Summer Closing
From Sunday 22nd July to Sunday 9th September.
However, Paula and Bernice will be available at their respective Masses (9.00 & 10.45) if needed.
Photo of the Week: Installing the Organ
A fortnight ago, we showed you all the organ pipes in transit, from Glasgow to Chester. Today, Sixsmith's putting the finishing touches to the newly installed instrument, 2004.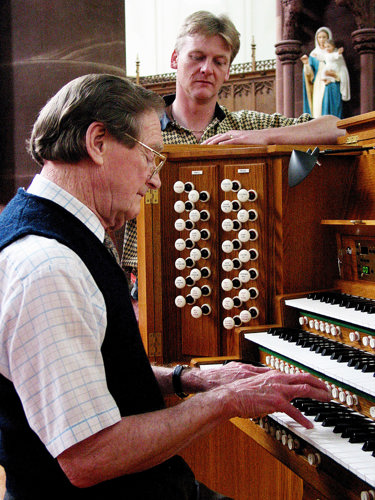 50th Anniversary of Bavaria Plane Crash: 9/8/68
In Langenbruck, between Nuremberg and Munich, there will be a special Mass and a procession to the cemetery where there is a memorial to the 44 passengers and four crew who died on the British Eagle plane which crashed on the afternoon of Friday August 9th, 1968. There were no survivors. A group of seven young women from the Liverpool Catholic Ramblers Association were among the dead, on their way to Innsbruck in Austria for a walking holiday. Jean Baxter, 24, a teacher at Our Lady of the Assumption School, Gateacre, was one of them, Tony and Cyril's sister, and I am most grateful to Tony for reminding me of this. Mass here on Friday 10th August at 10.00 am. (Please note change of time due to Weddings).
Heritage Open Days – September
As usual St Werburgh's opens its doors to visitors between 10.00 am and 4.00 pm on Thursday 6th –Sunday 9th September. We will need two volunteer Welcomers/Stewards available for each hour that the Church is open. All offers gratefully accepted. Sign-up sheet at the back of Church.
My Holiday Dates: 20th August – 7th September
No, not Palazzola this year, but Sicily… Why the change? Two reasons: I'm up to date with the reading and feel it's time to spread my wings. I can't imagine August without Italy, but after ten years or so at Palazzola, in the early days with a couple of fat Trollopes (the novelist, choir, the novelist – for heaven's sake!), I want to explore all the other regions of Italy, my favourite country. Italy has twenty Provinces – I wonder how many you can name? Map on the board at the back of church to check your answers! So, ticking off Lazio (= Palazzola) and Sicily this year, eighteen to go. One a year from now on will take me to 75, and retirement age… Sicily is a fascinating island: some of the finest Greek ruins, medieval Sicily when it was part of the Norman empire, then, with Naples, part of the Kingdom of the Two Sicilies… The story goes on!