Parish Newsletter
SUNDAY 19th AUGUST: TWENTIETH SUNDAY IN ORDINARY TIME (YEAR B)
Liturgical
Proverbs 9, 1-6; Psalm 33; Ephesians 5, 15-20; John 6, 51-58
Saturday 6.00 pm: Rowton Methodists: Intentions of Patrick O'Hora
Sunday 9.00 am: St Werburgh's: Intentions of the Abberton Family
Sunday 10.45 am: St Werburgh's: Janice Cartwright (1st Anniversary)
Sunday 6.00 pm: St Werburgh's: Gertrude Baddley (L.D.)
Monday 20th August: St Bernard: Ezekiel 24, 15-24; Psalm Deuteronomy 32; Matthew 19, 16-22
12.15 pm: St Werburgh's: Eucharistic Service
Tuesday 21st August: St Pius X: Ezekiel 28, 1-10; Psalm Deuteronomy 32; Matthew 19, 23-30
12.00 noon: St Werburgh's: Funeral Service for Samuel Marshall, late of Hapsford
Wednesday 22nd August: Queenship of the BVM: Isaiah 9, 1-6; Psalm 112; Luke 1, 26-38
12.15 pm: St Werburgh's: Eucharistic Service
Thursday 23rd August: Ferial: Ezekiel 36, 23-28; Psalm 50; Matthew 22, 1-14
12.15 pm: St Werburgh's: Eucharistic Service
Friday 24th August: St Bartholomew: Apocalypse 21, 9-14; Psalm 144; John 1, 45-51
12.15 pm: St Werburgh's: Eucharistic Service
Saturday 25th August: Ferial: Ezekiel 43, 1-7; Psalm 84; Matthew 23, 1-12
6.00 pm: Rowton Methodists: Ruth Chisholm (L.D., Waverton)
SUNDAY 26th AUGUST: TWENTY-FIRST SUNDAY IN ORDINARY TIME (YEAR B)
Joshua 24, 1-18; Psalm 33; Ephesians 5, 21-32; John 6, 60-69
Saturday 6.00 pm: Rowton Methodists: Ruth Chisholm (L.D., Waverton)
Sunday 9.00 am: St Werburgh's: Paul Lawton
Sunday 10.45 am: St Werburgh's: Jane Huxley (L.D.)
Sunday 6.00 pm: St Werburgh's: Mick Fields (L.D.)
Prayer Intentions
Your prayers are asked for the following who are sick: Baby Arthur Horsdal, Patrick McKeown, Matt Corcoran, Henri Diacono, Ruth O'Kane, James Donovan, Garth Stocking and Kevin Maguire; and for all the sick of the Parish; and for those who have died recently, especially Norma Grimes, Margaret Smith and Samuel Marshall; and for those whose anniversaries occur about this time: Rosaleen Jones, Mary Fay, Michael Reddy, Celia Ross, Louis Doyle, Patrick Brady, Madge Price, Hilda Jones, Agnes Beatty, Mary Hanna, Tony Shaw, Emily Devine, Stanislaw Koziol, Winifred Wright, Edith Sandbach, William Almond, Joseph Higgins, Cecelia Brierley, Jessie Swindley, Gill Edwards, Kay Cawthorn, Eileen Feeney and Winifred Hopewell. May They All Rest in Peace.
Parish events
Holiday Dates – Syd – Fr Colin
I'm away from Monday 20th August, arriving back Friday evening 7th September. During that period, Syd Jones, our excellent Parish Secretary, is in charge. To help him, can we ask please that no-one comes into Church or House without asking him first? It's a huge plant to keep secure, and he does need to know who's in! The alarm will be set each evening, and a notice to that effect on the Front Door. And a huge welcome to our great friend, Fr Colin Wilson, coming once again to say the Sunday Masses. Welcome, Fr Colin!
Funeral on Tuesday
Many thanks to Deacon Paul Sutton from Ellesmere Port for taking Tuesday's Funeral.
Why Eucharistic Services?
A question I'm often asked: why have ES's on those occasions when I'm away, when there's Mass at St Francis at 12.00 noon? The answer is that I strongly believe our church should be open every day for some sort of worship and prayer: most often for Mass, sometimes Holy Hours, Benedictions, Stations, Devotions, and so on. But not a single day that those church doors aren't open for something! Hope that makes sense?
Parish Council Elections in September
Many, many thanks to John O'Sullivan and Tobias Kaerst, stepping down this summer after a number of years of excellent service. So, there will be two vacancies for the Parish Council, and we will have elections in September. Get your thinking caps on: who would you like to elect?
Eucharistic Minister in your Old Parish?
If you've moved into St Werburgh's, having been an EM in your old parish, we'd love to have your services here in the Werbies! In recent weeks, we've welcomed Elizabeth, Tony G, Pat and Tony B, with Liz and others due to join us in the Autumn. Welcome to the rota!
Date for Your Diary: Thursday 27th Dec
We have 50 tickets for the Rock 'n Roll Pantomime at Theatr Clwyd on Thursday, 27th December at 7.00 pm - "Dick Whittington and his Cat". Booking will open in late September. Be sure to put the date in your diary
New Baptismal Register
Draft lay-out and Quotation – a very reasonable £750 – on Notice Board at back of church. Sadly, we've gone Latin to English. O tempora, O mores!
Mike Coriam Picture
Mike has done a beautiful picture in pastel of the north side of the church, momentarily exposed when the wall came down, now obscured again with the hotel going up… Thanks to everyone working to capture this moment of history.
Deacon Owen Gresty
Great to have Owen with us last Sunday Morning, telling us something of his story from Altar Boy here at St Werburgh's to being ordained Permanent Deacon for the Archdiocese of Birmingham on 1st July this year. Copies of his beautiful Homily at the back of church.
1st Holy Communion Preparation Classes 2018-19
Please contact Fr Paul before 9th September, if you would like your child to prepare for their First Holy Communion and they're not in a Catholic Primary School. Our Classes and Preparation Books are geared to children in Year Three.
New Catholic Enquiry Course in September
First Class is Wednesday 19th September at 7.30 pm. All non-Catholics warmly welcome!
Next First Friday Recital – 7th September
Friday 7th September, our great friend Graham Eccles will give an Organ Recital.
Photo of the Week: Aerial View of the Church
Taken, we think, about the year 2000 – before the McCarthy & Stone apartments were built next to the Baths, certainly. It really does orientate St Werburgh's with surrounding streets – but I got quite a scare hanging onto that drone…!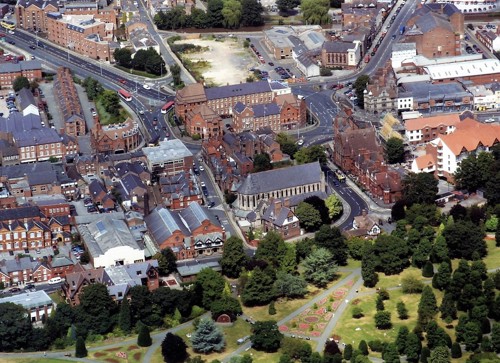 Heritage Open Days – September
As usual St Werburgh's opens its doors to visitors 10.00 am - 4.00 pm, Thursday 6th –Sunday 9th September. We'll need two Welcomers/Stewards available for each hour that the Church is open. Sign-up sheet at back of Church.
Off to Sicily: 20th August – 7th September
This year it's Sicily: a cheap £40 Ryanair flight from Manchester to Palermo, a cheap B&B near the station, and out each day, Guide Book in hand, exploring as much of that fascinating island as I can in my two-and-a-half weeks.
Dickens Update
I know you all worry about the Great Man as much as I do, and continually want updates on my reading of him., Thank you. I find that very touching. I started re-reading him in earnest when I first came here in September 2006 (known as 'Black Saturday' in the Parish, wizziters), went telly-free and found two old editions up in the top floor junk room, both inscribed "Hugh A Welch, 1920". Seven years later, thanks to wonderful holidays at Palazzola, I'd re-read all the novels, and felt strongly I wanted to see if I had anything new to say on him. Went to see one of our leading Dickensians, a Professor at Manchester University, and he was very encouraging. "The great advantage of studying a major author," he said, "is that there is always something new to be said. So, go away and 'master the corpus'." By which he meant read everything CD ever wrote. Five years later, here we are. So, what does the Dickens Corpus consist of? In the dog days of August, when there's not so much to go in the Newsletter, let me fill you in a bit. Of course, we start with the Novels, all fourteen and half of them! How many of them could you list? Pickwick Papers (1836-7), Oliver Twist (1837), Nicholas Nickleby (1838-9), Old Curiosity Shop (1840-1), Barnaby Rudge (1841), Martin Chuzzlewit (1843-4), Dombey and Son (1846-8), David Copperfield (1849-50), Bleak House (1852-3), Hard Times (1854), Little Dorrit (1855-7), Tale of Two Cities (1859), Great Expectations (1860-1), Our Mutual Friend (1864-5) and the unfinished Edwin Drood (1870). Total number of pages? 9,756…