Parish Newsletter
SUNDAY 2nd SEPTEMBER: TWENTY-SECOND SUNDAY IN ORDINARY TIME (YEAR B)
Liturgical
Deuteronomy 4, 1-8; Psalm 14; James 1, 17-27; Mark 7, 1-23
Saturday 6.00 pm: Rowton Methodists: Emiliana Manfredi Lewis
Sunday 9.00 am: St Werburgh's: Norma Grimes (L.D., Spain)
Sunday 10.45 am: St Werburgh's: Michael Hayward (Birthday Remembrance)
Sunday 6.00 pm: St Werburgh's: Intentions of St John Plessington High School, Wirral
Monday 3rd September: St Gregory the Great: I Thessalonians 2, 2-8; Ps 95; Matthew 16, 13-19
12.15 pm: St Werburgh's: Eucharistic Service
Tuesday 4th September: Ferial: I Corinthians 2, 10-16; Psalm 144; Luke 4, 31-37
12.15 pm: St Werburgh's: Eucharistic Service
Wednesday 5th September: Ferial: I Corinthians 3, 1-9; Psalm 32; Luke 4, 38-44
12.15 pm: St Werburgh's: Eucharistic Service
Thursday 6th September: Ferial: I Corinthians 3, 18-23; Psalm 23; Luke 5, 1-11
12.15 pm: St Werburgh's: Eucharistic Service
Friday 7th September: Ferial: I Corinthians 4, 1-5; Psalm 36; Luke 5, 33-39
12.15 pm: St Werburgh's: Eucharistic Service
Saturday 8th September: Birthday of Our Lady: Micah 5, 1-4; Psalm 12; Matthew 1, 1-23
10.30 am – 11.30 noon: St Werburgh's: Confessions
12.00 noon: Nuptial Mass for Shaun Lewis and Kamila Zyszczynska
6.00 pm: Rowton Methodists: Peter Brennan
SUNDAY 9th SEPTEMBER: TWENTY-THIRD SUNDAY IN ORDINARY TIME (YEAR B)
Isaiah 35, 4-7; Psalm 145; James 2, 1-5; Mark 7, 31-37
Saturday 6.00 pm: Rowton Methodists: Peter Brennan
Sunday 9.00 am: St Werburgh's: Golden Wedding Remembrance: Clodagh's Parents, May & Joe
Sunday 10.45 am: St Werburgh's: Lorna Harris
Sunday 6.00 pm: St Werburgh's: Rachael Andrews
Prayer Intentions
Your prayers are asked for the following who are sick: Baby Arthur Horsdal, Patrick McKeown, Matt Corcoran, Henri Diacono, Ruth O'Kane, James Donovan,Garth Stocking and Kevin Maguire; and for all the sick of the Parish; and for those who have died recently, especially Norma Grimes, Margaret Smith and Samuel Marshall; and for those whose anniversaries occur about this time: Thomas Horrocks, Brenda Voysey, Florence McCleary, Bill Costello, Gordon Hughes, Douglas Dean, Dennis Doherty, Dorothy Jones, Mary Dickson, Margaret Whittle, Peggy Lewis, Caterina Tibbles, James McLoughlin, Peter Murphy,
Maureen Manning, Talivaldis Broks and Les Moss. May They All Rest in Peace.
Parish events
Holiday Dates – Syd – Fr Colin
I'm away from Monday 20th August, arriving back Friday evening 7th September. During that period, Syd Jones, our excellent Parish Secretary, is in charge. To help him, can we ask please that no-one comes into Church or House without asking him first? It's a huge plant to keep secure, and he does need to know who's in! The alarm will be set each evening, and a notice to that effect on the Front Door. And a huge thanks to our great friend, Fr Colin Wilson, coming once again to say the Sunday Masses.
Great War Group
No meeting in September: we meet again Monday 1st Oct at 2.00 pm. Not long till 6th Nov!
Adoremus Eucharistic Congress
If you're unable to attend the National Eucharistic Congress in Liverpool next weekend, why not come along to a Day of Prayer before the Blessed Sacrament at Our Lady of the Rosary, Buckley? (CH7 2AF). Refreshments from 10.30 am, and Reflections at 11.00 am, 1.00 pm, 2.30 pm and 4.00 pm, The Day ends with Mass at 6.00 am. Come for as little or as much as you like!
Parish Council Elections in September
Many, many thanks to John O'Sullivan and Tobias Kaerst, stepping down this summer after a number of years of excellent service. So, there will be two vacancies for the Parish Council, and we will have elections next weekend, 15/16 September. Do you wish to re-elect the existing Council? Have you two parishioners you would like to nominate for the vacancies? Please don't ask them if they would like to stand: I will do that when the votes have been counted!
Eucharistic Minister in your Old Parish?
If you've moved into St Werburgh's, having been an EM in your old parish, we'd love to have your services here in the Werbies! Please let FP know.
Date for Your Diary: Thursday 27th Dec
We have 50 tickets for the Rock 'n Roll Pantomime at Theatr Clwyd on Thursday, 27th December at 7.00 pm - "Dick Whittington and his Cat". Booking will open in late September. Be sure to put the date in your diary
New Baptismal Register
Draft lay-out on Notice Board. Sadly, we've gone Latin to English. O tempora, O mores!
And now a new Mass Intentions Book!
We've reached the last page of the old one, starting, I would guess, about 2005. Again, it's on the Silver Lectern for you to have a look at and see how every Mass Request is logged in, with a unique reference number, and then transferred to the Mass Diary when a date's fixed. New one a lot cheaper than the Baptismal!
Mike Coriam Picture
Mike has done a beautiful picture in pastel of the north side of the church, momentarily exposed when the wall came down, now obscured again with the hotel going up… Thanks to everyone working to capture this moment of history.
Bavarian Photos
Thanks Joe, for a very moving selection of photos from the 50th Anniversary of the Bavarian Plane Crash. Are you as struck as I am by the Band and the beautiful Altar Servers?
Deacon Owen Gresty
Great to have Owen with us a fortnight ago on Sunday Morning, telling us something of his story from Altar Boy here at St Werburgh's to being ordained Permanent Deacon for the Archdiocese of Birmingham on 1st July this year. Copies of his beautiful Homily at the back of church. Also, some lovely photos of his Ordination.
1st Holy Communion Preparation Classes 2018-19
Please contact Fr Paul before 9th September, if you'd like your child to prepare for their First Holy Communion and they're not in a Catholic Primary School. Our Classes and Preparation Books are geared to children in Year Three.
New Catholic Enquiry Course in September
First Class is Wednesday 19th September at 7.30 pm. All non-Catholics warmly welcome!
Next First Friday Recital – 7th September
Friday 7th September, our great friend Graham Eccles will give an Organ Recital.
Photo of the Week: Steeplejacks at Work!
A reminder of the work our friends did on the roof last month. Now for the painting!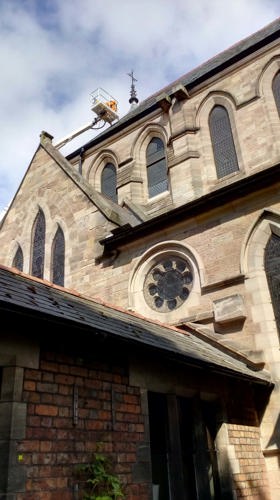 Heritage Open Days – September
As usual St Werburgh's opens doors to wizziters 10.00 am - 4.00 pm, Thursday 6th –Sunday 9th September. We'll need two Welcomers/Stewards available for each hour that the Church is open. Sign-up sheet at back of Church.
Back from Sicily Friday Night, 7th September
This year it's been Sicily: a cheap £40 Ryanair flight from Manchester to Palermo, a cheap B&B near the station, and out each day, Guide Book in hand, exploring as much of that fascinating island as I can in my two-and-a-half weeks.
Dickens Update – Still Following?
So far, looking at everything he wrote, we've mentioned the 14½ Novels and all the Journalism. Today, the Letters! It was always known there were a lot, and there were some half-hearted attempts to publish selections; but in the 1960's a group of Dickens scholars, led by the redoubtable Professor Kathleen Tillotson (Bedford College, London) grasped the nettle and decided that only a full scholarly edition of all the letters would do. All 14,252 of them! They filled twelve door-stop volumes, the first appearing in 1965, the last in 2002, and filling 8,721 pages. I set myself the task of reading a volume a month throughout 2017: in the event, it took 16 months, but one of the most exciting reads of my life. So, adding up the Novels, the Journalism and the Letters, we've now reached a Grand Total of 20,483 pages. Dizzying, isn't it? And remember, he was only 58 when he died. Next week, we'll end with the 'bits and pieces' – and, being Dickens, there's nothing small or light-weight about them!