Parish Newsletter
SUNDAY 9th SEPTEMBER: TWENTY-THIRD SUNDAY IN ORDINARY TIME (YEAR B)
Liturgical
Isaiah 35, 4-7; Psalm 145; James 2, 1-5; Mark 7, 31-37
Saturday 6.00 pm: Rowton Methodists: Peter Brennan
Sunday 9.00 am: St Werburgh's: Golden Wedding Remembrance: Clodagh's Parents, May & Joe
Sunday 10.45 am: St Werburgh's: Lorna Harris
Sunday 6.00 pm: St Werburgh's: Rachael Andrews
Monday 10th September: Ferial: I Corinthians 5, 1-8; Psalm 5; Luke 6, 6-11
12.15 pm: St Werburgh's: Theresa Grafton (L.D., Co Cork)
1.05 pm: University Chapel: University Mass – All Welcome!
Tuesday 11th September: Ferial: I Corinthians 6, 1-11; Psalm 149; Luke 6, 12-19
12.15 pm: St Werburgh's: Emiliana Manfredi Lewis
Wednesday 12th September: Ferial: I Corinthians 7, 25-31; Psalm 44; Luke 6, 20-26
12.15 pm: St Werburgh's: Gordon Jones
Thursday 13th September: St John Chrysostom: I Corinthians 8, 1-13; Psalm 138; Luke 6, 27-38
7.30 am: St Werburgh's: Intentions of Trevor O'Connell (France)
9.45 am, 11.00 am and 12.00 noon: High School: Start of Year Masses
7.30 pm: St James Christleton: Induction of New Rector
Friday 14th September: Triumph of the Cross:
Numbers 21, 4-9; Psalm 77; Philippians 2, 6-11; John 3, 13-17
11.00 am – 12.00 noon: St Werburgh's: Adoration of the Blessed Sacrament
12.15 pm: St Werburgh's: Intentions of Caoimhe Ryan (Cork)
Saturday 15th September: Our Lady of Sorrows: Hebrews 5, 7-9; Psalm 30; John 19, 25-27
10.30 am – 12.00 noon: St Werburgh's: Confessions
6.00 pm: Rowton Methodists: Mae Kay

SUNDAY 16th SEPTEMBER: TWENTY-FOURTH SUNDAY IN ORDINARY TIME (YEAR B)
Isaiah 50, 5-9; Psalm 114; James 2, 14-18; Mark 8, 27-35
Saturday 6.00 pm: Rowton Methodists: Mae Kay
Sunday 9.00 am: St Werburgh's: Dilys Ball (74th Birthday Remembrance)
Sunday 10.45 am: St Werburgh's: Golden Wedding Thanksgiving - Ann and Sean Murphy
Sunday 12.30 pm: St Werburgh's: Baptism of Everley Grace Alexander
Sunday 2.00 pm: St Werburgh's: Memorial Service for Pauline Williams, late of Hooton
Sunday 6.00 pm: St Werburgh's: Margaret Sproston (L.D.)

Prayer Intentions
Your prayers are asked for the following who are sick: Baby Arthur Horsdal, Patrick McKeown, Matt Corcoran, Henri Diacono, Ruth O'Kane, James Donovan, Garth Stocking and Kevin Maguire; and for all the sick of the Parish; and for those who have died recently, especially Norma Grimes, Margaret Smith and Samuel Marshall; and for those whose anniversaries occur about this time: John Cooper, Phyllis Dean, Margaret Yardley, Hannah Connolly, Marie De Monte, Doreen Bartlem, Edgar Griffin, Thomas Hudson, Dot Carr, Michael Power, Beryl Dean and Vida Barbet. May They All Rest in Peace.
Parish events
Back from Hols!
Back late Friday night from a wonderful two and half weeks in Sicily – I shall bore you all rigid on the subject over the coming weeks and months! Huge thanks to everyone who minds the shop while I am away, principally to Syd, who had a record busy time this year, especially with so many upcoming Funerals, to Fr Colin, for saying the Weekend Masses, and to everyone who, plays a part in keeping the show on the road.
Induction of New Rector at Christleton
Thursday Evening at 7.30 pm, St James welcomes its new Rector at his formal Induction Service. I'm delighted to be representing St Werburgh's, but they'd be very pleased to see any of their Catholic friends at the Service. See you all there!
Parish Council Elections Next Weekend
Many, many thanks to John O'Sullivan and Tobias Kaerst, stepping down this summer after a number of years of excellent service. So, there will be two vacancies for the Parish Council, and we will have elections next weekend, 15/16 September. Do you wish to re-elect the existing Council? Have you two parishioners you would like to nominate for the vacancies? Please don't ask them if they would like to stand: I will do that when the votes have been counted!
CAFOD Harvest Family Fast Day
Senior Emergency Manager Robert Cruickshank will be speaking about CAFOD's work in the drought-ridden areas of East Africa and Ethiopia in particular. All welcome to these free events: Monday 17th Sept at Holy Family Church, Sale M33 2HT, from 2-4 pm, and St Joseph's Church, Penketh, Warrington WA5 2BB, from 7-9pm.
Next Readers Group Monday September 17th
7.00 pm in the presbytery for about an hour, to look at the readings for the next four weeks. As ever, all are very welcome, whether readers or not - do come along.
Catholic High School Parents' Association
Year 7 and 8 Cheese and Wine Evening – All Year 7 and 8 parents and their children are invited to a Cheese and Wine Evening with a Family Quiz on Friday 21st September at 7.30 pm in the School Hall. An evening to meet and socialise with other parents. The event is free.
St Werburgh's Guild of Altar Servers
We are delighted to welcome Matthew Cartmill as a trainee. He has joined Stephanie Pilliner and we hope that they will both be enrolled into the Guild of St. Stephen on the 26th December. We shall then be awarding Silver Medals to two more of our Servers who will have completed ten years of service. Well done, one and all!
Children's Liturgy starts again Sunday 9th Sept
We would very much like more wolunteers, so that each member of the Team is only on once a month. Please see FP or Caroline if interested.
Red Box Missions
Bernie will be at the 9.00 am, 10.45 am and 6.00 pm Masses on Sunday 23rd Sept to collect any red boxes ready for emptying. Anyone who wants to bring it to the Saturday Mass at Rowton can give their box to Kath and Brian Haslam
New Parish Diaries for 2018-2019
Next weekend we will be distributing the Parish Diaries for the whole of the twelve months ahead. It's a Herculean Labour every year, but so worthwhile, meeting so many needs in the Parish, as we'll explain next weekend.
Uni Masses Start again Monday: all welcome!
Anyone visit a lady in the Hospital?
Did any of our Parishioners (possibly a Eucharistic Minister) visit Patricia from Mancot in the Hospital recently? If so, could you let me know?
And now a new Mass Intentions Book!
We've reached the last page of the old one, starting, I would guess, about 2005. Again, it's on the Silver Lectern for you to have a look at and see how every Mass Request is logged in, with a unique reference number, and then transferred to the Mass Diary when a date's fixed. New one a lot cheaper than the Baptismal!
Music Group
Playing at 10.45 am Mass Sunday 16th September. Practice in Church Monday 10th Sept at 7.00 pm
Deacon Owen Gresty
Great to have Owen with us last month ago on Sunday Morning, telling us something of his story from Altar Boy here at St Werburgh's to being ordained Permanent Deacon for the Archdiocese of Birmingham on 1st July this year. Copies of his beautiful Homily at the back of church. Also, some lovely photos of his Ordination.
1st Holy Communion Preparation Classes 2018-19
Final Date is Monday 9th Sept for getting those names in for those not in Catholic Primaries!
New Catholic Enquiry Course in September
First Class is Wednesday 19th September at 7.30 pm. All non-Catholics warmly welcome!
First Friday Recital – 7th September
Many thanks to our great friend Graham Eccles for his Organ Recital last Friday.
Photo of the Week: Christmas Eve, 2007
Children's Eve Mass, all in their beautiful costumes. You're going to recognise them – and one of them is starting University this month!!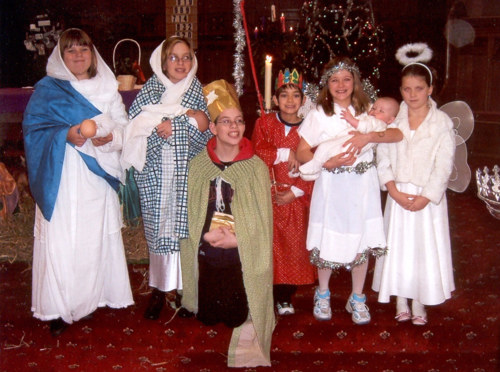 Heritage Open Days – This Weekend
Many thanks to all the Stewards for helping out!
Monthly Nursing Home Services
Starting this month, so watch this space for important meetings for wolunteers!
Dickens Update – Final Instalment Next Week
The last parts of the massive Dickens Corpus!