Parish Newsletter
SUNDAY 30th SEPTEMBER: TWENTY-SIXTH SUNDAY IN ORDINARY TIME (YEAR B)
Liturgical
Numbers 11, 25-29; Psalm 18; James 5, 1-6; Mark 9, 38-48
Saturday 6.00 pm: Rowton Methodists: John and Sarah Collins
Sunday 9.00 am: St Werburgh's: Owen Gresty Diaconate Ordination Thanksgiving
Sunday 10.45 am: St Werburgh's: Eustachy (Stan) Nowakowski (L.D.)
Sunday 12.30 pm: St Werburgh's: Baptism of Poppy Ann Ward
Sunday 1.00 pm: St Werburgh's: Baptism of Walter George Riddell
Sunday 6.00 pm: St Werburgh's: Intentions of Sheila Fields
Monday 1st October: St Therese of Lisieux: Job 1, 6-22; Psalm 16; Luke 9, 46-50
9.20 am: Blacon: Funeral Service for Sheila Tudor, late of King's Court NH
12.15 pm: St Werburgh's: Julia Gerrard (L.D.)
1.05 pm: University Chapel: University Mass – All Welcome!
2.00 pm: Blacon: Funeral Service for Frederick Hatton, late of Oaklea Avenue, Hoole
Tuesday 2nd October: Guardian Angels: Exodus 23, 20-23; Psalm 90; Matthew 18, 1-10
8.00 am: Poor Clares Hawarden: Special Intention
12.15 pm: St Werburgh's: Samuel and Grace Wingrove (Anniversary)
Wednesday 3rd October: Ferial: Job 9, 1-16; Psalm 87; Luke 9, 57-62
12.15 pm: St Werburgh's: James Murphy (29th Anniversary)
Thursday 4th October: St Francis of Assisi: Job 19, 21-27; Psalm 26; Luke 10, 1-12
12.15 pm: St Werburgh's: Margaret Sproston (L.D.)
Friday 5th October: St Thomas of Hereford: Job 38,1 – 40,5; Psalm 138; Luke 10, 13-16
9.00 am: St Werburgh's: Daniel Lunt (Birthday Remembrance)
11.00 am: St Werburgh's: Funeral Service for Gillian Yeoman, late of Bowling Green Court
Saturday 6th October: Ferial: Job 42, 1-17; Psalm 118; Luke 10, 17-24
10.00 am: HMP Berwyn, Wrexham: Mass for Prisoners, Visitors and Staff
12.30 am: St Werburgh's: Baptism of Oliver Ernie Baxter
1.15 pm: St James, Christleton: Blessing of Headstone for Terry Collier
6.00 pm: Rowton Methodists: Noel Bradley (L.D.)

SUNDAY 7th OCTOBER: TWENTY-SEVENTH SUNDAY IN ORDINARY TIME (YEAR B)
Genesis 2, 18-24; Psalm 127; Hebrews 2, 9-11; Mark 10, 2-16
Saturday 6.00 pm: Rowton Methodists: Noel Bradley (L.D.)
Sunday 9.00 am: St Werburgh's: Joseph, Philip and Patience
Sunday 10.45 am: St Werburgh's: Kathleen Mayers (Anniversary 1971)
Sunday 6.00 pm: St Werburgh's: Intentions of Wendy's Grandchildren

PRAYER INTENTIONS
Your prayers are asked for the following who are sick: Baby Arthur Horsdal, Patrick McKeown, Matt Corcoran, Henri Diacono, James Donovan, Garth Stocking and Kevin Maguire; and for all the sick of the Parish; and for those who have died recently, especially Gillian Yeoman, David Gray, Gladys Delap, Annemarie Jones, Mo Johnson, Sheila Tudor, Jean Moloney, Carole Walker and Frederick Hatton; and for those whose anniversaries occur about this time: Patricia Gardner, Grace Wingrove, Babs Thompson, Annie Jones, Winifred Pinnington, William Dancy, Paraskivoulla Sarandis, Kathleen Vickers, Norman Reynolds, Betty Madden and Donagh O'Loughlin. May They All Rest in Peace.
Parish events
Bag Snatch in Church a Week Ago
Ladies: please take handbags with you when you come up to Holy Communion!
Catholic High School Parents Association
If you have a child at the CHS and would like to get more involved in the school's life or give something back to the school, please join us. We welcome any level of commitment. For more information or to volunteer, please phone or text Cristina on 07816569010 or email cgtrevisan@yahoo.com
Open mornings at St. Werburgh's and St. Columba's Catholic Primary School
For parents with children due to start school in September 2019:
Saturday 6th October 11.00 am – 12 noon
Tuesday 16th October 9.30 am – 10.30 am
No appointment necessary, just turn up.
"First Thursday" Hospital Mass
4th October at 12.15 pm in the Countess of Chester Hospital Chapel. This is for patients/outpatients, staff, families and friends, and the wellbeing of our hospitals, including the Bowmere. All are welcome.
Chester CAFOD Support Group
St Clare's on Tuesday 2nd October at 7.00 pm. Mass for the work of CAFOD, followed by light refreshments and a short update on CAFOD's current projects and appeals in the Parish room.

Family Fast Day Envelopes Available Today.
Mental Health Group on Monday 1st at 7.00 pm
And a report on our first year together out today.
Children's Society / Caritas Boxes
Many thanks to Dominique Gresty who has volunteered to take over from Roger Williams as Parish Organiser after 25 amazing years, man and boy. Could all box holders bring their collections, in secure plastic bags with their name on, to Mass on Sunday 21st October? Many thanks!
Parish Christmas Panto Outing: 27th December
Booking opens today. £25.00 with under 16's £15.00. Fill in your name on the Chart at the back of church, take an individual booking form, and complete and enclose in an envelope, with full remittance to the Parish Office, marked 'Panto', by 4th November, please. Don't miss out!
Great War Memorial
Just wait for Tuesday 6th November and Bishop Mark – you won't be disappointed!
Second Collection for Church Students
Plenty of time to make your contribution if you missed last week: Gift Aid envelopes available.
Mass for Diocesan Schools' Commissioners Here
Wednesday 10th October at 6.00 pm. Bishop Mark will preside, and we hope to welcome Archbishop Malcolm from Liverpool as well. All welcome.
Last of the Summer Teas!
Final Christleton Summer Tea this afternoon, Sunday 30th, at the Christleton Methodists, 2.00-4.00 pm. Great to see you there!
FHC Parish Group: List Now Closed
Launch Meeting for Parents: Tues 2nd Oct, 6.30.
Peter Kurer Talk at Christleton, 7.00 pm
Monday, 1st October, in the Church Hall: on Peter's experience of the Kinder Transport that brought himself and eight members of his family to England from Vienna in 1938. All welcome.
Next First Friday Recital – 5th October
We welcome back our old friends, Chester Male Voice Choir. They have a lovely selection of music for us, featuring two young soloists as well as the Choir. Rebecca Hendy is a young guitarist, viola player and drummer, who's now picking up the baton as a Conductor. Alice Watkinson is a pupil at Christleton with a bright musical future ahead of her. And a special echo this time of a hundred years ago, the end of the Great War. 7.30 pm.
Photo of the Week: "Shot at Dawn"
Highly evocative statue at the National Arboretum, Alrewas, Staffs. Thanks, Frank Auty, for sending it in! (Place for a Parish Visit?)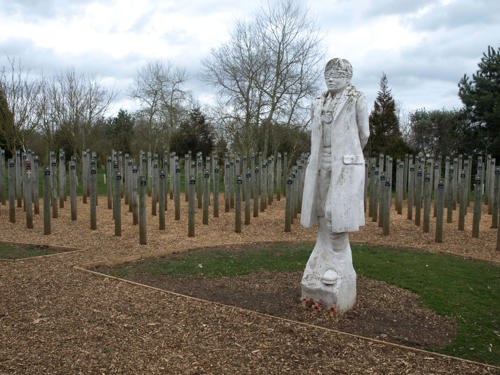 University Freshers Fair Last Friday
Thanks to everyone who helped out: First CathSoc Meeting this Sunday, at 7.00 pm.
Annual Mission Appeal Coming Up
Weekend of 13/14 October, when we welcome our good friends, the Spiritans.
Catholic Enquiry Course
Session Two – Wednesday 3rd October at 7.30 pm.
Not too late for new faces to join us!
Catholic High School Open Evening
Thursday 4th October 6.00–8.00 pm. All welcome.
Parish Safeguarding DBS Checks
We really have swung into action this week, with Liz Aiello, our Parish Co-ordinator, supported by Syd Jones as Secretarial and IT back-up, contacting our first four Groups working with children and vulnerable adults: FHC Catechists, Children's Liturgy Helpers, Altar Servers and SVP. I am very pleased this is happening and know you will give Liz and Syd your full co-operation.
Our Bishops' 5-Yearly Ad Limina Visit to Rome
The Bishops of all 22 English and Welsh Dioceses have been in Rome this week, reporting on the national church and on their individual Dioceses. They issued a very important statement on their departure, copies of which are available today.
HMP Berwyn (Wrexham) Prison Masses
Out at Berwyn again next Saturday morning, and delighted to see our own Parishioners becoming so involved in this exciting new initiative.
Jeremy Black's Water Aid Sponsored Bike Ride
Many thanks for all the very generous sponsorship of the 100-mile bike ride. This raised over £1,400 for Water Aid, most of which came from Werbies.
Disabled Entrance Door
Could everyone who opens up Church please ALWAYS open the Disabled Entrance Door as a matter of course? More and more folk are needing it. And please lock it up again afterwards!!