Parish Newsletter
SUNDAY 7th OCTOBER: TWENTY-SEVENTH SUNDAY IN ORDINARY TIME (YEAR B)
Liturgical
Genesis 2, 18-24; Psalm 127; Hebrews 2, 9-11; Mark 10, 2-16
Saturday 6.00 pm: Rowton Methodists: Noel Bradley (L.D.)
Sunday 9.00 am: St Werburgh's: Joseph, Philip and Patience
Sunday 10.45 am: St Werburgh's: Kathleen Mayers (Anniversary 1971)
Sunday 6.00 pm: St Werburgh's: Intentions of Wendy's Grandchildren
Monday 8th October: Ferial: Galatians 1, 6-12; Psalm 110; Luke 10, 25-37
11.00 am: Grosvenor Manor NH, Heath Lane: Service for Residents
12.15 pm: St Werburgh's: George Manley Harrison (L.D.)
1.05 pm: University Chapel: University Mass – All Welcome!
Tuesday 9th October: Ferial: Galatians 1, 13-24; Psalm 138; Luke 10, 38-42
8.00 am: Poor Clares Hawarden: Special Intention
10.00 am: Primary School: Harvest Mass
12.15 pm: St Werburgh's: Patrick McKeown (L.D.)
Wednesday 10th October: Ferial: Galatians 2, 1-14; Psalm 116; Luke 11, 1-4
2.00 pm: St Werburgh's: Requiem Mass for Carole Walker, late of Anglesey
6.00 pm: St Werburgh's: Mass for Diocesan Schools' Commissioners with Bishop Mark
Thursday 11th October: Ferial: Galatians 3, 1-5; Psalm Luke 1; Luke 11, 5-13
10.00 am: St Werburgh's: Intentions of Marie Freeborough
12.30 pm: St Werburgh's: Funeral Service for Jean May (Mary) Moloney, late of Sefton Road
Friday 12th October: Ferial: Galatians 3, 7-14; Psalm 110; Luke 11, 15-26
12.15 pm: St Werburgh's: Eucharistic Service
Saturday 13th October: Ferial: Galatians 3, 28-29; Psalm 104; Luke 11, 27-28
6.00 pm: Rowton Methodists: Mo Johnson (L.D.)
SUNDAY 14th OCTOBER: TWENTY-EIGHTH SUNDAY IN ORDINARY TIME (YEAR B)
Wisdom 7, 7-11; Psalm 89; Hebrews 4, 12-13; Mark 10, 17-30
Saturday 6.00 pm: Rowton Methodists: Mo Johnson (L.D.)
Sunday 9.00 am: St Werburgh's: Dominic Bryon (1st Anniversary)
Sunday 10.45 am: St Werburgh's: Michael Barry (6th Anniversary)
Sunday 6.00 pm: St Werburgh's: Rex Snowling (2nd Anniversary)
 
Prayer Intentions
Your prayers are asked for the following who are sick: James Catterson. Baby Arthur Horsdal, Matt Corcoran, Henri Diacono, James Donovan, Garth Stocking and Kevin Maguire; and for all the sick of the Parish; and for those who have died recently, especially Gillian Yeoman, Jean Moloney, Carole Walker and Patrick McKeown; and for those whose anniversaries occur about this time: Pauline Collins, Eric Peckham, Gilda Mansutti, Jean Gill, Gertrude Whorrall, Owen Scanlan, Mark Long, Ann Williams, Andrew Emmett, Edmund Dowling, Margaret Reddy, Joseph Adams, Olwen Turner, James Barlow, Annie Jones, Patricia Maddock, Francis MacFarlane, Jack Woods, Eric Fenton and George Ward. May They All Rest in Peace.
Parish events
Annual Mission Appeal
Next weekend, we welcome one of our friends from the Spiritans (the Holy Ghost Fathers) who will be preaching the Annual Mission Appeal on behalf of all the Missionary Orders.
Catholic High School Parents Association
If you have a child at the CHS and would like to get more involved in the school's life or give something back to the school, please join us. We welcome any level of commitment. For more information or to volunteer, please phone or text Cristina on 07816569010 or email cgtrevisan@yahoo.com
Open mornings at St. Werburgh's and St. Columba's Catholic Primary School
For parents with children due to start school in September 2019:
Tuesday 16th October 9.30 am – 10.30 am
No appointment necessary, just turn up.
November Month of the Holy Souls
Not too early to send those names in for our November Holy Souls Book. Other key dates:
Tues 13th Nov: Mass for Recently Bereaved
Sunday 18th Nov: Blessings at Blacon
Sunday 25th Nov: Blessings at Overleigh
Friday 30th Nov: Mass of the Holy Souls
Music Group Playing at 10.45 am Mass Sunday 21st October.
Usual practice in Church, Monday 8th October at 7.00 pm.
Next Meeting of the Readers Group
Tuesday October 16th, 7.,00 pm for about an hour in the Presbytery. Everyone who is interested in the Sunday readings for the next month is extremely welcome, whether readers or not. A totally open forum. Do come along!
"Not in the house without my knowing it!!"
Please, if I'm not going to have a heart attack.
Catholic Women's League
Chester Section Monthly meeting Monday 8th October 1.00 pm in St Francis's Church Hall. Gerry Tighe will give a talk. All are welcome to join us.
Chester CAFOD Support Group
Family Fast Day Envelopes Still Available!
Saturday 27th October: 2.00 pm: Memorial Mass for Br James Kimpton (Reaching the Unreached)
Br James died a year ago, and there's to be a Mass at St Werburgh's to celebrate his memory and his life-time's work with the poorest in India, "Reaching the Unreached". Many parishioners from all over Chester and district supported this Charity – he was a local boy - and everyone would be very welcome to St Werburgh's on that date for a Memorial Mass, Refreshments and update on the ongoing work of this great Charity.
Children's Society / Caritas Boxes
Could all box holders bring their collections, in secure plastic bags with their name on, to Mass on Sunday 21st October? Many thanks!
Parish Christmas Panto Outing: 27th December
Just ten places left – book today!
Great War Memorial
Just wait for Tuesday 6th November and Bishop Mark – you won't be disappointed!
Second Collection for Church Students
Last chance to make your contribution today.
Mass for Diocesan Schools' Commissioners Here
Wednesday 10th October at 6.00 pm. Bishop Mark will preside, and we hope to welcome Archbishop Malcolm from Liverpool as well. All welcome.
Deanery Conference on Wednesday Next
Talking about some of the ways we might bring all the Chester parishes closer together…
First Friday Recitals
Thanks to our old friends, Chester Male Voice Choir, for a wonderful concert on Friday. Our next musical wizziters, Friday 2nd November, will be Luke Moulsher and Cat Jones, very much "back by popular demand"!
Photo of the Week: Those Steeplejacks Again!
Another vertiginous (good, eh?) pic of our friends at work on the Church Roof.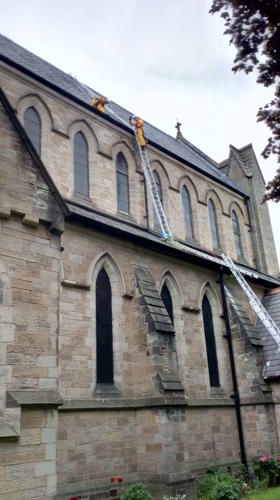 October Mass Count – List in Sacristy
Please, counters: when you've made your count, enter the figure on the list in the Sacristy.
Catholic Enquiry Course
Seven wonderful "Enquirers" now signed up:
Session Three: Wednesday 17th October 7.30 pm.
Wave of Light Service Monday 15th October
6.45 pm, here in Church, for all those who have been touched by Miscarriage, Still-Birth or Infant Bereavement. If you've lost a baby, however long ago, you would be so welcome on that evening.
Parish Safeguarding DBS Checks
We really have swung into action, with Liz Aiello, our Parish Co-ordinator, supported by Syd Jones as Secretarial and IT back-up. FHC Catechists, Children's Liturgy Helpers, Altar Servers and SVP. I am very pleased this is happening and know you will give Liz and Syd your full co-operation.
Disabled Entrance Door
Could everyone who opens up Church please ALWAYS open the Disabled Entrance Door as a matter of course? More and more folk are needing it. And please lock it up again afterwards!!
Dickens: The Journey Goes on!
Over the summer, I sketched out the entire Dickens corpus, not just the novels, but the journalism, speeches, letters, travel writing and children's books. Reading it all, I started making notes. As you do. Now I need to know if my ideas are worth anything or not. There's only one way to test that: to take them along to the big boys and girls in Dickens studies and bore them silly. Are these ideas any good, and are they new? So, for three weeks this year, I'll be doing just that, starting next Thursday, 11th October, back the following Thursday. Then another week in February, and one in June. You feel sorry for them already, don't you?