Parish Newsletter
SUNDAY 14th OCTOBER: TWENTY-EIGHTH SUNDAY IN ORDINARY TIME (YEAR B)
Liturgical
Wisdom 7, 7-11; Psalm 89; Hebrews 4, 12-13; Mark 10, 17-30
Saturday 6.00 pm: Rowton Methodists: Mo Johnson (L.D.)
Sunday 9.00 am: St Werburgh's: Dominic Bryon (1st Anniversary)
Sunday 10.45 am: St Werburgh's: Michael Barry (6th Anniversary)
Sunday 6.00 pm: St Werburgh's: Rex Snowling (2nd Anniversary)
Monday 15th October: St Teresa of Avila: Galatians 4,22 – 5,1; Psalm 112; Luke 11, 29-32
12.15 pm: St Werburgh's: Eucharistic Service
1.05 pm: University Chapel: Eucharistic Service for Students and Staff – All Welcome!
6.45 pm: St Werburgh's: Wave of Light Service for all those touched by the loss of a baby
Tuesday 16th October: Ferial: Galatians 5, 1-6; Psalm 118; Luke 11, 37-41
12.15 pm: St Werburgh's: Eucharistic Service
Wednesday 17th October: St Ignatius of Antioch: Galatians 5, 18-25; Psalm 1; Luke 11, 42-46
12.15 pm: St Werburgh's: Eucharistic Service
Thursday 18th October: St Luke the Evangelist: II Timothy 4, 10-17; Psalm 144; Luke 10, 1-9
12.15 pm: St Werburgh's: Eucharistic Service
Friday 19th October: St Peter of Alcantara: Isaiah 52, 7-10; Psalm 95; Matthew 13, 47-52
11.00 am – 12.00 noon: Exposition of the Blessed Sacrament
12.15 pm: St Werburgh's: Ann Brennan (Birthday Remembrance)
Saturday 20th October: Ferial: Ephesians 1, 15-23; Psalm 8; Luke 12, 8-12
10.30 am – 12.00 noon: St Werburgh's: Confessions
12.30 pm: St Werburgh's: Baptism of William Henry Burns
6.00 pm: Rowton Methodists: Marion Morrin (L.D.)

SUNDAY 21st OCTOBER: TWENTY-NINTH SUNDAY IN ORDINARY TIME (YEAR B)
Isaiah 53, 10-11; Psalm 32; Hebrews 4, 14-16; Mark 10, 35-45
Saturday 6.00 pm: Rowton Methodists: Marion Morrin (L.D.)
Sunday 9.00 am: St Werburgh's: Danny & Ursula Ratchford (Wedding Anniv Remembrance)
Sunday 10.45 am: St Werburgh's: Kathleen and Patrick O'Connell
Sunday 3.00 pm: St Werburgh's: Marian Hour
Sunday 6.00 pm: St Werburgh's: Emiliana Manfredi Lewis
Prayer Intentions
Your prayers are asked for the following who are sick: James Catterson. Baby Arthur Horsdal, Matt Corcoran, Henri Diacono, James Donovan, Garth Stocking and Kevin Maguire; and for all the sick of the Parish; and for those who have died recently, especially Gillian Yeoman, Jean Moloney, Carole Walker, Patrick McKeown, Maureen Michael and Kathy Depsey; and for those whose anniversaries occur about this time: Catherine Reade, Beatrice Barlow, Michael Mee, Richard Wright, Joseph Poole, Agnes Hutchinson, William Michael, Barry Champion, Angela Collins, Sheila Gapper, Felix McCarroll, Mary Spence, Charles Gaughran, Ted Lloyd, Thomas McCann, Michael Keeley, Carol Jones, Ellen Daly, Peter Curtis, Norman Blackwell, Paul Healy, Colin Reddy, Mary Abley, David Barrett, Betty Pendlebury and Michael Bretherton. May They All Rest in Peace.
Parish events
Annual Mission Appeal Today
This weekend, we welcome one of our friends from the Spiritans (the Holy Ghost Fathers) who will be preaching the Annual Mission Appeal on behalf of all the Missionary Orders. There are plenty of Gift Aid envelopes if you can GA your donation, and plenty of leaflets about the work of the Spiritans worldwide.
Diocesan Schools Support Worker (RE/ Governance)
Salary circa £40,000 pro rata. The Diocese of Shrewsbury is looking to appoint to a part-time (3 days a week), temporary position (until the end of the Summer term 2019), a Schools Support Officer who will support the Director of Schools. Full details on the Diocesan Website.
CathSoc Sunday Nights – 14th and 21st October
Sunday Night, 14th October: Debate Night – "This House Believes we would be a better world if we stopped killing animals."
Sunday Night 21st October – Trip to Liverpool.
All CathSoc events begin 7.00 pm in Church.
Open mornings at St. Werburgh's and St. Columba's Catholic Primary School
For parents with children due to start school in September 2019:
Tuesday 16th October 9.30 am – 10.30 am
No appointment necessary, just turn up.
November Month of the Holy Souls
Not too early to send those names in for our November Holy Souls Book. Other key dates:
Tues 13th Nov: Mass for Recently Bereaved
Sunday 18th Nov: Blessings at Blacon
Sunday 25th Nov: Blessings at Overleigh
Friday 30th Nov: Mass of the Holy Souls
Music Group: 10.45 am Mass 21st October
Next Meeting of the Readers Group
Tuesday October 16th, 7.00 pm for about an hour in the Presbytery. Everyone who is interested in the Sunday readings for the next month is extremely welcome, whether readers or not.
A totally open forum. Do come along!
NB Please note, it's on Tuesday not Monday!
St Werburgh's Two Great War Books
Both the Red Book (the lives of all those who were killed in the Great War) and the Blue Book (essays about our life together a hundred years ago) will be on sale next month at Mass - £10 soft-back, £20 hardback. Ideal Christmas Presents for friends and family.
CAFOD Family Fast Day Envelopes – Got Yours?
Saturday 27th October: 2.00 pm: Memorial Mass for Br James Kimpton (Reaching the Unreached)
Br James died a year ago, and there's to be a Mass at St Werburgh's to celebrate his memory and his life-time's work with the poorest in India, "Reaching the Unreached". Many parishioners from all over Chester and district supported this Charity – he was a local boy - and everyone would be very welcome to St Werburgh's on that date for a Memorial Mass, Refreshments and update on the ongoing work of this great Charity.
Children's Society / Caritas Boxes
Could all box holders bring their collections, in secure plastic bags with their name on, to Mass on Sunday 21st October? Many thanks!
Repository – Christmas Cards
Get in early for Christmas! Our religious Christmas cards to proclaim the true meaning of Christmas, will be on sale in a couple of weeks' time. Do please come and support us.
Parish Christmas Panto Outing: 27th December
Just six places left – book today!
Great War Memorial
Now fully in place, behind the red curtain. Restrain your curiosity to have a peek: Tuesday 6th November is the Solemn Blessing and Dedication, so do please all get that key date in your Diary, when we welcome Bishop Mark and so many Civic and Military Dignitaries.
Mass for Diocesan Schools' Commissioners Here
Wednesday 10th October: it was great to welcome our own Bishop Mark and Archbishop Malcolm from Liverpool for a beautiful Mass, with many other Priests and Diocesan Education Commissioners from all 22 English and Welsh Dioceses.
Deanery Conference Last Wednesday
Talking about some of the ways we might bring all the Chester parishes closer together…
Watch this space for developments.
First Friday Recitals
Our next musical wizziters, Friday 2nd November, will be Luke Moulsher and Cat Jones, very much "back by popular demand"!
Photo of the Week: The Church's East Window
The stained-glass sections in the East Window (over the porch) were moved here from St Laurence's Birkenhead when it closed in the 1980's. The new Organ Screen slightly obscures the lower half of the window: this photo, from Ray Harper's collection, shows the windows before the screen was built!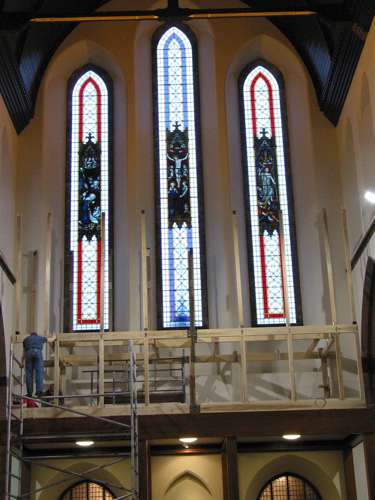 October Mass Count – List in Sacristy
Please, counters: when you've made your count, enter the figure on the list in the Sacristy.
Catholic Enquiry Course
Seven wonderful "Enquirers" now signed up: 
Session Three: Wednesday 17th October 7.30 pm, starting to look at the Christian Creeds.
Wave of Light Service Monday 15th October
6.45 pm, here in Church, for all those who have been touched by Miscarriage, Still-Birth or Infant Bereavement. If you've lost a baby, however long ago, you would be so welcome on that evening.
Parish Safeguarding DBS Checks
We really have swung into action, with Liz Aiello, our Parish Co-ordinator, supported by Syd Jones as Secretarial and IT back-up. FHC Catechists, Children's Liturgy Helpers, Altar Servers and SVP. I am very pleased this is happening and know you will give Liz and Syd your full co-operation.