Parish Newsletter
SUNDAY 21st OCTOBER: TWENTY-NINTH SUNDAY IN ORDINARY TIME (YEAR B)
Liturgical
Isaiah 53, 10-11; Psalm 32; Hebrews 4, 14-16; Mark 10, 35-45
Saturday 6.00 pm: Rowton Methodists: Marion Morrin (L.D.)
Sunday 9.00 am: St Werburgh's: Danny & Ursula Ratchford (Wedding Anniv Remembrance)
Sunday 10.45 am: St Werburgh's: Kathleen and Patrick O'Connell
Sunday 3.00 pm: St Werburgh's: Marian Hour
Sunday 6.00 pm: St Werburgh's: Emiliana Manfredi Lewis
Monday 22nd October: Ferial: Ephesians 2, 1-10; Psalm 99; Luke 12, 13-21
10.00 am: The Cross, outside St Peter's: Ecumenical Service for City Centre Churches
11.00 am: Crabwall Manor NH: Service for Residents
12.15 pm: St Werburgh's: Peter Curtis (Anniversary and Wedding Anniversary Remembrance)
1.05 pm: University Chapel: University Mass for Students and Staff – All Welcome!
Tuesday 23rd October: Ferial: Ephesians 2, 12-22; Psalm 84; Luke 12, 35-38
8.00 am: Poor Clares Hawarden: Intentions of MP
12.15 pm: St Werburgh's: Eileen Finnegan (Month's Mind, Dublin)
Wednesday 24th October: Ferial: Ephesians 3, 2-12; Psalm Isaiah 12; Luke 12, 39-48
12.15 pm: St Werburgh's: Edward Tatler (L.D.)
2.30 pm: Grosvenor Manor NH, Heath Lane: Memorial Service for Residents and Families
Thursday 25th October: Ferial: Ephesians 3, 14-21; Psalm 32; Luke 12, 49-53
10.00 am: Primary School: Mass for Years 5 and 6
12.00 noon: St Werburgh's: Requiem Mass for Maureen Michael, late of Fraser Court, Handbridge
Friday 26th October: SS Chad and Cedd: Ephesians 4, 1-6; Psalm 23; Luke 12, 54-59
11.00 am – 12.00 noon: Exposition of the Blessed Sacrament
12.15 pm: St Werburgh's: Intentions of Baby Matthew (Dublin)
Saturday 27th October: Ferial: Ephesians 4, 7-16; Psalm 121; Luke 13, 1-9
10.30 am – 12.00 noon: St Werburgh's: Confessions
12.30 pm: St Werburgh's: Baptism of Eric George Diggle
2.00 pm: St Werburgh's: Memorial Mass for Br James Kimpton (Reaching the Unreached)
6.00 pm: Rowton Methodists: Fr Michael O'Shea (L.D., Dublin)

SUNDAY 28th OCTOBER: THIRTIETH SUNDAY IN ORDINARY TIME (YEAR B)
Jeremiah 31, 7-9; Psalm 125; Hebrews 5, 1-6; Mark 10, 46-52
Saturday 6.00 pm: Rowton Methodists: Fr Michael O'Shea (L.D., Dublin)
Sunday 9.00 am: St Werburgh's: Bill Treacy (Anniversary and Birthday Remembrance)
Sunday 10.45 am: St Werburgh's: William Anthony Blythin (Anniversary)
Sunday 12.30 pm: St Werburgh's: Baptism of Louis James Hobson-Daly
Sunday 1.00 pm: St Werburgh's: Baptism of Charlie Eireann Lampard
Sunday 6.00 pm: St Werburgh's: Christine Curtis, née Kilfoyle (28th Anniversary)
Prayer Intentions
Your prayers are asked for the following who are sick: James Catterson. Baby Arthur Horsdal, Matt Corcoran, Henri Diacono, James Donovan, Garth Stocking and Kevin Maguire; and for all the sick of the Parish; and for those who have died recently, especially Maureen Michael and Anne Stevenson; and for those whose anniversaries occur about this time: Michael Barry, Mario Vitelli, Eddie Downey, John Dryhurst, Greenan, Winifred Ankers, Krystina Evans, Gordon Smith, Jack Nuttall, Barbara Wilson, Michael Doyle, Gertrude Hague, Alan Owen, Michael Murphy, Mark Simpson, Sara White, John Parry and Iain Sutherland.
May They All Rest in Peace.
Parish events
Annual Mission Appeal Last Sunday
Many thanks to Fr Jude from the Spiritans for preaching the Appeal last weekend, and for your generous response. Still time to make a contribution if you would like to: special envelopes available at back of church.
Great War Memorial Blessing Tues 6th November
Full steam ahead now for one of the great days in the life of our Parish. We are delighted to be welcoming the Lord Lieutenant's representative, our own Lord Mayor and many other civic and military dignitaries. Bishop Mark will be presiding, and we hope as many of you as possible will want to be here on this great occasion. 7.00 pm.
Marian Devotions This Afternoon 3.00 pm
Why not join us for a quiet hour of prayer before the Blessed Sacrament, the Rosary and Benediction for the month of October?
Chester Pastoral Forum
This Monday evening, the priests of the deanery and lay reps from all the parishes will be gathering together for an informal chat about ways we might work more closely together. Report back on next week's Newsletter!
Wednesday Refreshments After Mass
Our very popular monthly get-together this coming Wednesday at 12.45. Why not join us, especially if you've never been before?
Liturgy Group on Thursday at 7.00 pm
Planning for November (Month of the Holy Souls) and December (Advent and Christmas). Everyone welcome to join us – it's an open group!
Diocesan Schools Support Worker (RE/ Governance)
Salary circa £40,000 pro rata. The Diocese of Shrewsbury is looking to appoint to a part-time (3 days a week), temporary position (until the end of the Summer term 2019), a Schools Support Officer who will support the Director of Schools. Full details on the Diocesan Website.
CathSoc Sunday Nights – 21st & 28th October
Sunday Night 21st October – Trip to Liverpool.
Sunday 28th October – 3 Bridges Walk
All CathSoc events begin 7.00 pm in Church.
November Month of the Holy Souls
Not too early to send those names in for our November Holy Souls Book. Just a reminder: we start afresh each year, and don't roll names over from one year to the next. If we did, we'd end up with a book of 100 pages!
Tues 13th Nov: Mass for Recently Bereaved
Sunday 18th Nov: Blessings at Blacon
Sunday 25th Nov: Blessings at Overleigh
Friday 30th Nov: Mass of the Holy Souls
St Werburgh's Two Great War Books
Both the Red Book (the lives of all those who were killed in the Great War) and the Blue Book (essays about our life together a hundred years ago) will be on sale next month at Mass - £10 soft-back, £20 hardback. Ideal Christmas Presents for friends and family.
CAFOD Family Fast Day Envelopes – Got Yours?
Music Group: 10.45 am Mass 21st October
Saturday 27th October: 2.00 pm: Memorial Mass for Br James Kimpton (Reaching the Unreached)
Br James died a year ago, and there's to be a Mass at St Werburgh's to celebrate his memory and his life-time's work with the poorest in India, "Reaching the Unreached". Many parishioners from all over Chester and district support this Charity – he was a local boy - and everyone would be very welcome to St Werburgh's on that date for a Memorial Mass, Refreshments and update on the ongoing work of this great Charity.
Children's Society / Caritas Boxes
If box holders have brought their collections, in secure plastic bags with their name on, today, could they hand them to Dominique, or to FP in the Sacristy? Many thanks to everyone!
Repository – Christmas Cards on Sale Today
Get in early for Christmas! Our religious Christmas cards to proclaim the true meaning of Christmas, are on sale today. Do please come and support us.
Parish Christmas Panto Outing: 27th December
Six tickets left if anyone else would like to join us.
Mass for Diocesan Schools' Commissioners Here
Wednesday 10th October: it was great to welcome our own Bishop Mark and Archbishop Malcolm from Liverpool for a beautiful Mass, with many other Priests and Diocesan Education Commissioners from all 22 English and Welsh Dioceses.
First Friday Recitals
Our next musical wizziters, Friday 2nd November, will be Luke Moulsher and Cat Jones, very much "back by popular demand"! More from the Great American Song Book, including Sondheim's 'Company', 'A Little Night Music' & 'West Side Story'. Something's coming?
Photo of the Week: Nottingham Cathedral
St Barnabas, the Catholic Cathedral, and centre of the Diocese of Nottingham. Thanks, Gabriel!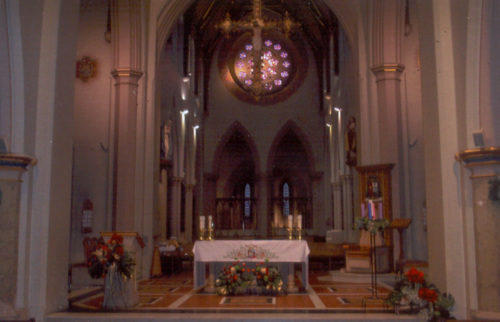 Foodbank Tesco Collections: Can You Help?
We are looking for volunteers to support our Tesco supermarket collections at Frodsham Street and Sealand Road on Thursday 29th Nov, Friday 30th Nov and Saturday 1st Dec. We aim to have 4 people on duty at all times at both stores, doing 2 hour slots between 9am – 5pm. All volunteers will be fully briefed. Volunteers must be at least 16 years of age.If you are interested in helping out email volunteer@westcheshire.foodbank.org.uk or ring 0151 355 7730. Many thanks, everyone.
All Saints / All Souls: 1st & 2nd November
Thursday 1st November, All Saints, is a Holy Day of Obligation: Masses at the usual times, 7.30 am, 12.15 pm and 7,30 pm. All Souls, the following day, is not a Holy Day of Obligation, but a day when many like to come to Mass. Masses that day will be at 7.30 am and 12.15 pm.