Parish Newsletter
SUNDAY 28th OCTOBER: THIRTIETH SUNDAY IN ORDINARY TIME (YEAR B)
Liturgical
Jeremiah 31, 7-9; Psalm 125; Hebrews 5, 1-6; Mark 10, 46-52
Saturday 6.00 pm: Rowton Methodists: Fr Michael O'Shea (L.D., Kerry)
Sunday 9.00 am: St Werburgh's: Bill Treacy (Anniversary and Birthday Remembrance)
Sunday 10.45 am: St Werburgh's: William Anthony Blythin (Anniversary)
Sunday 12.30 pm: St Werburgh's: Baptism of Louis James Hobson-Daly
Sunday 1.00 pm: St Werburgh's: Baptism of Charlie Eireann Lampard
Sunday 6.00 pm: St Werburgh's: Christine Curtis, née Kilfoyle (28th Anniversary)
Monday 29th October: Ferial: Ephesians 4,32 – 5,8; Psalm 1; Luke 13, 10-17
8.00 am: Poor Clares Hawarden: Special Intention
12.15 pm: St Werburgh's: John Mahon (L.D.)
1.05 pm: University Chapel: University Mass for Students and Staff – All Welcome!
2.00 pm: Heswall Methodists: Talk to the 'Mondays at 2' Group
Tuesday 30th October: Ferial: Ephesians 5, 21-33; Psalm 127; Luke 13, 18-21
12.15 pm: St Werburgh's: Eucharistic Service
Wednesday 31st October: Ferial: Ephesians 6, 1-9; Psalm 144; Luke 13, 22-30
12.15 pm: St Werburgh's: Marie Doyle (L.D., Co. Carlow)
Thursday 1st November: ALL SAINTS HOLYDAY OF OBLIGATION
Apocalypse 7, 2-14; Psalm 23; I John 3, 1-3; Matthew 5, 1-12
7.30 am: St Werburgh's: Alex Barnes
12.15 pm: St Werburgh's: Gerry Cummins
7.30 pm: St Werburgh's: Intentions of Tina Johnson
Friday 2nd November: ALL SOULS: Isaiah 25, 6-9; Psalm 26; Romans 5, 5-11; Mark 15,33 – 16,6
7.30 am: St Werburgh's: Mae Kay
10.30 am: St Werburgh's: Funeral Service for Anne Stevenson, late of Heath Lane
12.15 pm: St Werburgh's: Ray Astbury (Birthday Remembrance)
Saturday 3rd November: St Winefride: Song of Songs 8, 6-7; Psalm 44; Matthew 25, 1-13
10.30 am – 12.00 noon: St Werburgh's: Confessions
6.00 pm: Rowton Methodists: Intentions of Bridie Naughton (Galway)

SUNDAY 4th NOVEMBER: THIRTY-FIRST SUNDAY IN ORDINARY TIME (YEAR B)
Deuteronomy 6, 2-6; Psalm 17; Hebrews 7, 23-28; Mark 12, 28-34
Saturday 6.00 pm: Rowton Methodists: Intentions of Bridie Naughton (Galway)
Sunday 9.00 am: St Werburgh's: Lorna Harris
Sunday 10.45 am: St Werburgh's: Willy and Nadia Pegna
Sunday 6.00 pm: St Werburgh's: Bill and Elsie Wilson
 
Prayer Intentions
Your prayers are asked for the following who are sick: Maggie Sweeney, James Catterson, Ruth O'Kane, Matt Corcoran, Henri Diacono, James Donovan, Garth Stocking and Kevin Maguire; and for all the sick of the Parish; and for those who have died recently, especially Maureen Michael and Anne Stevenson; and for those whose anniversaries occur about this time: Audrey Donnelly, John Clyne, Annie Jones, Freddie Price, Claire Challoner, William Bath, Anne Bath, Elizabeth Rivas, Alice Artell, William Sanders, May Willis, Vera Mulchrone, Helen Murtagh and Tony Nardini. May They All Rest in Peace.
Parish events
Great War Memorial Blessing Tues 6th November
The Booklet is now at the Printers, and Parishioners approached to do the Readings and look after the VIP's. We'd still like to hear from you if you'd like to help out on the Evening – dozens of jobs to do! We are delighted to be welcoming the Lord Lieutenant's representative, on behalf of The Queen, our own Lord Mayor and Lady Mayoress, and many other civic and military dignitaries. Bishop Mark will be presiding, and we hope as many of you as possible will want to be here on this great occasion. 7.00 pm. We'd love a full church for this amazing evening.
Chester Pastoral Forum
Useful meeting last Monday evening, discussing ways the Chester Parishes might work together more closely. We'd love to hear any ideas any of you have on the subject!
Wednesday Refreshments After Mass
Record numbers there last Wednesday, which was great to see. Only two sandwiches and a sausage Roll left for the PP afterwards. Not that he's getting bitter and twisted on the subject…
Liturgy Group Last Thursday at 7.00 pm
Many thanks, everybody, for coming along – and what a busy month November is going to be!
CathSoc Sunday Nights – 21st & 28th Oct – 7.00
Sunday Night 21st October – Great trip to Liverpool, two-hour walk around then our usual Chinese Supper. (8 times, Izzy!)
Sunday 28th October – 3 Bridges Walk finishing with Psalm Singing by the River
November Month of the Holy Souls
First Edition of our Holy Souls Book will be out on Thursday, All Saints, and then updated each Sunday thereafter.
Tues 13th Nov: Mass for Recently Bereaved
Sunday 18th Nov: Blessings at Blacon
Sunday 25th Nov: Blessings at Overleigh
Friday 30th Nov: Mass of the Holy Souls
St Werburgh's Two Great War Books
Both the Red Book (the lives of all those who were killed in the Great War) and the Blue Book (essays about our life together a hundred years ago) will be on sale next month at Mass - £10 soft-back, £20 hardback. Ideal Christmas Presents for friends and family.
Christmas Panto - All Tickets Now Sold!
Payments to the office by Sunday 4th Nov please.
First Sacraments Meetings: 8th and 12th Nov
The first meeting of our Parish Group for children and parents takes place on Thursday 8th November at 6.30 pm in the Parish House. The children will need to bring a folder for their preparation book and a pencil case containing coloured pencils and a handwriting pencil. Please could parents bring permission slips, prayer sponsor slips (if requested) and photos? There will be a Parents' Meeting at St Werburgh's and St Columba's School in Lightfoot St on Monday 12th November at 7.00 pm.
CEC Four Wednesday 31st October 7.00 pm
The Creeds, the Councils, the Church! See you all there, seven 'Enquirers' and seven Werbies! 
SVP New Display Board at Back of Church
Information about the work of our SVP: to encourage new Members as well as anybody who feels they need help. Give it a good look today
CAFOD Family Fast Day: Last Chance Today!
Please take your envelope and put in it the savings from some simpler meal this month. And pop the envelope back on the Collection Plate!
New Newsletter Box
Many thanks, John P, for a superb new Box on the Church Door! Usual appeal: please just take one or two: someone likes to empty it, which is a bit tough on those coming after him/her!
Children's Society / Caritas Boxes
Thanks to everyone who brought their Box Contents in, and to Natalie (mainly Loic) for taking over the Counting and Banking. It looks as if we only have about a dozen active Box-Holders, so let's have a Re-Launch and Membership Drive very soon, for the new-look Diocesan Caritas.
Wilfred and Susan – Sunday 11th Nov 3.00 pm
Our good friends, Chester Little Theatre, are back with their young actors for an original drama on the life of Wilfred Owen, killed on 4th November 1918, just one week before the Armistice.
Annual Mission Appeal: Last Chance Today!
First Friday Recitals: Friday 2nd November
Luke Moulsher and Cat Jones, very much "back by popular demand"! More from the Great American Song Book, including Sondheim's 'Company', 'A Little Night Music' & 'West Side Story'. Something's coming? Don't miss it!
Photo of the Week: ABC Cinemas, Chester
No, not the Saturday Kids Matinée (remember them?) but a special Canonisation Mass in 1970, with Bishop Grasar, for the 40 Martyrs of England & Wales. How many Priests can you recognise?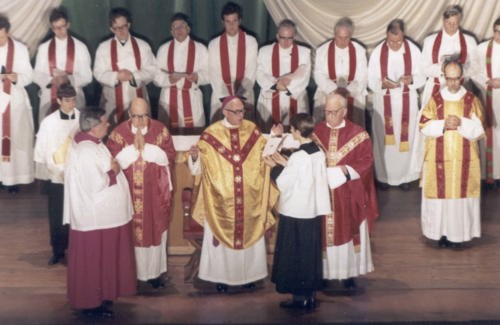 Foodbank Tesco Collections: Can You Help?
Frodsham Street and Sealand Road on Thurs 29th Nov, Fri 30th Nov and Sat 1st Dec. 2-hour slots between 9am – 5pm. All volunteers will be fully briefed. Volunteers must be at least 16 years old.
email volunteer@westcheshire.foodbank.org.uk or ring 0151 355 7730. Many thanks, everyone.
All Saints / All Souls: 1st & 2nd November
Thursday 1st November, All Saints, is a Holy Day of Obligation: Masses at the usual times, 7.30 am, 12.15 pm and 7,30 pm. All Souls, the following day, is not a Holy Day of Obligation, but a day when many like to come to Mass. Masses that day will be at 7.30 am and 12.15 pm.