Parish Newsletter
SUNDAY 4th NOVEMBER: THIRTY-FIRST SUNDAY IN ORDINARY TIME (YEAR B)
Liturgical
Deuteronomy 6, 2-6; Psalm 17; Hebrews 7, 23-28; Mark 12, 28-34
Saturday 6.00 pm: Rowton Methodists: Intentions of Bridie Naughton (Galway)
Sunday 9.00 am: St Werburgh's: Lorna Harris
Sunday 10.45 am: St Werburgh's: Willy and Nadia Pegna
Sunday 6.00 pm: St Werburgh's: Bill and Elsie Wilson
Monday 5th November: Ferial: Philippians 2, 1-4; Psalm 130; Luke 14. 12-14
12.15 pm: St Werburgh's: Intentions of Joe Naughton (Galway)
1.05 pm: University Chapel: University Mass for Students and Staff – All Welcome!
Tuesday 6th November: Ferial: Philippians 2, 5-11; Psalm 21; Luke 14, 15-24
8.00 am: Poor Clares Hawarden: Thanksgiving for our new Great War Memorial
12.15 pm: St Werburgh's: Intentions of Francella
7.00 pm: St Werburgh's: Service of Blessing and Dedication for WWI Memorial – Bishop Mark
Wednesday 7th November: Ferial: Philippians 2, 12-18; Psalm 26; Luke 14, 25-33
12.15 pm: St Werburgh's: Intentions of Doreen Coleman
Thursday 8th November: Ferial: Philippians 3, 3-8; Psalm 104; Luke 15, 1-10
8.30 am: St Werburgh's: M.W.M.
Friday 9th November: Dedication of Lateran Basilica
Ezekiel 47, 1-12; Psalm 45; I Corinthians 3, 9-17; John 2, 13-22
11.00 am – 12.00 noon: St Werburgh's: Exposition of the Blessed Sacrament
12.15 pm: St Werburgh's: Intentions of David and Jane
Saturday 10th November: St Leo the Great: Philippians 4, 10-19; Psalm 111; Luke 16, 9-15
10.00 am: HMP Berwyn, Wrexham: Mass for Prisoners and Staff
6.00 pm: Rowton Methodists: Deceased Members of the Cummins Family

SUNDAY 11th NOVEMBER: THIRTY-SECOND SUNDAY IN ORDINARY TIME (YEAR B) REMEMBRANCE DAY
I Kings 17, 10-16; Psalm 145; Hebrews 9, 24-28; Mark 12, 38-44
Saturday 6.00 pm: Rowton Methodists: Deceased Members of the Cummins Family
Sunday 9.00 am: St Werburgh's: Elizabeth Rivas (Anniversary 1981)
Sunday 10.45 am: St Werburgh's: Intentions of Rita and Brian Flack
Sunday 12.30 pm: St Werburgh's: Baptism of Aoife Sorrentino
Sunday 6.00 pm: St Werburgh's: Donald Joseph Deponeo (1st Anniversary)
Prayer Intentions
Your prayers are asked for the following who are sick: Lorraine McKeown, Maggie Sweeney, James Catterson, Ruth O'Kane, Matt Corcoran, Henri Diacono, James Donovan, Garth Stocking and Kevin Maguire; and for all the sick of the Parish; and for those who have died recently, especially Anne Stevenson; and for those whose anniversaries occur about this time: Alfred Pritchard, Arnold Whittaker, Rita Roberts, Hannah Edge, Gillian Keenan, Muriel Carlen, Renée Taylor, Violet Williams, Mary Walsh, Alan Tonks, Brian Gannon, Leonard Bellis, Renée Heneberry, Margaret Roddy, Eileen Haggart, Margaret Mee, Eileen Hurst, Lily Yates, Witold Blazejawiecz, George Baker, Gregory Morris, Elsie Dodd, Edith McLoughlin, John McCarthy, Kathleen Williams, Ronald Jones, Patrick Reddy, Rosemary Edwards, Brenda Reade and Cliff Gaskell. May They All Rest in Peace.
Parish events
Great War Memorial Blessing Tues 6th November
This is bidding fair to be a tremendous night in the life of the Parish and the culmination of four years of extraordinary work by our Great War Group. Sometimes I think whoever removed the original Great War memorial has done us an amazing favour! Thank you, Mr X! (Canon X??) It set us four years ago the huge challenge of replacing it: which meant basically starting from scratch in researching the names. Our of that came our first book, We Shall Remember Them, the biographies and pictures (where possible) of all those who lost their lives from St Werburgh's in the Great War. That research generated our second book, A War-Torn Parish, a fascinating series of essays on the Parish and City a hundred years ago. And now, finally, the design, construction installation and blessing of the new Memorial itself. Tuesday 6th November at 7.00 pm. We welcome Bishop Mark and a glittering host of civic and military dignities. And, we hope, yourselves. This is your Parish, your history and your Memorial. We look forward to seeing everyone here on Tuesday!
Rehearsal for Memorial Blessing Monday @ 7.00
For all our Meeters and Greeters, Stewards, Altar Server Organisers, Readers, Tea Ladies, you name it. If you have a part to play on Tuesday, please come to a short rehearsal Monday at 7.00.
Canon Chambers' Cope for Bishop Mark
It won't just be the new Memorial that will be unveiled on Tuesday: we also have a stunning new lectern, specially made for us, and a beautifully bound copy of We Shall Remember Them, to go on the Lectern and stand beneath the Plaque in the War Memorial Chapel. Today, a sneak preview of the Cope, well over a hundred years old, and lovingly renovated for us by the ladies of the Liverpool Cathedral Embroidery Guild. Just look at that needlework!!
Postponed Mental Health Support Group
Apologies, MHSG - we were going to meet on Monday, but with the Memorial Blessing Rehearsal, can we please postpone till 3rd December, our next Meeting? Sorry!
CathSoc Sunday Nights – 4th & 11th Nov – 7.00
Good Three Bridges Walk last Sunday and a very intense Psalm Singing Session afterwards. I am proud of you all. Week commencing Monday 5th November is their Student Development Week, when they all go home and read lots of books and write lots of essays. (Give me strength.) So, any Students around on the Sunday evenings before or after this week, do come on in for Cake and Catch-Up. 2.00 am for me, but fun for you…
NW University Chaplains Meeting on Thursday
A Liverpool University Chaplaincy, 10.30 to 3.00 pm, so an earlier Mass here on that day.
November Month of the Holy Souls
Tues 13th Nov: Mass for Recently Bereaved
Sunday 18th Nov: Blessings at Blacon
Sunday 25th Nov: Blessings at Overleigh
Friday 30th Nov: Mass of the Holy Souls 
St Werburgh's Two Great War Books
Both the Red Book (the lives of all those who were killed in the Great War) and the Blue Book (essays about our life together a hundred years ago) will be on sale from now till Christmas. £10 soft-back, £20 hardback. Ideal Christmas Presents for friends and family.
SVP Reconciliation Service
For the elderly and housebound here in Church on Sat Nov 24th at 10.30 am followed by refreshments. Transport provided, all welcome. For further information contact Stephen Perry on 07775 781204
First Sacraments Meetings: 8th and 12th Nov
The first meeting of our Parish Group for children and parents takes place on Thursday 8th November at 6.30 pm in the Parish House. The children will need to bring a folder for their preparation book and a pencil case containing coloured pencils and a handwriting pencil. Please could parents bring permission slips, prayer sponsor slips (if requested) and photos?
There will be a Parents' Meeting at St Werburgh's and St Columba's School in Lightfoot St on Monday 12th November at 7.00 pm.
SVP New Display Board at Back of Church
Information about the work of our SVP: to encourage new Members as well as anybody who feels they need help. Give it a good look today.
New Newsletter Box
Many thanks, John P, for a superb new Box on the Church Door! Usual appeal: please just take one or two: someone likes to empty it, which is a bit tough on those coming after him/her!
Children's Society / Caritas Boxes
Thanks to everyone who brought their Box Contents in, and to Natalie (mainly Loic) for taking over the Counting and Banking. It looks as if we only have about a dozen active Box-Holders, so let's have a Re-Launch and Membership Drive very soon, for the new-look Diocesan Caritas.
Wilfred and Susan – Sunday 11th Nov 3.00 pm
Our good friends, Chester Little Theatre, are back with their young actors for an original drama on the life of Wilfred Owen, a local lad (Birkenhead and Oswestry) and one of the greatest Poets to emerge from that conflict. He was killed on 4th November 1918, just one week before the Armistice. This play is based on the 500 or so letters he wrote to his mother, Susan.
Photo of the Week: Wrexham Cathedral
The Catholic Cathedral nearest to St Werburgh's: and I wonder how many of us have ever visited it?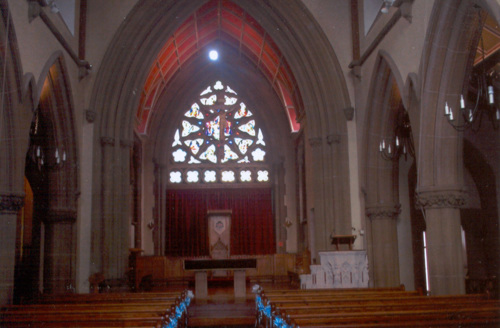 Foodbank Tesco Collections: Can You Help?
Frodsham Street and Sealand Road on Thurs 29th Nov, Fri 30th Nov and Sat 1st Dec. 2-hour slots between 9am – 5pm. All volunteers will be fully briefed. Volunteers must be at least 16 years old.
email volunteer@westcheshire.foodbank.org.uk or ring 0151 355 7730. Many thanks, everyone.