Parish Newsletter
SUNDAY 2nd DECEMBER: FIRST SUNDAY OF ADVENT (YEAR C)
Liturgical
Jeremiah 33, 14-16; Psalm 24; I Thessalonians 3,12 – 4,2; Luke 21, 25-36
Saturday 6.00 pm: Rowton Methodists: Eileen Law and Vera Connon (Anniversaries)
Sunday 9.00 am: St Werburgh's: Dilys Ball, Emilio Pidutti and Maria Prez.
Sunday 10.45 am: St Werburgh's: Kelli Fernando (L.D., Dakota)
Sunday 6.00 pm: St Werburgh's: James and Agnes Alcock
Monday 3rd December: St Francis Xavier: Isaiah 2, 1-5; Psalm 121; Matthew 8, 5-11
9.45 am: High School: Advent Mass for Year 9
12.15 pm: St Werburgh's: Intentions of Cathy Taylor
1.05 pm: University Chapel: University Mass for Students and Staff – All Welcome!
Tuesday 4th December: Ferial: Isaiah 11, 1-10; Psalm 71; Luke 10, 21-24
12.15 pm: St Werburgh's: Intentions of Poor Clares' Move to Nottingham,
Wednesday 5th December: Ferial: Isaiah 25, 6-10; Psalm 22; Matthew 15, 29-37
12.15 pm: St Werburgh's: Intentions of C.D.
Thursday 6th December: St Nicholas: Isaiah 26, 1-6; Psalm 99; Luke 21, 20-28
9.45 am: High School: Advent Mass for Year 8
12.15 pm: St Werburgh's: Birthday Intentions - MP
Friday 7th December: St Ambrose: Isaiah 29, 17-24; Psalm 26; Matthew 9, 27-31
8.45 am: High School: Advent Mass for Year 10
9.45 am: High School: Advent Mass for Year 7
11.00 am – 12.00 noon: St Werburgh's: Exposition of the Blessed Sacrament
12.15 pm: St Werburgh's: John Taylor
Saturday 8th December: Immaculate Conception of the BVM:
Genesis 3, 9-20; Psalm 97; Ephesians 1, 3-12; Luke 1, 26-38
10.30 am – 12.00 noon: St Werburgh's: Confessions
12.30 pm: St Werburgh's: Baptism of Gabrielle
6.00 pm: Rowton Methodists: Denis Horan (15th Anniversary)
SUNDAY 9th DECEMBER: SECOND SUNDAY OF ADVENT (YEAR C)
Baruch 5, 1-9; Psalm 125; Philippians 1, 4-11; Luke 3, 1-6
Saturday 6.00 pm: Rowton Methodists: Denis Horan (15th Anniversary)
Sunday 9.00 am: St Werburgh's: Alex Barnes
Sunday 10.45 am: St Werburgh's: Thanksgiving
Sunday 6.00 pm: St Werburgh's: Rachael Andrews
Prayer Intentions
Your prayers are asked for the following who are sick: Lorraine McKeown, James Catterson, Ruth O'Kane, Henri Diacono, James Donovan, Garth Stocking and Kevin Maguire; and for all the sick of the Parish; and for those who have died recently, especially Sheila Tatler and Fred Best; and for those whose anniversaries occur about this time: Nancy Lugg, Patrick Kavanagh, Bernard Cunningham, Michael Hughes, Pat Wright, Ann Hanrahan, Brian Parker, Teresa Evans, Ronald Pugh, Michael Hatherall, Gordon Maidment, Mary Murphy, Noreen Kind, Mary Corr and Betty Chilton. May They All Rest in Peace.
Parish events
Mental Health Support Group Meeting
Monday 3rd Dec at 7.00 pm – all welcome!
1st Sunday in Advent – New Liturgical Year
Today, 2nd December, is the First Sunday of Advent, the start of a new Liturgical Year – Year C. Copies of the new Diocesan Ordo, which gives details for every day of the Liturgical Year ahead. £4, on the Newspaper Table.
Christmas Coffee Morning Friday 30th Nov
At Festival Church, Queen Street. Sounds to have been a tremendous success all round. Total raised for the Hospice in Newsletter next week. Thanks, Anne and team!
Items for Newsletter – Helping Me Helping You!
If you send in an Item for the Newsletter - email is the best way from our point of view – do please head it clearly "Newsletter Item".
Waste Bin in Church
Under the Newspaper Table, for any non-renewable waste, eg used paper handkerchiefs…
Christmas Volunteer Rota Out Today
Please sign up: we need the usual team of volunteer Eucharistic Ministers, Readers, Welcomers and Collectors for our special Masses on Christmas Eve and Christmas Day.
Mass of the Holy Souls on Friday, 7.30 pm
A lovely way to end the month of November, with our Mass of the Holy Souls on Friday night. A couple of photos on the Notice Board – thanks, Veronica, for sending them in!
Message from John in our Parish Club
Our folk circle is holding their Christmas Big Sing at the Parish Centre on Friday December 21st
at 8.00 pm. Everyone welcome.
La Leche League Breastfeeding Support Group Christmas Fair
Saturday 8th December 10.00 am -2.00 pm, in The Burley Hall, Village Road, Waverton, CH3 7QN. We are fundraising to support local mums and babies. There will be handmade cakes and Christmas crafts and gifts for sale, as well as a nearly new stall with toys and clothes. Refreshments available. Free entry! For more information, see Stephanie Andrews.
FHC Parish Group Meeting: Parents and Children
Next meeting is on Tuesday 4th December at 6.30 pm in the Parish House. Please could the children bring their Preparation Books and pencil cases?
Decorating our Christmas Tree in Church
9.30 am Wednesday 12th December. Any volunteers willing to help? Tea, coffee, mince pies, a fun morning, so do please all feel warmly invited to turn up. Any volunteers to be the fairy?
CathSoc Christmas Quiz Tonight
7.00 pm, in the Parish House
Poor Clares Departure Date
At long last, they were off last Wednesday morning, 28th November. God's Blessings on you, Sisters, for the new chapter in Nottingham!

Soulful Saturday with Retreat House Chester Through Advent with the Saints
Led by Magdalen Smith - Saturday 8th December 10.30 – 3.00 pm Cloister Room, Chester Cathedral. Drawing on her book 'Unearthly Beauty - through Advent with the Saints', Magdalen will take us through a time of reflection at the heart of the season, suggesting how the lives of 'holy people' of the past can offer spiritual sustenance to us ordinary people today. £20 inc morning coffee break (please bring a packed lunch or have lunch in the Cathedral Refectory / locally). Booking only through Cathedral: www.chestercathedral.com
SVP 2nd Collection for Christmas Next Sunday
8th / 9th December. Your donations enable the SVP to support families in need and the homeless at Christmas and help fund our Christmas lunch party for the elderly and housebound. Thank you.
Catholic High School Parents Association Carol Service
Tuesday 18th December at 6:30 pm at the Catholic High School, followed by refreshments, a Christmas raffle and musical entertainment by the School Jazz Band.
Free entrance. Everybody is welcome.
SVP Christmas Tea at the Catholic High School
Wednesday 12th December 2.30 pm. Transport will be provided. For further information contact Stephen Perry on 07775 781204.
Next "First Friday" Recital
The last for 2018 – Friday 7th December 7.30 pm. We welcome back our old friend Andrew Wyatt, and his Chester Cathedral Nave Choir. Carols old and new, to get us in the mood for Christmas, by Darke, Handel, Whitacre and Nicolson, amongst others. Andrew says: "Come prepared with a good, strong singing voice to join in the congregational carols!" See you all there.
St Werburgh's Great War Books on Sale Now
£10 sb, £20 hb. Ideal Christmas Presents.
Flat Pack Music Evening of Yuletide Joy
7.30 pm Friday 7th December at Our Lady's, Ellesmere Port. Tickets £10 on sale after Sunday Masses today. Otherwise for tickets or enquiries please contact Stephen Perry on 07775781204 or svpchester@gmail.com. Proceeds from this festive performance of Christmas and Operatic favourites for the SVP District Holiday Home.
Disabled Access on Sundays at 10.45 am
Please do NOT block the entrance for wheelchairs and prams!! (Obvious, really?)
Photo of the Week: Front Door of the House
One of the loveliest pictures taken by Tobi for our Parish Notelets, capturing the front door and garden in front. (Notelets still on sale!)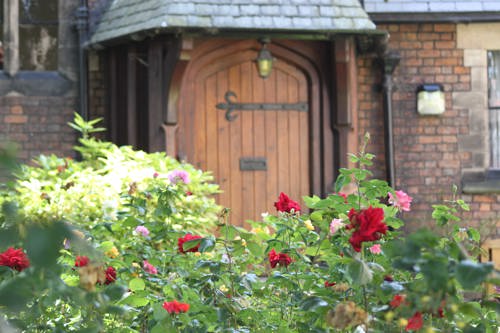 Coming up to Holy Communion
Just a reminder, please: would the side aisles kindly go to the back and come up the Central Aisle rather than pushing across the Centre Benches, which isn't safe? Thanks, everyone!