Parish Newsletter
SUNDAY 30th DECEMBER: THE HOLY FAMILY (YEAR C)
Liturgical
I Samuel I, 20-28; Psalm 127; Colossians 3, 12-21; Luke 2, 41-52
Saturday 6.00 pm: Rowton Methodists: Margaret Haslam
Sunday 9.00 am: St Werburgh's: Dot and Pat Williams (Anniversaries)
Sunday 10.45 am: St Werburgh's: Marie and John Keegan (Anniversaries)
Sunday 6.00 pm: St Werburgh's: Xavier and Jane Lobo 40th Wedding Anniversary
Monday 31st December: Seventh Day of Christmas: I John 2, 18-21; Psalm 95; John 1, 1-18
10.00 am: St Werburgh's: Veronica and Danny Howard
10.00 pm: St Werburgh's: Exposition of the Blessed Sacrament
12.00 Midnight: St Werburgh's: Mass for God's Blessings on 2019: NR's Birthday Intentions
Tuesday 1st January: Mary, Mother of God: Numbers 6, 22-27; Ps 66; Gal 4, 4-7; Luke 2, 16-21
10.00 am: St Werburgh's: Intentions of Those Facing Criticism
Wednesday 2nd January: SS Basil and Gregory: I John 2, 22-28; Psalm 97; John I, 19-28
10.00 am: St Werburgh's: Thanksgiving
Thursday 3rd January: Holy Name of Jesus: I John 2,29 – 3,6; Psalm 97; John 1, 29-34
10.00 am: St Werburgh's: Intentions of James Catterson
Friday 4th January: Ferial: I John 3, 7-10; Psalm 97; John 1, 35-42
10.00 am: St Werburgh's: Intentions of Cathy Taylor
Saturday 5th January: Ferial: I John 3, 11-21; Psalm 99; John 1, 43-51
10.00 am: HMP Berwyn, Wrexham: Mass for Prisoners and Staff
12.30 pm: St Werburgh's: Baptism of Gabrielle Earlam
6.00 pm: Rowton Methodists: Mary Fazey, Tom and Mary Boulton, Fred and Mavis Fazey
SUNDAY 6th JANUARY: THE EPIPHANY (YEAR C)
Isaiah 60, 1-6; Psalm 71; Ephesians 3, 2-6; Matthew 2, 1-12
Saturday 6.00 pm: Rowton Methodists: Mary Fazey, Tom & Mary Boulton, Fred & Mavis Fazey
Sunday 9.00 am: St Werburgh's: Len Baker (L.D., Cardiff)
Sunday 10.45 am: St Werburgh's: Josephine Matheson (L.D.)
Sunday 6.00 pm: St Werburgh's: J's Mother (L.D.)
Prayer Intentions
Your prayers are asked for the following who are sick: Lorraine McKeown, James Catterson, Ruth O'Kane, Henri Diacono, James Donovan, Garth Stocking and Kevin Maguire; and for all the sick of the Parish; and for those who have died recently, especially Laurence McNay, Helen Jones and Jo Matheson; and for those whose anniversaries occur about this time: Stanley Korn, Anne Weston, Kevin Ford, Tony Larkin, Theresa Sellers, Patrick Vallely, Florence Ratchford, Joan Hudson, Harry Graham, Mary Hughes, June Stoddart, Meg Ormsby-Knox, Margaret Davis, Pat Lloyd, Lilian Coathupe, Johanna Sheedy, Helen Woodworth, Brenda Blackwell, John Winder, Magda Kenworthy, Carol Pollard, Josephine Page, Margaret Doman, Agnes Cartwright, Mary Walsh, May Hogan, William Costello, Evelyn Weston, David Mooney, Michael Murphy, Ann Carruthers, Ralph Sherwin, Bernard Healey, Zygmunt Dowicz, Eileen Witter, Geoffrey Hargreaves,
Helen Cadden, Robin Francis, John Moore, George Tomlins and Ronald Heveran. Rest in Peace.
Parish events
Christmas Thanks!
We welcomed record numbers for the five Christmas Masses – 500 at 6.00 pm, 300 at 8.30 pm, 200 at Midnight, 200 at 9.00 am and 400 at 10.45 am. A huge thanks to everyone who made this possible: the welcomers and stewards, those who decorated the church, the readers, the Eucharistic Ministers, the Altar Servers, the musicians, the collectors, and those who tidied up after each Mass, ready for the next one! It was an enormous team effort, and sincere thanks to everyone who volunteered their services.
No Contractor Parking from Now On
There will be A Boards at each end of the driveway: if you need to come in before the Sacristans, please replace them afterwards. Sacristans: please take them down and store them in the porch. (There's no need to put them back after Mass). Many thanks, everyone!
Parenting Teens Course at the High School
The popular parenting course for those with teenage children is running again. The 6-week course starts at 7.00 pm on 9th January at the Catholic High School. If you'd like to join other parents who want to broaden their skills, develop their relationship with their teenagers and negotiate the new freedoms and responsibilities our young people need, please come along. For more information or to book a place, please contact Claire on 07743-704-383. Flyers in the porch and hall have more information.
Stewards for Christmas Masses
These proved very useful, with the considerably greater numbers we welcomed for all five Christmas Masses. The Diocese has initiated a Health and Safety review for all Parishes, and we will be having a visit / inspection on Thursday 31st January. We are very conscious of the Safety angle. Should we need to evacuate in an emergency, we have four exits: two at the back, one by the organ and the House Door, and all these doors need to be unlocked on a Sunday (or equivalent) and the passageways kept clear. Thanks, everyone!
January's Week of Prayer for Christian Unity
Coming up fast! Sunday 20th is the county-wide Churches Together in Cheshire service, which alternates between the Cathedral one year and a Cheshire Church the other. This year we're at Tarporley Baptist & Methodist Church, almost opposite the Catholic Church in the High Street, 3.00 pm. Then Monday-Saturday, Christleton and Waverton Churches Together visit the six churches of the area at 12.00 noon each day, for a time of prayer and light refreshments:
Monday 21st Jan: Waverton Evangelical Church
Tuesday 22nd Jan: St Peter's Waverton
Wednesday 23rd Jan: Rowton Methodists
Thursday 24th Jan: Christleton Methodists
Friday 25th Jan: St James, Christleton
Saturday 26th Jan: St Werburgh's
Sunday evening, 7.00 pm, there is a special Service for Church Unity at Christleton Methodists where our Music Group will be leading the worship. Everyone warmly invited to everything!
Crib Up till Sunday 13th January
The Baptism of the Lord is the official end of Christmastide, so our beautiful Crib will be up till then, Please, don't forget the Crib Collection for Caritas, the old Diocesan Children's Society.
2019 Yearbooks Now Arrived - £4 each
Featuring in the photos a picture of Bishop Mark blessing our new Great War Memorial.
Theatr Clwyd Panto
What a wonderful evening of non-stop entertainment! Thanks to all the team at Theatr Clwyd, and to Gerry for organising such a lovely Altar Servers' Christmas Treat. It brought back memories for me – Pantos in the English College days, written and acted by the students for the ex-Pat community in Rome. Christmas 1991, the last time I trod the stage of a Panto!! (***)
Day by Day & Sacred Heart Messengers
January Mags now on sale - £1 each.
SVP Christmas Lunch
For the elderly and housebound: on Saturday, 12th January at 12.30 in the Primary School. Transport provided. For further information, contact Stephen Perry on 07775781204.
New Baptismal Register for the next 60 Years!
The recent small legacy from Anne Hird-Jones paid for our new Register – thank you, Anne!
December 26th: Boxing Day Altar Servers Mass
Stephanie Pilliner and Matthew Cartmill were formally enrolled into our branch of the Guild of St. Stephen and a number of Awards were made to other Altar Servers. What a gift to our Parish our Altar Servers are!
University Masses Start Again Mon 7th January
Christmas Cards on Sacristy Window-Sill
Still fifteen there, folks! Worth a look?
Monthly Hospital Mass
The regular "First Thursday" Mass will be celebrated on 3rd January at 12.15 pm in the Countess of Chester hospital Chapel. This is for patients/outpatients, staff, families and friends, and the wellbeing of our hospitals, including the Bowmere. All are welcome.
Children's Christmas Eve Vigil Mass – 6.00 pm
Thank you, Parents – you surpassed yourselves!
New Year's Eve Midnight Mass
Monday 31st Dec: Exposition from 10.00 pm.
Photo of the Week: World War One Ambulance
A reminder of what a year of commemoration 2018, now ending, was. The photo shows a replica of one of the ambulances commissioned by Lord Baden Powell after visiting the Western Front. Cars back home in storage were converted into ambulances and sent to the front to be driven by Scoutmasters too old to serve in the forces. Many thanks to Chris Collier for this.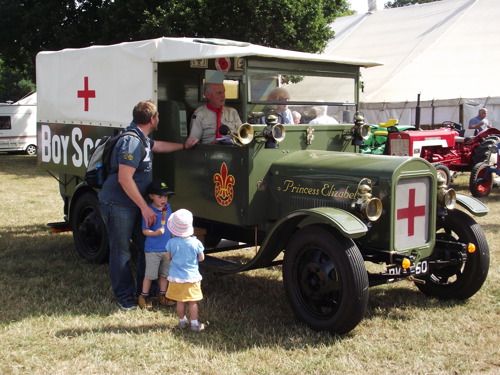 ***
My new address, as from Monday 31st January: St Myrtle's, Railway Ave, Pontydaffy, South Wales.