Parish Newsletter
SUNDAY 3rd MARCH: EIGHTH SUNDAY IN ORDINARY TIME (YEAR C)
Liturgical
Ecclesiasticus 27, 5-8; Psalm 91; I Corinthians 15, 54-58; Luke 6, 39-45
Saturday 6.00 pm: Rowton Methodists: Johnny Scanlon (L.D., Castle Island Co Kerry)
Sunday 9.00 am: St Werburgh's: Albert Norman (Anniversary, 2000)
Sunday 10.45 am: St Werburgh's: Denis Hickey (Birthday Remembrance)
Sunday 6.00 pm: St Werburgh's: Thanksgiving
Monday 4th March: Ferial: Ecclesiasticus 17, 20-28; Psalm 31; Mark 10, 17-27
12.15 pm: St Werburgh's: Brian Shaw (Anniversary 1986)
1.05 pm: University Chapel - University Mass. All welcome.
Tuesday 5th March: Ferial: Ecclesiasticus 35, 2-15; Psalm 49; Mark 10, 28-31
10.40 am: Blacon: Funeral Service for Rose Mary Rosney, late of Malpas
12.15 pm: St Werburgh's': John Lee (L.D.)
Wednesday 6th March: ASH WEDNESDAY
Joel 2, 12-18; Psalm 50; II Corinthians 5,20 – 6,2; Matthew 6, 1-18
7.30 am: St Werburgh's: Special Intention (JA)
12.15 pm: St Werburgh's: Peggy Ronayne (L.D.)
7.30 pm: St Werburgh's: Colette Fitzgerald (L.D.)
Thursday 7th March: Thursday after Ash Wednesday: Deuteronomy 30, 15-20; Ps 1; Luke 9, 22-25
10.00 am: St Werburgh's: John Thomson (Anniversary 1997)
12.15 pm: Countess of Chester Hospital: Hospital Mass - All Welcome.
2.00 pm: St Werburgh's: Funeral Service for John Newton, late of Beeston Pathway, Handbridge
Friday 8th March: Friday after Ash Wednesday: Isaiah 58, 1-9; Psalm 50; Matthew 9, 14-15
11.00 am: St Werburgh's: Exposition of the Blessed Sacrament
12.15 pm: St Werburgh's: Intentions of MLA
7.00 pm: St Werburgh's: Stations of the Cross, followed by Exposition till 9.00 pm
Saturday 9th March: Saturday after Ash Wednesday: Isaiah 58, 9-14; Psalm 85; Luke 5, 27-32
10.30 am – 12.00 noon: St Werburgh's: Confessions
12.30 pm: St Werburgh's: Baptism of Abigail Rose Dowd
6.00 pm: Rowton Methodists: Michael Read (L.D.)

SUNDAY 10th MARCH: FIRST SUNDAY OF LENT (YEAR C)
Deuteronomy 26, 4-10; Psalm 90; Romans 10, 8-13; Luke 4, 1-13
Saturday 6.00 pm: Rowton Methodists: Michael Read (L.D.)
Sunday 9.00 am: St Werburgh's: Alex Barnes
Sunday 10.45 am: St Werburgh's: John Beatty (2nd Anniversary)
Sunday 12.30 pm: St Werburgh's: Baptism of Ella Gerardina Coulthard
Sunday 6.00 pm: St Werburgh's: Mark Sands (L.D.)
Prayer Intentions
Your prayers are asked for the following who are sick: Betty Thomson, Heather Lannin, Lorraine McKeown, James Catterson, Ruth O'Kane, Henri Diacono, James Donovan, Garth Stocking and Kevin Maguire; and for all the sick of the Parish; and for those who have died recently, especially Peggy Ronayne, Joan Crossley, Rose Rosney and John Newton; and for those whose anniversaries occur about this time: Kenneth Warburton, Annie Connolly, Michael Snee, Elizabeth Tierney, John Thomson, Mary Ivory, Mary Pink, Mary Smythe, John Doolan, Margaret Rees. Margaret Everett, Mary Gough, Jean Dean, Albert Thomas, Tom Boulton, Kasimierz Dabrowski, John Burns, Leonard Whittle, Mary Evans, Maurice Murphy, Cyril McLoughlin, Reginald Sweeney and John Beatty. May They All Rest in the Peace and Light of the Risen Lord Jesus.
Parish events
Friday Evening Lenten Services – 7.00 pm
Each Friday evening during Lent there will be either Stations of the Cross or a Lenten Devotion, lasting for about 45 minutes, followed by Exposition until 9.00 pm. All very welcome.
Building Work Next Door and Passageway
Apologies to everyone for the inconvenience caused, and many thanks for your continued patience. We are having a meeting with the Site Manager on Monday Morning to see what's what.
Diocesan Job Vacancies
Deputy Director of Schools and a Diocesan Religious Coordinator, working in partnership with the Director of Schools. Further details at http://dioceseofshrewsbury.org/about-us/curia/vacancies Caritas Shrewsbury currently has 4 vacancies. Further details: www.caritasshrewsbury.org.uk
Come for a Swim at Chester City Baths!
Delighted the Music Group have decided to go for a Group Membership ticket! They've dug out their old swimming costumes, mended the holes in the knee, and are all ready for their first dip next week…
Home / Hospital Eucharistic Ministers
Can you please meet Liz on Sunday 10th March about 10.00 am in the House, for Liz to give you your paperwork and see if anyone need help in completing an on line or paper application?
Catholic High School Family Support Worker
Details on Flyer at Back of Church.
First Holy Communion Parish Group Meetings
The next Parish Group meeting for parents and children takes place in the Parish House on Tuesday 12th March at 6.30 pm. The children will need their pencil cases and folders with their new 1st Holy Communion Preparation Book.The next Parents' Meeting is in our Primary School on Monday 18th March at 7.00 pm. This is an important meeting for all FHC parents. At the meeting you will be asked for the return slip indicating your child's choice of First Holy Communion date and Mass time.
Chester Catenians St Patrick's Night Ceilidh
Sat 16th March. 7 for 7:30, Catholic High School. Hot pot supper, dessert, Bar. Dancing with Caller and raffle. Tickets £20 from Francis Coxhead fcoxhead@yahoo.co.uk or 07816 958627.
Please note change of venue here!
Fair-Trade Matters
Monday 25th February was the start of Fair-Trade Fortnight 2019. For two weeks we have been given a market stall in Chester Market to showcase just some of the wide range of Fair-Trade goods available in Chester and an opportunity to reach more people. You will find us next to one of the seating areas in the middle of the market hall.
 Forthcoming Diocesan Talks
"Called to Holiness, Gifted for Mission". The first will take place on Wed 13th March, 7.00-9.00 pm, Our Lady's, Ellesmere Port. Fr Tom Cunnagh will address the title: "We're in this together!" The other 3 talks will take place on the following Wednesdays. Everyone is most welcome to come.
Mental Health Group Meeting on Monday
7.00 pm in the House: everyone warmly welcome!
Hospital 'First Thursday' Mass
7th March at 12.15 pm in the Countess of Chester Hospital Chapel. For patients/outpatients, staff, families and friends, and the wellbeing of our hospitals, including the Bowmere. All welcome.
CathSoc Charity Appeal: Bake Sale This Sunday
Every Uni Society has a Charity to support and is given a target to raise. We support CAFOD, and a Bake Sale at all Masses this weekend should be a super way of meeting that target, even if it does mean 2.00 am in the kitchen for someone!
CathSoc Programme - Sundays at 7.00 pm
Sunday 3rd March: Shared Table Supper
Sunday 10th March: Trip to Manchester
Sunday 17th March: Lenten Prayer and Praise
Parish Health and Safety Group Meeting
Our first Group Meeting on Thursday 28th Feb at 10.00 am has launched this valuable new initiative in the life of our Parish. Minutes on the notice board at the back of church. We talked about why we were here and started by identifying four key areas to begin work on: Crowd Safety & Evacuation Procedures; Ladder Safety; Food Safety; and Fire Safety. We have six members of the Group at present, and we would like to allocate two members to each of these four areas, to see where we're up to and what we need to do next. We also started looking at Risk Assessment forms, what they are and how they should be used. Room for another two or three volunteers on this Group if anyone would like to join us. Next Meeting: Wed 20th March at 7.00 pm.
(Women's) World Day of Prayer Service
Many thanks to Marian, Lal and all for an excellent service on Friday. Good to welcome the Lord Mayor and Lady Mayoress once again.
Photo of the Week: Royal Chester Rowing Club
Well done to Patrick Home, one of our brilliant CathSoc students, for noticing that a name on the Great War Memorial at his Rowing Club was also on our own new Memorial – Frederick Hull. Do go and look up his entry in our War Memorial Chapel 'Red Book' and then cross-refer to this Photo of the Week. Well spotted, Patrick!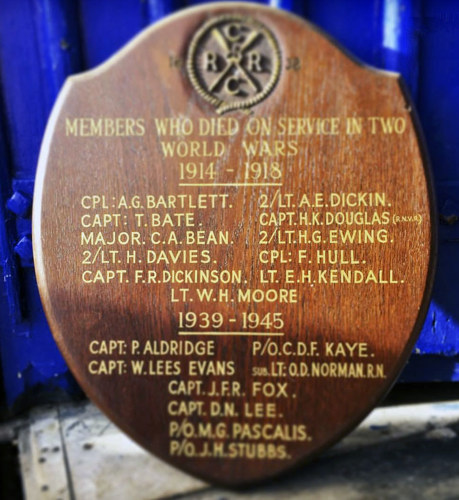 Next Wednesday is Ash Wednesday!
Not a Holyday of Obligation, but a day when many Catholics like to go to Mass. Three opportunities here: 7.30 am, 12.15 pm and 7.30 pm, with Distribution of Ashes at each.