Parish Newsletter
SUNDAY 21st APRIL: EASTER SUNDAY (YEAR C)
Liturgical
Acts 10, 34-43; Psalm 117; Colossians 5, 6-8; John 20, 1-9
Sunday 9.00 am: St Werburgh's: Sheila Norman (Birthday Remembrance)
Sunday 10.45 am: St Werburgh's: Christopher Bromwich (L.D.)
Sunday 6.00 pm: St Werburgh's: Intentions of Mina Boles
Monday 22nd April: Monday of Easter Week: Acts 2, 14-33; Psalm 15; Matthew 28, 8-15
10.00 am: St Werburgh's: Cara Messer (Anniversary, 2008)
Tuesday 23rd April: Tuesday of Easter Week: Acts 2, 36-41; Psalm 32; John 20, 11-18
10.00 am: St Werburgh's: Gerry Cummins (5th Anniversary)
Wednesday 24th April: Wednesday of Easter Week: Acts 3, 1-10; Psalm 104; Luke 24, 13-35
10.00 am: St Werburgh's: Intentions of Michelle Byrne
12.00 noon: Blacon: Funeral Service for Bill Dobbins
Thursday 25th April: Thursday of Easter Week: Acts 3, 11-26; Psalm 8; Luke 24, 35-48
10.00 am: St Werburgh's: Wendy Jones (78th Birthday Remembrance)
2.30 pm: Overleigh: Burial of Ashes for the late David Ollerhead
Friday 26th April: Friday of Easter Week: Acts 4, 1-12; Psalm 117; John 21, 1-14
9.30 am: St Werburgh's: Mary Fazey
10.30 am: St Columba's: Requiem Mass for Harry Harrison
2.00 pm: Christ the King, Bromborough: Requiem Mass for Paul Connor, late of Bromborough
Saturday 27th April: Saturday of Easter Week: Acts 4, 13-21; Psalm 117; Mark 16, 9-15
12.30 pm: St Werburgh's: Baptism of Olivia Marie Zebrowska
6.00 pm: Rowton Methodists: Colette Fitzgerald
SUNDAY 28th APRIL: SECOND SUNDAY OF EASTER (YEAR C)
Acts 5, 12-16; Psalm 117; Apocalypse 1, 9-19; John 20, 19-31
Saturday 6.00 pm: Rowton Methodists: Colette Fitzgerald
Sunday 9.00 am: St Werburgh's: Pat Maguire (25th Anniversary) and Dilys Ball (Anniversary)
Sunday 10.45 am: St Werburgh's: Mary and Tom Rodgers (Birthday Remembrances)
Sunday 12.30 pm: St Werburgh's: Baptism of Hugh Emmanuel Andrews
Sunday 1.00 pm: St Werburgh's: Baptism of Victor Somtochukmu Okoronkwo
Sunday 2.30 pm: Primary School: SVP Spring Mass for Elderly and Housebound – All Welcome!
Sunday 6.00 pm: St Werburgh's: Lorna Harris
PRAYER INTENTIONS
Your prayers are asked for the following who are sick: Keith Hayes, Sheila Winder, Heather Lannin, Lorraine McKeown, James Catterson, Ruth O'Kane, Henri Diacono, James Donovan, Garth Stocking and Kevin Maguire; and for all the sick of the Parish; and for those who have died recently, especially Betty Thomson, Bill Dobbins and David Ollerhead; and for those whose anniversaries occur about this time: John Flaherty, Mary Barrett, Roy Davies, Raymond Egan, Gazala Thweney, John Davies, Steven Pavia, Isabella Hamilton, Frances Frearson, Maureen Edwards, Norman Cross, Katie Dowling, Pat Maguire, John Heffernan, John McAnally, Cath Clisham and Lorna Harris. May they all Rest in the Light and Peace of the Risen Lord Jesus. 
Parish events
A Very 'Happy Easter!' To You All
It's been wonderful to welcome so many to our church over Holy Week, Werbies and Wizziters, Catholics and Non-Catholics alike. Today, Easter Sunday, that welcome is as warm as ever: it's so good to have you with us, and we hope the Grace and New Life of the Risen Lord Jesus touches you today and every day in the year ahead.
Trip to Liverpool Synagogue – Wednesday 8th May
Booking opens TODAY, Easter Sunday, for our next Parish Outing, this time over the water to Liverpool. We are visiting the magnificent Princes Road Grade I Listed Synagogue for a guided tour, then the original building of Liverpool University, Evening Prayer in the Metropolitan Cathedral, finishing the day with supper in a nearby Italian Restaurant. (Well, why not? Lent's over by then!) Leaving Chester by coach at 11.30 am, returning to Chester at 8.00 pm. 30 places, total cost £20. Booking List at the back of church, plus Flyers and Booking Forms, to be returned to Parish Office. For a valid booking, we need your FULL NAME and PHONE NUMBER, please.
Helen Lydon's Modern Sculpture
As part of her Fine Arts Degree at LMJU, Helen has produced 'Hold Fast', a postmodern sculpture (in various metals with MDF base), shown first in The Walker Art Gallery, Liverpool, as part of an exhibition by LJMU Fine Art students, March 2019. The title is from the words of St Paul in the Bible, Thessalonians 5: "Hold fast to that which is good". Helen writes "I see this as my creative response to moral struggles and conflict which are present in both individual lives and in the wider life of the church." On display here for the next two weeks.
Parenting 5-15's
Would you like to join other parents who'd like to know more about making family life supportive and enjoyable? There's another opportunity to join one of the popular parenting courses, this time for those with children aged 5-15.  The course focuses on simple techniques for supporting our children and adapting to the changes that a growing family brings.  The course begins at 7.00 pm on 8th May at St Werburgh's and St. Columba's Primary School in Lightfoot Street, Hoole.  If you'd like to know more about the course or book a place, please contact Claire on 07743-704-383 or 07880-553-830.
Rev Neill Robb… Fr Neill Robb
Since coming into the Catholic Church, Neill has been pursuing with Bishop Mark the question of Ordination as a Catholic Priest, and we were all delighted that Bishop Mark would like to ordain him here in St Werburgh's on Friday 31st May at 7.00 pm. A wonderful gift for Neill, for our Parish and for the Church. Please keep him and Marlene very much in your prayers in these coming weeks.
Our Last Priestly Ordination in St Werburgh's?
John Curtis has been digging in the Archives and found that Fr Andrew McGeever was ordained here in 1905, and now buried in Overleigh. Can anyone remember a more recent one? 
Children's Liturgy
Finishes now for the Easter Break. Back on Sunday 5th May, and then through until Sunday 21st July. Any more volunteers to help with this super work?
Easter Day-by-Day and Sacred Heart Messengers
Now on the News-Stand. £1 each.
CathSoc Summer Term Dates
First Meeting: Sunday 28th April – Meadows Walk
CAFOD Easter Chicks Appeal
Thank you for your generosity in buying Easter Chicks
in support of the CAFOD Cyclone Idai Appeal.
St Werburgh's Parish raised £177.57.
Shrewsbury Diocesan 'Voice'
Our free quarterly Diocesan Magazine, available today.
Catholic High School Parents' Association
Swing Band Dance Night. An evening of fun and musical entertainment at the annual PA Dance Night Friday 26th April, 7.30 pm until late, in the School Hall. Free entrance. The bar will be open.
SVP Mass for the Elderly and Housebound
Sunday 28th April in the Primary School at 2.30 pm followed by afternoon tea. Transport will be provided. All are very welcome.
First Holy Communions Begin in May
Final FHC Parish Group meeting for parents and children takes place on Tuesday 30th April at 6.30 pm in the Parish House. The children will have an opportunity to practise receiving the host and from the chalice. Please check that your children's preparation books are up to date if you've missed any of sessions. We look forward to seeing you all.
Confirmation – Tuesday 19th November 2019
Flyer with full details coming soon!
St Werburgh's "First Fridays Recitals" 2019
James has put together another super series of Concert Recitals for 2019, always First Fridays, May to December, always here, always 7.30 pm.
Friday 3rd May: Felix & Tom, Organ, Piano & Vocal
Friday 7th June: John Hosking Organ Recital
Friday 5th July: The Smiths: Flute, Piano, Organ
Friday 2nd August: Paul Carr Organ Recital
Friday 6th September: Urszula Cello Recital
Friday 4th October: Philip Chidell Violin Concert
Friday 8th November: Cathedral Nave Choir
Friday 6th December: Abbey Gate College
Glitzy colour flyer available today with full details of this very enjoyable musical series.
Photo of the Week: Where Are They Now??
Commercial VI Form 1951 Dee House Convent
Can anyone identify the girls shown on the photograph at the back of church? If so, please write their names on the form below the photograph.
The donor of the photograph would be very pleased.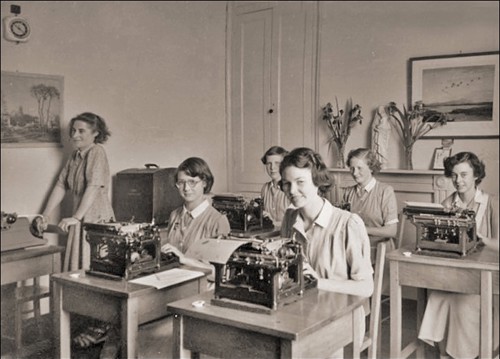 And when exactly does Lent End??
Same answer, dearly beloved: Sunday Evening, 7.05 pm, to that great liturgical sound, chink chink, glug, glug (gulg, gulg?), fizzzzzzzzz…