Parish Newsletter
SUNDAY 28th APRIL: SECOND SUNDAY OF EASTER (YEAR C)
Liturgical
Acts 5, 12-16; Psalm 117; Apocalypse 1, 9-19; John 20, 19-31
Saturday 6.00 pm: Rowton Methodists: Colette Fitzgerald
Sunday 9.00 am: St Werburgh's: Pat Maguire (25th Anniversary) and Dilys Ball (Anniversary)
Sunday 10.45 am: St Werburgh's: Mary and Tom Rodgers (Birthday Remembrances)
Sunday 12.30 pm: St Werburgh's: Baptism of Hugh Emmanuel Andrews
Sunday 1.00 pm: St Werburgh's: Baptism of Victor Somtochukmu Okoronkwo
Sunday 2.30 pm: Primary School: SVP Spring Mass for Elderly and Housebound – All Welcome!
Sunday 6.00 pm: St Werburgh's: Lorna Harris
Monday 29th April: St Catherine of Siena: I John 1,5 - 2,2; Psalm 102; Matthew 11, 25-30
12.15 pm: St Werburgh's: Emiliana Manfredi-Lewis
1.05 pm: University Chapel: University Mass – All Welcome!
Tuesday 30th April: St George of England: Apocalypse 12, 10-12; Psalm 125; John 15, 18-21
6.00 pm: St Werburgh's: Thanksgiving
Wednesday 1st May: St Joseph the Worker: Acts 5, 17-26; Psalm 33; John 3, 16-21
10.40 am: Blacon: Funeral Service for Ann Bernadette Edge, late of Chester Road, Huntington
12.15 pm: St Werburgh's: Alan Kilfoyle (6th Anniversary)
1.00 pm: Blacon: Burial of Ashes for the late Maureen Moran
2.00 pm: Poulton Farm: Service for Re-Burial of Human Archaeological Remains
Thursday 2nd May: St Athanasius: Acts 5, 27-33; Psalm 33; John 3, 31-36
12.15 pm: St Werburgh's: Bob Delap (2nd Anniversary)
1.20 pm: High School: Weekly Voluntary Mass
Friday 3rd May: Saints Philip and James: I Corinthians 15, 1-8; Psalm 18; John 14, 6-14
11.00 am – 12.00 noon: St Werburgh's: Exposition of the Blessed Sacrament
12.15 pm: St Werburgh's: Intentions of Sam's Job Interview
Saturday 4th May: The English Martyrs: Acts 7, 55-60; Psalm 30; Matthew 10, 17-20
10.00 am: HMP Berwyn, Wrexham: Weekly Mass for Prisoners and Staff
1.30 pm: St Werburgh's: Wedding Service for Tim Hughes and Sarah Whittaker
6.00 pm: Rowton Methodists: John and Vera Clyne
SUNDAY 5th MAY: THIRD SUNDAY OF EASTER (YEAR C)
Acts 5, 27-41; Psalm 29; Apocalypse 5, 11-14; John 21, 1-19
Saturday 6.00 pm: Rowton Methodists: John and Vera Clyne
Sunday 9.00 am: St Werburgh's: Margaret Haslam (23rd Anniversary)
Sunday 10.45 am: St Werburgh's: Intentions of Rev Neill Robb
Sunday 12.30 pm: St Werburgh's: Baptism of Oscar Michael Jeffs
Sunday 1.00 pm: St Werburgh's: Baptism of Mila Grace Stevenson
Sunday 6.00 pm: St Werburgh's: Ray O'Brien (9th Anniversary)
Prayer Intentions
Your prayers are asked for the following who are sick: Keith Hayes, Sheila Winder, Heather Lannin,
Lorraine McKeown, James Catterson, Ruth O'Kane, Henri Diacono, James Donovan, Garth Stocking and
Kevin Maguire; and for all the sick of the Parish; and for those who have died recently, especially
Ann Edge; and for those whose anniversaries occur about this time: Bridget O'Hara, Apolonia Marano,
Sally Dunne, Margaret Holland, John McShane, Philomena Kenyon, Maureen Moran, Margaret Haslam,
Richard Spencer, Thomas Clisham, Janina Ratomski, Alan Kilfoyle, John Martinez, Terry Walshe,
John Moore, Dorothy Arcari, Daisy Moran, Catherine Watkins, Christina Maguire, Bernard Gallagher,
Kathleen Pickersgill, Thomas Kidd, Margaret Price, John Spencer, Thomas Raftery, Angela Lloyd,
Humphrey Broad-Davies, Henry Joyce, Cora McHugh, Bernard Dodd, Bishop Joseph Gray and
Denis Duckers. May they all Rest in the Peace of the Risen Lord Jesus.
Parish events
Rev Neill Robb Diaconate Ordination
On Saturday morning, 27th April, Neill was Ordained Deacon by Bishop Mark in a small, private ceremony at the Cathedral. He is now Rev Neill Robb! As a Deacon he will assist at many of the Masses between now and his Priesthood Ordination on Friday 31st May, at 7.00 pm, here in St Werburgh's to which, or course, everyone is warmly invited.
Trip to Liverpool Synagogue – Wednesday 8th May
Apologies to those who missed out - the thirty places were snapped up almost immediately. Such is the interest that we'll run another Synagogue Trip soon, probably in the Autumn. Meanwhile, please return Booking Forms and Remittances to the Parish Office by next Wednesday, 1st May, at the very latest.
Helen Lydon's Modern Sculpture
As part of her Fine Arts Degree at LMJU, Helen has produced 'Hold Fast', a postmodern sculpture (in various metals with MDF base), shown first in The Walker Art Gallery, Liverpool. The title is from the words of St Paul in the Bible, Thessalonians 5: "Hold fast to that which is good". Helen writes "I see this as my creative response to moral struggles and conflict which are present in both individual lives and in the wider life of the church." On display next to St Werburgh's statue until 12th May.
Parenting 5-15's
There's another opportunity to join one of the popular parenting courses, this time for those with children aged 5-15. The course focuses on simple techniques for supporting our children and adapting to the changes that a growing family brings. The course begins at 7.00 pm on 8th May at St Werburgh's and St. Columba's Primary School in Lightfoot Street, Hoole. If you'd like to know more about the course or book a place, please contact Claire on 07743-704-383 or 07880-553-830.
Finance Committee Meeting
Thursday evening, 7.00 pm, our first look at the Annual Financial Return that has to be submitted to the Diocese – all ten pages of it!
Our Last Priestly Ordination in St Werburgh's?
John Curtis has been digging in the Archives and found that Fr Andrew McGeever was ordained here in 1905, and now buried in Overleigh. Can anyone remember a more recent one? We know that Bishop John Aloysius Murphy was ordained Bishop-Coadjutor here in St Werburgh's on 25th February 1948. He served as our Bishop until 1961, when he became Archbishop of Cardiff until 1983. Photos of his Ordination here on display today.
Children's Liturgy
Back Sunday 5th May, and then till Sunday 21st July. Any more volunteers to help with this super work?
CathSoc Summer Term Dates
First Meeting: Sunday 28th April – Meadows Walk
Sunday 5th May – Prayer and Praise
Sunday 12th May – Canal Walk to Christleton
Sunday 19th May – Shared Table Supper
Sunday 26th May – Geoff's Canal Tour & Supper
Sunday 2nd June – End of Year Chinese Supper
All Students warmly invited!
 
County DEO's Meeting
Our Diocese of Shrewsbury is part of three "County Churches Together" - Cheshire, Shropshire and Merseyside (which takes in the Wirral). Bishop Mark has a Delegate on each one, and I'm his Cheshire rep. The Committee often meets here at St Werburgh's, when we welcome them to our 12.15 pm Mass and lunch. Our National Conference in this coming Monday and Tuesday, over at Hinsley Hall, Leeds. I'll be away Monday afternoon to Tuesday tea-time.
Shrewsbury Diocesan 'Voice'
Our free quarterly Diocesan Magazine, available today. Please pick up your copy on your way out of Mass.
Christleton Churches Together AGM
Wednesday evening, 1st May, 7.30 pm, Christleton Methodists. All warmly invited, looking back over our last year together and forward to the coming one.
First Holy Communions Begin in May
Final FHC Parish Group meeting for parents and children takes place on Tuesday 30th April at 6.30 pm in the Parish House. The children will have an opportunity to practise receiving the host and from the chalice. Please check that your children's preparation books are up to date if you've missed any of sessions. We look forward to seeing you all.
Confirmation – Tuesday 19th November 2019
Flyer with full details coming soon!
St Werburgh's in the 1911 National Census
The following are shown as living in St. Werburgh's Presbytery in 1911: Father Joseph Chambers (aged 46) Head of Household and Rector of Parish. Born in Reading. Father Maurice Hayes (35) Curate. Born in Tralee in Co. Kerry. Father Cecil Paget (34) Curate. Born in Leicester. Edith Reynard (36) Cook/Housekeeper. Martha Johnson (26) Housemaid. Ann Kelly (19) Housemaid. Dear dead days beyond recall! Three Priests and three domestic staff. I think we should go back to those days, don't you?
Easter Day-by-Day and Sacred Heart Messengers
Now on the News-Stand. £1 each.
Photo of the Week: Day Out to Oscott
A lovely reminder of our Parish Day Out to Oscott last month, enjoying tea in the Refectory. (Who
on earth is that one standing at the back gesticulating madly??)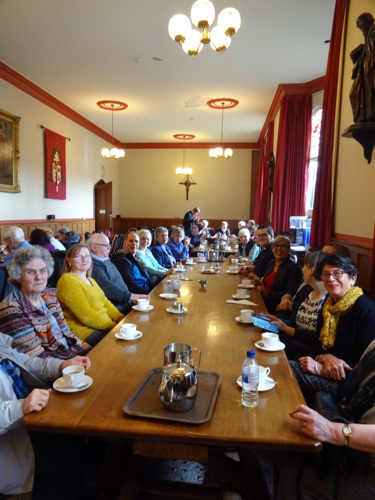 Meanwhile, many thanks for the two names submitted so far for the
Commercial VI Form 1951 Dee House Convent picture. Can anyone identify the other girls shown on the photograph at the back of church? Please write their names on the form below the photograph. The donor of the photograph would be very pleased.
First "First Friday" Recital – Friday 3rd May
Our super season of "First Friday Recitals" kicks off next week with Felix and Tom, two very talented Sixth Formers from Abbey Gate, who will be presenting a programme of piano, organ and vocal music. The concerts begin at 7.30 pm, last for between an hour and an hour-and-a-half, include wine and refreshments and are a first-class way of introducing yourselves to the joys of classical music. Strongly recommended and everyone warmly invited.