Parish Newsletter
SUNDAY 5th MAY: THIRD SUNDAY OF EASTER (YEAR C)
Liturgical
Acts 5, 27-41; Psalm 29; Apocalypse 5, 11-14; John 21, 1-19
Saturday 6.00 pm: Rowton Methodists: John and Vera Clyne
Sunday 9.00 am: St Werburgh's: Margaret Haslam (23rd Anniversary)
Sunday 10.45 am: St Werburgh's: Intentions of Rev Neill Robb
Sunday 12.30 pm: St Werburgh's: Baptism of Oscar Michael Jeffs
Sunday 1.00 pm: St Werburgh's: Baptism of Mila Grace Stevenson
Sunday 6.00 pm: St Werburgh's: Ray O'Brien (9th Anniversary)
Monday 6th May: Ferial: Acts 6, 8-15; Psalm 118; John 6, 22-29
10.00 am: St Werburgh's: Intentions of the Dempsey Family
[No University Mass today – Bank Holiday]
Tuesday 7th May: Ferial: Acts 7,51 – 8,1; Psalm 30; John 6, 35-40
12.15 pm: St Werburgh's: Liam Brennan (L.D., Ashton-under-Lyne)
Wednesday 8th May: Ferial: Acts 8, 1-8; Psalm 65; John 6, 35-40
10.30 am: St Werburgh's: Liverpool Pilgrimage Intentions
Thursday 9th May: Ferial: Acts 8, 26-40; Psalm 65; John 6, 44-51
12.15 pm: St Werburgh's: Gerard Murphy (L.D., Boston, USA)
6.00 pm: High School: Year 11 Leavers' Mass
Friday 10th May: Ferial: Acts 9, 1-20; Psalm 116; John 6, 52-59
11.00 am – 12.00 noon: St Werburgh's: Exposition of the Blessed Sacrament
12.15 pm: St Werburgh's: Joan Crossley
Saturday 11th May: Ferial: Acts 9, 31-42; Psalm 115; John 6, 60-69
10.30 am – 12.00 noon: St Werburgh's: Confessions
12.30 pm: St Werburgh's: Baptisms of Joseph James Stephen and Orla Rose Callan-Roberts
6.00 pm: Rowton Methodists: Maria and Francis Traczyk
SUNDAY 12th MAY: FOURTH SUNDAY OF EASTER (YEAR C)
Acts 13, 14-52; Psalm 99; Apocalypse 7, 9-17; John 10, 27-30
Saturday 6.00 pm: Rowton Methodists: Maria and Francis Traczyk
Sunday 9.00 am: St Werburgh's: Alex Barnes
Sunday 10.45 am: St Werburgh's: Richard Spencer (Birthday Remembrance)
Sunday 12.00 noon: St Werburgh's: Baptism of Sophia Louise Baker
Sunday 12.30 pm: St Werburgh's: Baptism of Stephen Francis Brennan
Sunday 6.00 pm: St Werburgh's: John Burns (L.D.)
Prayer Intentions
Your prayers are asked for the following who are sick: Keith Hayes, Sheila Winder, Heather Lannin, Lorraine McKeown, James Catterson, Ruth O'Kane, Henri Diacono, James Donovan, Garth Stocking and Kevin Maguire; and for all the sick of the Parish; and for those who have died recently, especially Berni Edge; and for those whose anniversaries occur about this time: John Clarke, Connie Parry, Eileen Donavan, Helen Moran, Albert Austin, Thomas Conboy, George Parry, Julia King, Patrick Smith, Anne Mulheirn, David Spencer, Mary Hayes, John Hannon, David Gardner, James McGowan-Scanlon, Thomas Dolan, Bill Borthwick, Anthony Costello, Benny Brookfield and Eileen Doran. May they all Rest in Peace.
Parish events
Rev Neill Robb Ordination: Friday 31st May
Neill was Ordained Deacon by Bishop Mark in a small, private ceremony at the Cathedral a fortnight ago. Now he is preparing for his Priesthood Ordination on Friday 31st May, at 7.00 pm, here in St Werburgh's to which, of course, everyone is warmly invited.
Trip to Liverpool Synagogue – Wednesday 8th May
Many thanks for all the returned forms and remittances. We leave from St John's Lay-By at 11.30 prompt. Please remember to bring a packed lunch, which we'll enjoy in Abercromby Square gardens, one of the loveliest of 1820's squares in England, now the heart of the University. We go to the Synagogue for our Guided Tour at 1.30 pm. Then to the Victoria Building, where the University began in the 1890's – and which gave rise to the expression 'Red Brick University', coined by the great Professor E Allison Peers. We'll have a little talk on the origins of one of the best Universities in the UK. A chance to look round, and then over to the Metropolitan Cathedral for Evening Prayer at 4.30 pm. Supper in our Italian Restaurant at 5.00 pm, and coach back leaves at 7.00 pm. Please remember the packed lunch and, chaps, a hat to wear in the Synagogue.
SVP Second Collection 18th/19th May 2019
To provide a Summer Lunch for the elderly and housebound to be held at the Forest Hills Hotel, Frodsham on Wednesday 3rd July 2019. For further information, contact Stephen Perry on 07775781204.
Mental Health Group Meeting on Tuesday 7.00 pm
All welcome as we seek to support one another.

Annual Financial Statement 2018-9
Full report, all ten pages, coming soon! Meanwhile:
Income for 2018-9: £145,483
Expenditure for 2018-9: £125,369
Operating Surplus for 2018-9: £20,114
Another excellent year in difficult times: thank you.

Our Last Ordination in St Werburgh's?
Bishop John Aloysius Murphy was ordained Bishop-Coadjutor here in St Werburgh's on 25th February 1948. Photos of his Ordination on display today.
Children's Liturgy
Back Sunday 5th May, and then till Sunday 21st July. Any more volunteers to help with this super work?
CathSoc Summer Term Dates
Sunday 5th May – Prayer and Praise
Sunday 12th May – Canal Walk to Christleton
Sunday 19th May – Shared Table Supper
Sunday 26th May – Geoff's Canal Tour & Supper
Sunday 2nd June – End of Year Chinese Supper
All Students warmly invited!
County DEO's Meeting
Our Diocese of Shrewsbury is part of three "County Churches Together" - Cheshire, Shropshire and Merseyside (which takes in the Wirral). Bishop Mark has a Delegate on each one, and I'm his Cheshire rep. Very useful and stimulating meeting at Leeds last Monday/Tuesday. Question; look at any High Street, shops, banks, churches, pubs. Why are some doing well and others badly? Greggs? Woolworths? Primark? Debenhams? Any lessons here?? Just a thought…

Vote for Val! Val Writes…
"Voting at Tesco now closed. They'll now count the plastic coins cast at all stores and write to us to announce the result by the end of May. I would like to thank you and all the parishioners who supported us by changing their shopping habits and loyalties to supermarkets and kept voting throughout these couple of months. All the fencers and parents and coaches much appreciate all the help received."
Poulton Farm Archaeology
Fascinating visit to Poulton Farm on Wednesday afternoon. They've discovered a medieval Cistercian Monastery there, on the banks of the Dee, and students from Liverpool JMU are helping with the excavations, principally of a large burial site. We re-interred the remains unearthed so far – and I also had a look at the air-strip next door, built by the Duke of Westminster in 1941 to aid the War Effort, and now being dug up. Living history!
First Holy Communions Begin Today!
Today, Sunday 5th May, we welcome Jayden Baker at 9.00 am; and Stephen Anderson, Maddie Baddeley, Joseph Benson, Bibi Green, Gabriel Green, Joshua Johnson, Zachary Littler, James Rowson, Aleksander Wasik, Lily Willett and Jonathan Williams at 10.45. Please keep them and their families in your prayers at this wonderful time.

Confirmation – Tuesday 19th November 2019
Flyer with full details coming soon!
St Werburgh's in the 1911 National Census
The following are shown as living in St. Werburgh's Presbytery in 1911: Father Joseph Chambers (aged 46) Head of Household and Rector of Parish. Born in Reading. Father Maurice Hayes (35) Curate. Born in Tralee in Co. Kerry. Father Cecil Paget (34) Curate. Born in Leicester. Edith Reynard (36) Cook/Housekeeper. Martha Johnson (26) Housemaid. Ann Kelly (19) Housemaid. Dear dead days beyond recall! Three Priests and three domestic staff. I think we should go back to those days, don't you?
Easter Day-by-Day and Sacred Heart Messengers
Now on the News-Stand. £1 each.
Photo of the Week: Day Out to Oscott
A lovely reminder of our Parish Day Out to Oscott last month, enjoying tea in the Refectory. (Who on earth is that one standing at the back gesticulating madly??) Meanwhile, many thanks for all the names submitted for the Commercial VI Form 1951 Dee House Convent picture. We've now identified them all – thanks you, Lucy! – and the donor of the photo will be delighted.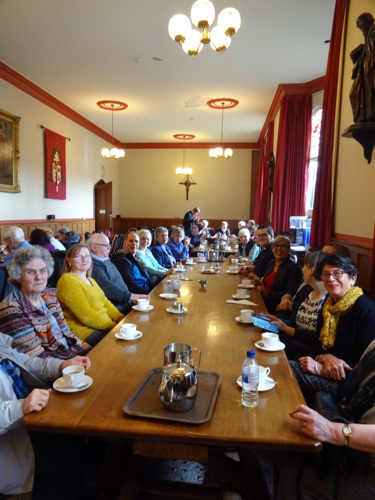 First "First Friday" Recital – Friday 3rd May
Our new season got off to a flying start on Friday with a super recital from two extremely talented Sixth Formers from Abbey Gate College, Felix and Tom. They entertained us royally with piano, vocal and organ music. Good luck to both as they sit their A Levels and hopefully head off to University in the Autumn. Next concert is Friday 2nd June, when our old friend John Hosking will give us another of his superb Organ Recitals. Do please take a bundle of flyers to place anywhere you think appropriate.